Mexican National Heavyweight Championship
From Luchawiki
Jump to navigation
Jump to search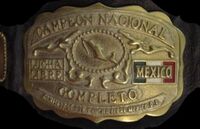 Current Champion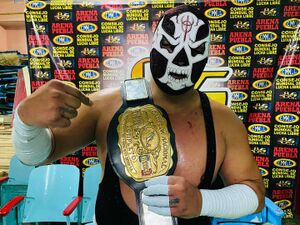 El Sagrado is the current champion. He defeated El Terrible on October 10, 2022 in Arena Puebla.
History of Championship
In 2007, this title was part of AAA's World (Mega) Unification Tournament to crown a inaugural AAA World Heavyweight Champion. Charly Manson carried this championship into the match, but did not actually get to defend it, as he only faced foreigners in his two tournament matches. Manson lost in the semifinals. El Mesias, the winner of the match, did not take the belt (being from Puerto Rico, he was not eligible).
With the emphasis on a single heavyweight championship, AAA stopped mentioned this belt on it's television show, and no more defenses are known to have happen. On rare occasions, Charly Manson would wear it (most notable TripleMania 2009), and an article in AAA's official magazine Dos de Tres listed Manson as the reigning champion, but the championship itself was effectively defunct. Manson retained physical possession of the belt.
Charly had a falling out with AAA in 2009, leaving the company to join the Perros del Mal in fall. Starting in late November, Charly began proclaiming himself as the current heavyweight champion again and defending it on independent shows. Charly defended it a couple shows on in late 2009 and 2010 before dropping as part of a feud with X-Fly. Despite being the only title defended in Perros del Mal at this point, it's been treated like a semimain feud, and X-Fly winning the title is a big step up for him.
Hector Garza picked up the championship in 2012 on a Perros del Mal show, and it appeared the championship would still be defended on those shows. However, the promotion stopped running regular shows. Garza announced a temporary retirement from the ring in October 2012 due to lung cancer, then passed away in May of 2013.
CMLL held a Torneo Cibernetico to crown a new champion on October 22, 2017 with Diamante Azul, El Terrible, El Cuatrero, Blue Panther Jr., Euforia, Gran Guerrero, Kraneo, Pierroth (CMLL), Rush, Shocker, Stuka Jr. and Vangellys with the final 2 left in the match meeting on October 29, 2017.
Champions Listing
#
Champion(s)
Defeated
Date
Location
title granted by the US latino community
[1]
1
Francisco Aguayo
?
1925
?
2
Martinez Larrera
?
1930.11.??
?
3
Francisco Aguayo [2]
Manuel Hernandez
1934.06.21
Old Arena Mexico
[2]
first title reign officially recognized in mexican soil
1
Chino Achiu
1935.06.13
Arena Nacional
2
Octavio Gaona
1936.06.21
Old Arena Mexico
[3]
4
Yaqui Joe
Francisco Aguayo
1937.06.??
Mexico City
[4]
5
Francisco Aguayo [2]
Yaqui Joe
1937.07.01
Mexico City
[5]
vacates championship in 1940
6
Firpo Segura
Doc Macias
1940
Mexico City
7
Ray Duran
Firpo Segura
1942
Morelia
8
Firpo Segura [2]
Ray Duran
1945.08.17
Arena Coliseo
[6]
9
Steve Morgan
Firpo Segura
1946.09.25
Mexico City
[7]
10
Firpo Segura [3]
Steve Morgan
1947.03.22
Cuernavaca
11
Daniel Aldana
Firpo Segura
1949.09.09
Arena Coliseo
[8]
1[9]
Firpo Segura
1950
Xalapa
2[10]
Firpo Segura
1951
Cuernavaca
3[11]
Firpo Segura
1951.12.??
Cuernavaca
4[12]
Firpo Segura
1952.05.18
?
12
Firpo Segura [4]
Daniel Aldana
1952
?
1
Gonzalo Gomez
1953.10.18
Plaza de Toros Valente Arellano, Torreón, Coahuila
13
Joaquin Murrieta
Firpo Segura
1954.08.12
Mexico City
vacates championship in 1955
tournament for championship
14
Médico Asesino
Jose Lothario
1956.09.07
Arena Mexico
[13]
1
Rito Romero
1957.04.26
Auditorio, Houston, Texas
[14]
Médico Asesino dies 1960.06.16
tournament for championship
15
Pepe Mendieta
Henry Pilusso
1962.05.13
Plaza de Toros el Cortijo
[15]
1
Joe Grant
1963.03.24
Tampico, Tamaulipas
[16]
2
Dick Medrano
1963.03.31
Plaza de Toros el Cortijo
[17]
3
Chino Chow
1964.04.21
Arena Mexico
[18]
4
Cavernario Galindo
1964.08.09
Plaza de Toros el Cortijo
[19]
5
Chale Romero
1964.12.25
Arena San Juan Pantitlan
vacates championship about March of 1965 upon retirement
[20]
tournament for championship?
16
Chico Casaola
Dick Medrano
1965.04.13
Arena Mexico
[21]
1
?
1965.05.09
Arena San Juan
[22]
2
Pierrot
1965.11.11
Cuernavaca, Morelos
[23]
3
Chino Chow
1966.01.26
Mazatlan
[24]
17
Pantera Negra
Chico Casaola
1966.03.13
Arena Coliseo Guadalajara
[25]
1
Red Terror
?
?
[26]
2
Polo Torres
1966.05.15
Ciudad Juarez
[27]
18
Black Gordman
Pantera Negra
1966.09.06
Matamoros. Tamaulipas
[28]
19
Polo Torres
Black Gordman
1966.09.25
Plaza de Toros Valente Arellano, Torreón, Coahuila
1
Espanto I
1966.11.03
Plaza de Toros Valente Arellano, Torreón, Coahuila
[29]
2
Goliat
1967.03.19
Plaza de Toros Valente Arellano, Torreón, Coahuila
[30]
20
Henry Pilusso
Polo Torres
1967.08.20
Plaza de Toros Torreon
[31]
21
Goliath
Henry Pilusso
1968.03.30
Juarez
[32]
1
Chico Casasola
1968.08.20
Arena Mexico
[33]
2
Pantera Negra
1969.10.07
Arena Mexico
[34]
3
Jose Cerecero
1969.12.07
Plaza de Toros el Cortijo
[35]
4
Raúl Reyes
1968.12.18
Puebla
[36]
22
Raúl Reyes
Goliath
1969.12.20
Arena Puebla
[37]
-
Black Gordman
?
?
[38]
-
Black Gordman
?
?
[39]
-
El Solitario
?
?
[40]
-
Gran Markus
?
Ciudad Juarez
[41]
-
Gran Markus
?
Chihuahua, Chihuahua
[42]
23
Angel Blanco
Raul Reyes
1972.04.07
Arena Mexico
[43]
1
Enrique Vera
1972.06.30
Arena Coliseo
[44]
2
Ray Mendoza
1973.08.02
Arena Isabel de Cuernavaca
[45]
3
El Solitario
1973.08.26
Arena Coliseo Guadalajara
[46]
24
Enrique Vera
Angel Blanco
1973.10.26
Arena Mexico
[47]
1
Alfonso Dantes
1974.01.01
Arena Coliseo Guadalajara
[48]
2
Gran Markus
1974.04.17
Arena Coliseo Acapulco
[49]
3
Índio Jerónimo
1974.07.23
Arena Benito Juárez, Cuautitlán, Estado de México
[50]
4
TNT
1974.10.27
Arena Coliseo Monterrey
[51]
5
Cesar Valentino
?
Arena Coliseo
[52]
6
Alfonso Dantes
1975.02.16
Monterrey
[53]
25
Raul Reyes [2]
Enrique Vera
1975.03.12
Arena Coliseo Acapulco
[54]
1
El Halcon
1975.04.07
Saltillo
[55]
2
El Halcon
1975.04.27
Monterrey
[56]
2
Enrique Vera
1975.06.01
Arena Coliseo Guadalajara
[57]
3
El Halcon
1975.07.28
Nuevo Laredo
[58]
4
Enrique Vera
1975.08.02
Pista Arena Revolucion
[59]
26
El Halcon
Raul Reyes
1975.09.27
Pista Arena Revolucion
[60]
1
Gemelo Diablo I
1975.11.17
Arena Coliseo Monterrey
[61]
2
Gran Markus
1976.02.22
Plaza de Toros Valente Arellano, Torreón, Coahuila
[62]
3
Gemelo Diablo I
1976.05.23
Arena Coliseo
[63]
4
Gran Markus
1976.09.24
Arena México
[64]
5
Gran Markus
1976.11.07
Arena Coliseo
[65]
7
Raúl Reyes
1977.01.16
Arena Coliseo
[66]
8
Gemelo Diablo I
1977.02.13
Arena Coliseo Guadalajara
[67]
9
Sangre Chicana
1977.02.19
Pista Arena Revolucion
[68]
27
Gran Markus
El Halcon
1977.03.13
Arena Coliseo Guadalajara
[69]
1
Enrique Vera
1977.05.04
Arena Coliseo Acapulco
[70]
2
Raúl Reyes
1977.05.12
Arena Isabel, Cuernavaca, Morelos
[71]
3
Enrique Vera
1977.05.12
Arena Isabel, Cuernavaca, Morelos
[72]
5
Raúl Reyes
1977.06.01
Nueva Arena Apatlaco
[73]
6
El Halcon
1977.06.12
Plaza de Toros Valente Arellano, Torreón, Coahuila
[74]
28
El Halcon [2]
Gran Markus
1977.06.24
Arena Mexico
[75]
1
Gran Markus
1977.07.31
Arena Coliseo Guadalajara
[76]
2
Gran Markus
1977.09.21
Arena Coliseo Acapulco
[77]
3
Gemelo Diablo I
1977.09.23
Arena Mexico
[78]
4
Gemelo Diablo II
1977.10.09
Arena Aurora
[79]
29
Raul Mata
El Halcon
1977.12.18
Monterrey
1
Gran Markus
1978.01.29
Monterrey
[80]
2
Gran Markus
1978.03.12
Arena Coliseo Guadalajara
[80]
3
Herodes
1978.03.18
Mexico City
[80]
4
Gran Markus
1978.04.09
Plaza de Toros Valente Arellano, Torreón, Coahuila
[81]
5
Herodes
1978.04.15
Puebla
[80]
6
Herodes
1978.06.05
Arena Deportivo 47, Monclova, Coahuila
[82]
30
El Nazi
Raul Mata
1978.07.01
Pista Arena Revolucion
[83]
1
Cien Caras
1978.07.22
Puebla
[80]
2
Danny Ortiz
1978.07.30
Puebla
[80]
3
Melchor Ortiz
1978.08.24
Cuernavaca
[80]
4
Eduardo De Linch
1978.09.10
Plaza de Toros Valente Arellano, Torreón, Coahuila
[84]
5
Halcon 78
1978.10.21
Puebla
[80]
31
TNT
El Nazi
1978.10.27
Arena Mexico
[85]
1
Gran Markus
1978.11.10
Mexico City
[80]
2
Herodes
1978.12.03
Mexico City
[80]
32
Gran Markus [2]
TNT
1979.02.04
Arena Coliseo Guadalajara
[86]
1
El Halcon
1979.05.06
Arena Coliseo Guadalajara
[87]
33
El Halcon [3]
Gran Markus
1979.12.23
Plaza de Toros Valente Arellano, Torreón, Coahuila
[88]
34
Tony Benetto
El Halcon
1980.01.16
Arena Coliseo De Acapulco
[89]
1
Halcon Ortiz
1980.02.15
Arena Mexico
[90]
2
El Halcon
1980.03.02
Arena Coliseo Guadalajara
[91]
35
Cien Caras
Tony Benetto
1980.07.26
Puebla
[92]
1
TNT
1980.09.26
Arena Mexico
[93]
2
Tony Benetto
1980.11.22
Pista Arena Revolución
[94]
3
Adorable Rubi
1981.02.04
Arena Coliseo Acapulco
[95]
4
Gran Markus
1981.02.22
Arena Coliseo Guadalajara
[96]
5
Adorable Rubi
1981.03.13
Arena Mexico
[97]
6
Adorable Rubi
1981.12.15
Arena Mexico
[98]
7
Popitekus
1982.02.06
Arena Puebla
[99]
8
Herodes
1982.02.21
Arena Coliseo Guadalajara
[100]
36
Herodes
Cien Caras
1982.03.28
Arena Coliseo DF
[101]
1
Cien Caras
1982.05.05
Arena Coliseo Acapulco
[102]
37
Halcon Ortiz [4]
Herodes
1982.06.20
Arena Coliseo Guadalajara
[103]
1
Herodes
1982.07.23
Puebla
[104]
2
Tony Benetto
1982.09.05
Arena Coliseo
[105]
3
Dr. Wagner
1982.09.17
Arena Mexico
[106]
4
Herodes
1983.03.06
Arena Coliseo Guadalajara
[107]
5
Pirata Morgan
1983.04.22
Arena Mexico
[108]
38
Pirata Morgan
El Halcon
1983.08.07
Arena Coliseo Guadalajara
[109]
1
Halcón Ortiz
1983.09.15
Pista Arena Revolucion
[110]
2
Rayo de Jalisco
1983.10.02
Arena Coliseo Guadalajara
[111]
3
Rayo de Jalisco Jr.
1983.11.01
Celaya
[112]
4
Rayo de Jalisco
1983.11.16
Celaya
[113]
39
Rayo de Jalisco Jr.
Pirata Morgan
1984.01.08
Arena Coliseo DF
[114]
1
El Egipcio
1984.01.27
Arena Coliseo DF
[115]
2
Herodes
1984.02.05
Pista Arena Revolucion
[116]
3
Herodes
1984.03.11
Arena Coliseo Guadalajara
[117]
40
Cien Caras [2]
Rayo de Jalisco Jr.
1984.03.30
Arena Mexico
[118]
1
Cien Caras
1984.04.13
Arena México
[119]
2
El Egipcio
1984.05.05
Arena Puebla
[120]
3
El Halcon
1984.07.13
Arena Mexico
[121]
4
Herodes
1984.09.09
Arena Coliseo Guadalajara
[122]
5
Rayo de Jalisco Jr.
1984.09.27
Arena Isabel, Cuernavaca, Morelos
[123]
6
Alfonso Dantes
1985.05.12
Arena Coliseo Guadalajara
[124]
7
Tony Benetto
1985.07.04
Arena Isabel, Cuernavaca, Morelos
[125]
8
Kiss
1985.07.27
Pista Arena Revolución
[126]
9
Tamba
1985.09.15
Arena Coliseo Guadalajara
[127]
10
Tony Benetto
1985.10.19
Pista Arena Revolución
[128]
11
Súper Halcón
1985.11.20
Arena Coliseo Acapulco
[129]
12
Súper Halcón
1985.11.28
Arena Isabel, Cuernavaca, Morelos
[130]
13
Super Halcon
1985.11.29
Arena Coliseo
[131]
14
Tamba
1986.06.08
Arena Coliseo Guadalajara
[132]
41
Alfonso Dantes
Cien Caras
1986.08.20
Arena Coliseo De Acapulco
[133]
1
Pirata Morgan
1986.10.25
Arena Puebla
[134]
2
Herodes
1987.02.07
Pista Arena Revolucion
[135]
3
Popitekus
1987.05.17
Pista Arena Revolucion
[136]
42
Super Halcon [5]
Alfonso Dantes
1987.05.??
Acapulco
[137]
1
Rayo de Jalisco Jr.
1987.07.16
Arena Neza
[138]
43
Gran Markus Jr. [2]
Super Halcon
1987.12.17
Acapulco
1
Rokambole
1988.05.29
Pista Arena Revolución
[139]
44
Alfonso Dantes [2]
Gran Markus Jr.
1988.08.07
Guadalajara
1
Anibal
1988.11.20
Arena Mexico
[140]
championship vacated around March 1989 when Alfonso Dantes retires
tournament for championship
45
Popitekus
Gran Markus Jr.
1989.05.21
Arena Coliseo DF
1
Gran Markus Jr.
1989.07.30
Arena Mexico
[141]
2
Herodes
1990.01.20
Pista Arena Revolucion
[142]
46
Gran Markus Jr. [3]
Popitekus
1990.05.09
Arena Coliseo DF
1
Popitekus
1990.07.26
Arena Puebla
47
Rayo de Jalisco Jr. [2]
Gran Markus Jr.
1990.10.17
Arena Coliseo De Acapulco
48
El Egipicio
Rayo de Jalisco Jr.
1991.04.13
Arena Puebla
1
Blue Demon Jr.
1991.07.13
Arena Puebla
[143]
2
Mano Negra
1991.10.11
San Miguel de Allende, Guanajuato
[144]
3
Rayo de Jalisco Jr.
1991.12.08
Arena Mexico
49
Rayo de Jalisco Jr. [3]
El Egipicio
1992.06.13
Pista Arena Revolucion
1
El Egipcio
1992.06.16
Pista Arena Revolucion
2
MS-1
1992.07.19
Arena Mexico
3
MS-1
1992.07.29
Arena Naucalpan
4
Gran Markus Jr.
1992.11.24
Arena Coliseo DF
[145]
50
Pierroth Jr.
Rayo de Jalisco Jr.
1994.02.21
Arena Puebla
1
Dos Caras
1995.01.25
Arena Coliseo de Acapulco
2[146]
La Parka
1995.12.25
Auditorio de Tijuana
3
Cien Caras
1996.05.24
Arena Neza
51
Mascara Sagrada
Pierroth Jr.
1996.09.20
Actopan, Hidalgo
1
Pierroth Jr.
1996.11.03
Arena Coliseo De Monterrey
2
Halcon Dorado Jr.
1997.01.31
Plaza de Toros, Colima, Colima
52
Cibernetico
Mascara Sagrada
1997.06.22
Pantitlan
1[147]
Canek
1997.08.29
Arena Lopez Mateos
53
Perro Aguayo
Cibernetico
1998.02.22
Chihuahua
1[148]
Cibernetico
1998.08.16
Manzanillo
54
Cobarde II
Perro Aguayo
1999.02.15
Nuevo Laredo
55
Latin Lover
Cobarde II
1999.10.19
Plaza de Toros San Javier - Ciudad Acuna, Coahuila
56
Hector Garza
Latin Lover
2002.05.05
Arena Solidaridad
1
Latin Lover
2002.05.26
Cd. Juarez
2
Santos Ramos
2002.06.23
Nuevo Laredo
3
Latin Lover
2002.06.24
Nuevo Laredo
4
El Hijo del Solitario
2002.06.30
Arena Solidaridad
5
Mr. Aguila
2002.07.27
Tlaxcala
57
Zorro
Hector Garza
2003.05.05
Monterrey
58
Pirata Morgan
Zorro
2003.12.27
Oaxaca
59
Zorro [2]
Pirata Morgan
2004.02.04
Veracruz
60
Mr. Aguila
Zorro
2004.06.20
Toreo de Cuatro Caminos
61
Zorro [3]
Mr. Aguila
2004.08.01
Guadalajara
1
Electro Shock
2006.02.25
Auditorio Teopanzolco - Cuernavaca
2
Electro Shock
2006.04.02
Tlahuelilpan, Hidalgo
3
Charly Manson
2006.04.07
Victoria, Tamaulipas
4
Charly Manson
2006.05.06
Palenque de la Feria de Tlaxcala
62
Charly Manson
Zorro
2006.06.04
Pachuca, Hidalgo
1
Zorro & Electro Shock
2006.06.21
Auditorio Benito Juarez, Guadalajara
2
Charly Manson
2006.12.27
Gimnasio de la Unidad Deportiva Miguel Aleman Valdez, Celaya, Guanajuato
championship becomes inactive after Manson lost in the AAA World Heavyweight Tournament on 2007.09.13
championship becomes active again after Manson leaves AAA in autumn 2009
3
Mascara Ano 2000 Jr.
2009.12.05
Auditorio Municipal de Tampico
63
X-Fly
Charly Manson
2010.02.21
Centro Civico, Ecatepec, Morelos
1
Super Crazy
2011.03.20
Deportivo Tlalli, Tlalnepantla, Mexico State
2
Super Crazy
2011.07.24
Centro Banamex, Mexico City
64
Hector Garza [2]
X-Fly, Perro Aguayo Jr., Toscano,
Texano Jr., El Mesias
2012.02.14
Arena Aficion
Garza passes away on May 26, 2013. CMLL held a Torneo Cibernetico to crown a new champion on October 22, 2017 with final 2 in match meeting the following week for the championship.
65
El Terrible
Diamante Azul
2017.10.29
Arena Mexico
1
Diamante Azul
2018.01.26
Arena Mexico
2
Diamante Azul
2018.05.27
Arena Mexico
3
Vangellys
2019.01.01
Arena Coliseo Guadalajara
4
Valiente
2019.04.14
Arena Mexico
5
Valiente
2019.07.07
Arena Mexico
6
Diamante Azul
2019.12.27
Arena Coliseo Guadalajara
66
Diamante Azul
El Terrible
2020.09.25
Arena Mexico
[149]
1
Ultimo Guerrero
2021.01.17
Arena Pepe Cisneros
[150]
Diamante Azul leaves CMLL on May 1, 2021, CMLL declares championship vacant
eight man one night tournament championship
67
Euforia
Gran Guerrero
2022.03.04
Arena Mexico
68
El Terrible [2]
Euforia
2022.04.01
Arena Mexico
1
Euforia
2022.06.21
Arena Mexico
69
El Sagrado
El Terrible
2022.10.10
Arena Puebla
1
Star Black
2022.12.06
Arena Mexico
2
Valiente
2023.01.22
Arena Mexico
3
Rey Bucanero
2023.03.06
Arena Puebla
 
 
title change
successful title defense
championship matches which were announced, but results were not found
Gallery of Champions
Gallery of Title Belts
Sources
Also Listed As