Mexican National Atomicos Championship
From Luchawiki
Jump to navigation
Jump to search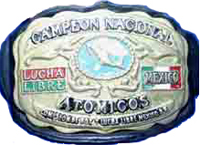 Current Champions
As of January 25, 2009, the Mexican National Atomicos Championship is vacant. Chessman, Killer Clown, Zombie Clown & Psycho Clown won the championship the previous week, but attacked AAA commissioner Vampiro after the match. As a result, Vampiro stripped the winning team of their titles.
There's been no mention of the championship since Vampiro took them away from Chessman and The Psycho Cirucs. They were the last active Mexican National Championship in AAA, and were long inactive before the short title feud. They may have been retired by AAA, but no formal announcement has been made to that extent and it's too early to declare these titles defunct.
History of Championship
On June 30, 2006, the Sect Cibernetica team of Chessman, Escoria, El Cuervo and Ozz defended the championship against the Real Fuerza Aérea AAA team of Rey Cometa, Laredo Kid, Nemesis and Super Fly. The champs retained in three falls, but the last fall was chaotic and controversial. AAA suggested the champs had or would be stripped of the title and the championship would be refilled after a July 7th rematch. Chessman's team won the rematch. After the fact, AAA made it clear the championships had actually never been vacant, and this was one continuous reign.
Champions Listing
#
Champion(s)
Defeated
Date
Location
tournament to decide first champions
1
Los Villanos (Villano III, Villano IV, Villano V) & Pierroth Jr.
Karis la Momia, Espectro Jr., Damian 666, Halloween
1996.08.09
Arena Neza
1[1]
Super Muneco, Coco Amarillo, Coco Azul, Coco Rojo
1996.10.19
Acapulco, Guerrero
2
Mascara Sagrada Jr., Blue Demon Jr., Tinieblas Jr., La Parka Jr.
1996.12.05
Toluca
titles vacant in 1996 when champions jump to Promo Azteca
8 team tournament finals
2
Los Vipers (Psicosis II, Histeria II, Mosco de la Merced II, Maniaco)
Payasos AAA (Coco Amarillo, Coco Azul, Coco Rojo, Coco Negro)
1998.08.23
Deportivo Reynosa , Azcapotzalco
1
Coco Amarillo, Coco Azul, Coco Negro, Coco Rojo
1998.10.11
Tlalnepantla, Estado de México
2
Charly Manson, May Flowers, Nygma, Picudo
1998.10.17
Torreón, Coahuila
3
Charly Manson, May Flowers, Nygma, Picudo
1998.11.05
Arena Toluca
4
Charly Manson, May Flowers, Nygma, Picudo
1998.11.06
Auditorio Miguel Hidalgo, Santiago Tianguistengo, Toluca, Estado de México
3
Los Vatos Locos (Charly Manson, Nygma, May Flowers, El Picudo)
Los Vipers (Psicosis II, Histeria II, Mosco de la Merced II, Maniaco)
1999.02.14
Arena Solidaridad De Monterrey
1
Payasos AAA (Coco Amarillo, Coco Azul, Coco Rojo, Coco Negro)
1999.02.28
Nuevo Laredo
2
Los Vipers (Psicosis II, Histeria II, Mosco de la Merced II, Maniaco)
1999.03.07
El Toreo De Naucalpan
3
Los Regionales de Juarez , Los Vipers (Psicosis II, Histeria II, Mosco de la Merced II, Maniaco)
1999.03.21
Auditorio Josue Neri , Cd. Juarez
4
Los Juniors (Perro Aguayo Jr., Blue Demon Jr., La Parka Jr., Mascara Sagrada Jr.)
Los Vatos Locos (Charly Manson, Nygma, May Flowers, El Picudo)
1999.04.18
Auditorio Benito Juarez , Zapopan
1
Los Vipers (Psicosis II, Histeria II, Mosco de la Merced II, Maniaco)
1999.05.22
Coatepec
2
Los Vatos Locos (Charly Manson, Nygma, May Flowers, El Picudo)
1999.06.06
Chihuahua
5
Los Vipers [2] (Psicosis II, Histeria II, Mosco de la Merced II, Maniaco)
Los Juniors (Perro Aguayo Jr., Blue Demon Jr., La Parka II, Mascara Sagrada Jr.)
1999.09.17
Gimnasio Juan De La Barera
6
Los Vatos Locos [2] (Charly Manson, Nygma, May Flowers, El Picudo)
Los Vipers (Psicosis II, Histeria II, Mosco de la Merced II, Maniaco)
1999.12.10
Madero
next title reign not universally acknoweldged
7
Los Vipers [3] (Psicosis II, Histeria II, Mosco de la Merced II, Maniaco)
Los Vatos Locos (Charly Manson, Nygma, May Flowers, El Picudo)
2000.04.??
?
1
Los Porros (Angel o Demonio, Leon Rojo, Obett, Enrique el Salvaje)
2000.05.07
Arena Lopez Mateos
2
Los Vatos Locos (Charly Manson, Nygma, May Flowers, El Picudo)
2000.06.02
Arena San Juan Pantitlan
3
Sangre Chicana, El Cobarde, El Texano, Pirata Morgan
2000.06.25
Morelia
4
Payasos AAA (Coco Amarillo, Coco Azul, Coco Rojo, Coco Negro), Los Vatos Locos (Picudo, May Flowers, Nygma, Espiritu), The Black Family (Charly Manson, Chessman, El Cuervo, Escoria)
2001.03.30
Madero
5
Los Vatos Locos (Espiritu, Nygma, Silver Cat, El Picudo)
2001.05.24
Plaza de Toros Ciudad de México, Ciudad de México, Distrito Federal
6
Venum Black, TJ Boy, Highlander, Escorpion Negro
2001.06.15
Auditorio De Tijuana
8
Los Regio Guapos (Haytor, Tigre Universitario, Monje Negro Jr., El Potro Jr.)
Los Vipers (Psicosis II, Histeria II, Mosco de la Merced II, Maniaco)
2001.08.19
Arena Solidaridad De Monterrey
9
Los Vipers [4] (Psicosis II, Histeria II, Mosco de la Merced II, Maniaco)
Los Regio Guapos (Haytor, Tigre Universitario, Monje Negro Jr., El Potro Jr.)
2001.10.07
Arena Solidaridad De Monterrey
10
Los Vatos Locos (Picudo [3], Espiritu, Nygma [3], Silver Cat)
Los Vipers (Psicosis II, Histeria II, Mosco de la Merced II, Maniaco)
2001.11.23
Plaza De Toros, Mexico City
1
Payasos AAA (Coco Amarillo, Coco Azul, Coco Rojo, Coco Negro)
2002.02.06
Cuautitlan
2
Payasos AAA (Coco Amarillo, Coco Azul, Coco Rojo, Coco Negro)
2002.04.14
Durango
3
The Black Family (Chessman, Ozz, Cuervo, Escoria)
2002.07.05
Madero
4
The Black Family (Chessman, Ozz, Cuervo, Escoria)
2002.09.16
El Toreo De Naucalpan
5[2]
Los Vipers
Charly Manson, Psicosis II, Histeria II, Mosco de la Merced II
2002.09.27
Centro de Convenciones, Ciudad Madero, Tamaulipas
11
Oscar Sevilla & Los Barrio Boys (Alan, Decnis, Billy Boy)
Los Vatos Locos (Picudo, Espiritu, Nygma, Silver Cat)
2002.12.02
Nuevo Laredo
1
Hator, Monje Negro Jr., El Potro Jr., Ben Hur
2003.04.06
Arena Solidaridad De Monterrey
2
Los Vatos Locos
Picudo, Espiritu, Silver Cat, Super Kiss
2003.04.30
Aguascalientes, Aguascalientes
12
The Black Family (Chessman, Ozz, Cuervo, Escoria)
Oscar Sevilla & Los Barrio Boys (Alan, Decnis, Billy Boy)
2003.07.18
Madero
13
Oscar Sevilla [2] & Los Barrio Boys (Alan [2], Decnis [2], Billy Boy [2])
The Black Family (Chessman, Ozz, Cuervo, Escoria)
2003.08.08
Puebla
1[3]
Halcon Rojo, Gavilia I, Gavilia II, Gavilia III
2003.10.19
Poliforum Samna, Merida, Yucatan
2
Pimpinela Escarlata, May Flowers, Polvo de Estrellas, Sexy Francis
2003.10.26
Arena Solidaridad De Monterrey
14
The Black Family [2] (Chessman, Ozz, Cuervo, Escoria)
Oscar Sevilla & Los Barrio Boys (Alan, Decnis, Billy Boy)
2004.08.20
Puebla
1
El Angel, Alan, Decnis, Billy Boy
2005.06.30
Gimnasio Agustin Millan, Toluca
2
Los Guapos VIP (Shocker, Scorpio Jr., Alan Stone, Zumbido)
2006.03.19
Oaxaca
3
Real Fuerza Aérea AAA (Rey Cometa, Laredo Kid, Nemesis, Super Fly)
2006.06.18
El Toreo De Naucalpan
4
Real Fuerza Aérea AAA (Rey Cometa, Laredo Kid, Nemesis, Super Fly)
2006.07.07
Gimnasio Marcelino Gonzalez de Zacatecas - Zacatecas
5
Crazzy Boy, Joe Lider, Juventud Guerrera, Psicosis
2006.08.17
Aguascalientes
6
Crazzy Boy, Joe Lider, Juventud Guerrera, Psicosis
2006.08.20
Auditorio Manuel Bonilla, Manzanillo
15
Crazzy Boy, Joe Lider, Juventud Guerrera, Psicosis [5]
The Black Family (Chessman, Ozz, Cuervo, Escoria)
2006.11.18
Lienzo Charro, Cuernavaca, Morelos
1
Ozz, Cuervo, Escoria, Espíritu
2007.05.12
Plaza de Toros Monumental de Apiziaco
16
Ozz [3], Cuervo [3], Escoria [3], Espiritu [2]
Mexican Powers (Crazzy Boy, Joe Lider, Juventud Guerrera, Psicosis)
2007.05.20
Palacio del Arte de Morelia
17
Chessman [3], Killer Clown, Zombie Clown, Psycho Clown
Ozz, Cuervo, Escoria, Espiritu
2009.01.18
Parque de Beisbol de Guanajuato
titles stripped from champions on 2009.01.25 for a post title match attack on AAA commissioner Vampiro
 
 
title change
successful title defense
championship matches which were announced, but results were not found
Gallery of Champions
Sources
Also Listed As
| | This article is a stub of a yet to be completed article. Free to add your own details to this article |
| --- | --- |