Los Vipers
From Luchawiki
Jump to navigation
Jump to search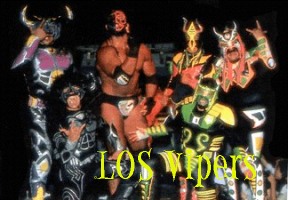 Los Vipers were a stable created in August 1997 during a Noti AAA sketch. The leader of the group was Cibernetico and although he never formally announced who was in the group, over the course of a few weeks in became apparent as certain people who would wear Vipers t-shirts or run-in to help Cibernetico during his matches. The initial group consisted of:
The stable was a huge hit and had memorable feuds with Los Payasos, Los Vatos Locos & Los Junior Atomicos. They even went to invade a CMLL TV show in Arena Mexico.
In late 1999, problems began to arise between Cibernetico & Abismo Negro and they forced all the Vipers members to choose sides. The end result was the formation of two sub-groups:

Los Vipers Extreme: Abismo Negro, Electro Shock, Pentagon, Shiiba, El Cuervo & Mini Abismo Negro.
Los Vipers Primera Clase: Cibernetico, Psicosis, Histeria, Mosco De La Merced, Maniaco, Mini Psicosis, Mosquito De La Merced & Mini Histeria.

In typical Antonio Pena fashion, the angle ended up going nowhere and after a month or two Los Vipers were re-united once again minus Shiiba, El Cuervo & Pentagon but plus Tokyo Viper.
Over the course of the next few years the actual Vipers stable began to diminish and the only members left using the name were the four-man stable comprised of: Psicosis, Histeria, Mosco De La Merced & Maniaco. Cibernetico had decided to start his own LLL (Lucha Libre Latina) group which was Pena's version of the nWo (New World Order) that existed in WCW. Maniaco ended up leaving the promotion ending his association with Los Vipers and the group died once Histeria turned tecnico in late 2005.
Of course, nothing's forever, even breakups. By spring 2007, the Vipers were reborn as Vipers Revolution.
Gallery