Mexican National Women's Tag Team Championship
From Luchawiki
Jump to navigation
Jump to search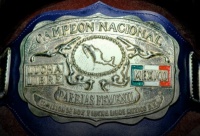 Current Champions
Jarochita & Lluvia are the current champions, they defeated Amapola & La Metálica in a tournament final to crown new champions on October 16, 2020 in Arena México.

History of Championship
The Mexican National Women's Tag Team Championship was mainly defended in small arenas. It was disputed for the first time in Arena Xochimilco in 1990. The championship was defended around Mexico City and Mexico State by several years until went defunct in 1997. The last recorded champions were La Rosa and Sirenita. CMLL announced they took over control of the titles on March 4, 2020. A tournament was announced in order to crown the new champions.
Champions Listing
#
Champion(s)
Defeated
Date
Location
Finals of tournament to crown the first champions
1
Irma Aguilar & Irma Gonzalez
Neftali & Satanakia
1990.08.15
Arena Xochimilco - Mexico City
[1]
1
India Sioux 0 & La Marquesa
1990.10.15
Arena San Mateo - San Mateo Atenco, Mexico State
2
Martha Villalobos & Pantera Surena
Irma Aguilar & Irma Gonzalez
1991.12.20
Arena Altavilla - Mexico City
[2]
1
Lady Apache & Xochitl Hamada
1992.05.24
San Lorenzo
3
Vicky Carranza & Briosa
Martha Villalobos & Pantera Surena
1994.02.19
Arena Xochimilco - Mexico City
Championship vacated when team splitted off
Decision Match to crown the new champions
4
Neftali & Briosa
Vicky Carranza & La Medusa
1994.04.06
Arena Apatlaco - Mexico City
[3]
5
La Rosa & La Sirenita
Neftali & La Broisa
1996.01.05
Arena Neza
[4]
Championship defunct in 1997; CMLL officially reactivated the titles on March 4, 2020
10 team tournament for vacant championship
6
Jarochita & Lluvia
Amapola & La Metálica
2020.10.16
Arena Mexico
1
Lady Egipcia & Bella Génesis[5]
2021.05.23
Arena Cri-Cri, Cuernavaca, Morelos
2
Dalys & Stephanie Vaquer
2021.05.29
Arena Mexico
[6]
3
Silueta & Amapola
2021.07.30
Arena Mexico
4
Silueta & Reina Isis
2021.09.24
Arena Mexico
5
Amapola & La Metálica
2021.11.05
Arena Mexico
6
Misteriosa & Kyoki
2021.12.23
Coliseo Tony Arellano, Torreón, Coahuila
7
Dark Silueta & Dalys
2022.03.29
Arena Mexico
8
Sthefany & Lady Ferrari
2022.04.17
Arena Unión, Veracruz, Veracruz
9
Reina Isis & La Metálica
2022.06.20
Arena Puebla, Puebla, Puebla
10
Dark Silueta & La Amapola
2022.09.30
Arena Mexico
11
Reina Isis & Dalys
2022.10.17
Arena Puebla
12
Reina Isis & La Metálica
2023.02.03
Arena Mexico
13
Olympia & Hera
2023.07.31
Arena Puebla
 
 
title change
successful title defense
championship matches which were announced, but results were not found
Gallery of Champions
Sources