Occidente Women's Championship
From Luchawiki
Jump to navigation
Jump to search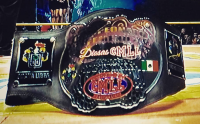 The Occidente Women's Championship is one of the state championships of the Guadalajara box y lucha libre commission. It's only noted as being active during the 50s and 60s.

Current Champion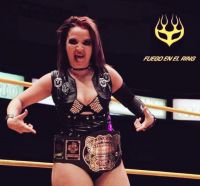 Silueta is the first current champion, she defeated Lluvia for the vacant title on July 6, 2021 in Arena Coliseo Guadalajara.

History of Championship
This championship was mentioned in the 50s and 60s. It may have been replaced by the Jalisco Women's Championship and has not been mentioned in modern times.
In 2021, there was a tournament for the vacant title. On July 6, 2021, Silueta became the first Occidente Women's Champion in 40 years after defeating Lluvia in Arena Coliseo Guadalajara.
Known Champions Listing
Gallery of Champions
Guadalajara
Arenas: Arena Coliseo Guadalajara, Arena Victoria
Local Legends: Rayo de Jalisco, Rayo de Jalisco Jr., Ringo Mendoza, Diablo Velasco; all
Local Titles: Occidente (Light, Welter, Middle, Light Heavy, Heavy, Tag, Trios), NWG (IC)