Arena López Mateos
From Luchawiki
Jump to navigation
Jump to search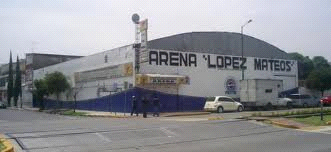 Arena Adolfo López Mateos has been running wrestling shows since May 14, 1967. It was built by Héctor Guzman, Sr. and Domingo Zavala. The arena used to be non-exclusive and would hold shows from all promotions including EMLL, UWA & AAA. Currently shows are promoted by Héctor Guzmán, Jr., who runs the AULL and UWE promotions.
Arena Adolfo Lopez Mateos has a capacity of 2,100. Originally, it fit 1,800 fans.
The address to the building is Emilio Cardenas 28, CP 54000 Tlalnepantla, México, México. The phone number is +52 55 8588 0351.
Controversy
During the semifinal fight in Arena López Mateos, where, under extreme rules, Angel o Demonio threw a partition over the head of "Cuervo de Puerto Rico", leaving him lying outside the ring with a visible hemorrhage.
The Boxing and Professional Wrestling Commission of the State of Mexico considered that the fighter Angel o Demonio committed an excessive aggression against "El Cuervo de Puerto Rico", which caused a serious injury and, according to the regulations, "It will indefinitely suspend throughout the State territory and will be sought on the basis of reciprocity that all Country Commissions respect this point."

Likewise, the Boxing and Struggle Commission of the State of Mexico indicated that there will be an audience with Juan Mejía Morales, promoter and the owner of the Arena López Mateos, Hector Guzman, because in all the state territory Lucha Extrema / No Holds Barred is forbidden.
Gallery