La Secta
From Luchawiki
Jump to navigation
Jump to search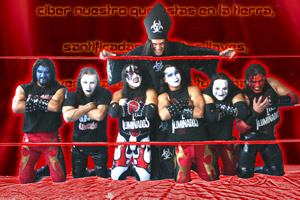 La Secta is a short hand for a series of religious/cult-like groups in AAA, since 2005.
The original iteration was La Secta Cibernetica, led by Cibernetico. It was formed on the November 12, 2005 AAA television show. Among the first recruits were the Dark Family trio, as well as usual Cibernetico associates Chessman and Charly Manson. Espiritu left the Vatos Locos group to also join the Sect, and the group grew in popularity. The last major addition to the original group was Muerte Cibernetica. Cibernetico had lost his mask to La Parka Jr. at TripleMania 12, and Muerte was brought into the promotion by Cibernetico to avenge that defeat. The Sect Cibernetico formed a strong alliance with Konnan's Foreign Legion faction. Around this period, it was not uncommon to see opening match wrestlers also wearing Secta t-shirts, or for various local wrestlers at AAA shows being inducted in as La Secta members, though it was only rarely mentioned on television. Fantasma De La Quebrada was an unofficial member in his local town of Acapulco.
Muerte lost in his own mask match battle versus La Parka Jr. at TripleMania 14. The loss, coupled with a knee injury Cibernetico had previously suffered (and which would keep him out of action most of the rest of the year) caused Muerte Cibernetico to engineer a coup for leadership of the group. Ciberntico was kicked to the curb with Muerte taking over. Both Chessman and Charly Manson eventually sided with Cibernetico, forming the rival Hell Brothers group. Meanwhile, the Dark Family trio expanded to an atomico size unit, with Espiritu being a regular, and all four sided with Muerte Cibernetica.
In the climax of Guerra de Titantes 2006, Cibernetico beat Muerte in a casket match, and had the casket tossed into the ocean and set on fire. Despite the apparent death of their leader, the ex-Dark Family continued using the Sect name, now calling themselves 'La Secta Diabolica.
Muerte Cibernetica returned to AAA at Rey de Reyes 2007, changing his name to El Mesias to celebrate his return from death, and the Dark Family continues to work with him as the new La Secta de Mesias.
In the summer of 2008, it looked like there was rift growing in between La Secta leader El Mesias and Ozz. This would come to a head when El Mesias was booted from La Secta in September 2008 for losing to long-time rival Vampiro in a cage match. Since that point Ozz took control of the rest of the Dark Family to remake that stable from the rubble that was La Secta.
In mid 2012, Cibernetico brought back the La Secta name but as La Secta Bizarra Cibernetica. He brought in Los Bizarros members Billy el Malo, Escoria and Taboo along with Dark Family members Cuervo, Espiritu and Ozz after El Inframundo ended.
In 2013 La Secta turned on Cibernetico. It currently has no leader.
Current version:
La Secta Bizarra Cibernetica
Former members:
Cibernetico (former leader, until rest of the team turned on him)
Former versions:
La Secta Cibernetico:
Cibernetico
Cuervo
Escoria
Espiritu
Ozz
Minis
After the Hell Brothers split, their minis are now wearing Hell Brothers gear. The minis and the actual group do not associate or team on the television shows, so it appears the minis are less a part of the group and more just emulating the look of their normal sized namesakes.
La Secta Diabloica
Asesor Cibernetico
Cuervo
Escoria
Espiritu
Ozz
La Secta de Mesias
El Mesias (leader)
Cuervo
Escoria
Espiritu
Ozz
This team ended after the rest of Secta turned on Mesias.