CMLL World Trios Championship
From Luchawiki
Jump to navigation
Jump to search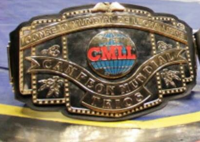 Current Champions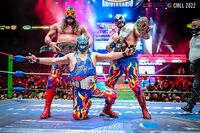 Los Infernales (Euforia, Hechicero, Mephisto) became the 33rd champions on March 18, 2022, defeating Los Malditos (Sagrado, Gemelo Diablo I, Gemelo Diablo I) in Arena Mexico. That was the final of a four team tournament for the vacant titles.
History of Championship
15: Hector Garza, Tarzan Boy and Terrible won the belts after just a couple feuds of with the champions. There didn't seem to be any particular plans for this unit, a make shift one, and the belts may have only been defended once before the team quietly split. There never was an in-ring break up, but the team was divided between members of the Guerreros del Atlantida faction (Tarzan Boy) and Los Perros del Mal (Hector Garza, Terrible), and the two factions started feuding against each other in 2005. The championship was rarely mentioned from 2005 until the decision match to decide new champions.
Vacant (4): It was announced on the September 16, 2006 CMLL television show that a decision match would be held for the champion on September 29th, the CMLL Anniversary show.
16: Atlantis, Ultimo Guerrero and Tarzan Boy won a decision match over Perro Aguayo Jr., Hector Garza and Shocker when Shocker turned on his teammates. The Trios championships continued to be a battlefield between Perros del Mal and Guerreros del Atlantida.
17: Mr. Aguila, Perro Aguayo Jr. and Hector Garza, members of Perros del Mal, over thru the Guerreros for the championship on February 16, 2007. The team defended the championship once before it slipped into the background of individual feuds.
In February of 2008, Los Perros turned on Hector Garza when he protested Averno and Mephisto inclusion in the group. The trios championship situation was not addressed for three months past until a title tournament was announced after the May 23rd show.
18: Despite never having teamed previously, Hector Garza led young tecnicos La Mascara and Hijo del Fantasma thru the championship tournament, climaxing with an upset win over Blue Panther, Dos Caras Jr., and Garza's then tag team championship partner Místico. It was a rare tecnico/tecnico final, seemingly setting up issues between Garza and Místico and Garza's new role as a leader of a group of high flyers.
Neither idea seemed to gain much traction, and neither did this trio on it's first trip thru. The unit did not team up unless they were about to lose a non-title match or win a title defense. While it did give more attention to Mascara and Fantasma, they were still used lower on the cards and wouldn't naturally find chances to team with their leader. Just as this team won the championship without teaming previously, they lost to a team who had not teamed up previously.
19: Continuing the pattern, Negro Casas, Ultimo Guerrero and Atlantis won the CMLL Trios Championship as a three top wrestlers who happened to be teaming together on that night, and not as previously established unit. In fact, Negro Casas was already in an established unit (Pesta Negra) and the other two were in a totally separate unit (Guerreros del Atlantida). Winning the trios championship fuzzied the distinction between those two groups and caused the Guerreros to lose members (Sangre Azteca & Olimpico) who were upset about being passed over for a non-member like Negro Casas.
What this team did not have in team strength, it did make up for thru having a genuine Mexico City feud for the championship. As part of the CMLL/TNA partnership, and spilling out of the events of the 2008 Gran Prix, a trio of TNA wrestlers challenges for the trios titles at the 75th Anniversary show. The champions held on, despite Ultimo Guerrero not getting revenge on rival Alex Shelley.
In a surprise, this trio lost the belts back to those who had beat them.
20: The tecnico trio of Hijo del Fantasma, La Mascara and Hector Garza were more successful in the their second reign. The team had a series of high profile Arena Mexico defenses, and turned back the La Triada del Terror team three different times. Unlike the first time, where Fantasma and Mascara seemed to be random men pulled up from the midcard, the two younger wrestlers were moved up to a higher level when this title reign got rolling.
However, after September, the team wasn't much of a team. Hector Garza was more focused on a rivalry with No Limit. Once that got changed to No Limit versus Terrible & Texano Jr., Garza feuded with Ultimo Guerrero over the CMLL World Heavyweight Championship instead. While Fantasma and Mascara were still treated as bigger stars, this title went on the back burner for about a half year (not too unprecedented in CMLL or with these titles.)
In spring of 2010, Garza suddenly started becoming frustrated with his tecnico partners, betraying them to the rudos at times. At first, it seemed like Terrible, Texano and a partner to be decided later were about to win these titles, but that storyline got pushed off to the side during the Gran Alternativa tournament. Garza won the tournament, teaming with rudo Polvora, while his partners lost to Japanese duo Okumura & Taichi in an atomicos the same week as the final. The foreigners demanded a title shot, teaming with Tanahashi, due to arrive the next week. Mascara & Fantasma accepted, without Garza being aware. It was not a surprise when the title match went bad for the champions.
21: Taichi, Tanahashi and Okumura won the championships on May 7, with some help from Garza. It was the first time the Japanese trio had ever turned up, and it was Tanahashi's first match in CMLL in five years. The members of this team were the first non-Mexicans to win this championship.
Since Tanahashi was only scheduled to be in Mexico for a few weeks with no talk of return, and it was unlikely NJPW would bring Okumura over to help defend these championships, it was expected the new team would quickly lose the championships.
22: Sombra, Mascara Dorada, and La Mascara beat the Japanese team to take back the trios titles for CMLL. They did not appear to be the original planned unit; a team of Hector Garza, Texano Jr., Terrible was announced to get a non-title match versus the champions (won by the challengers to set up the title match the following week), but CMLL changed the lineup when plans for Garza also changed. This trio beat the champions the week after they won the titles in a non-title match, then beat the champions in a title match the following Friday.
Sombra, Dorada and Mascara were not a regular unit, similar to the previous tecnico champions. The trios had only teamed up one time, eight months prior to this title program. Mascara was part of the previous champion trio, Mascara Dorada has just returned from a trip to NJPW and Sombra was headed to NJPW a few weeks later. Sombra became a double champion, also holding the CMLL World Tag Team Championship with Volador Jr., while Mascara Dorada became a triple champion (Mexican National Trios Championship w/Metro & Stuka Jr. & CMLL World Super Lightweight Championship).
Champions Listing
#
Champion(s)
Defeated
Date
Location
tournament to decide the first champion
1
Infernales (Pirata Morgan, Satanico, MS 1)
Los Brazos (Oro, Plata, El Brazo)
1991.11.22
Arena Mexico
[1]
1
Konnan, Rayo de Jalisco Jr., El Dandy
1991.11.29
Arena Mexico
2
Oro, Plata, El Brazo
1991.12.17
Arena Isabel de Cuernavaca
[2]
2
Intocables (Pierroth Jr., Masakre, Jaque Mate)
Infernales (Pirata Morgan, Satanico, MS 1)
1992.03.22
Arena Mexico
[3]
1
Atlantis, El Dandy, Ultimo Dragon
1992.07.05
Arena Mexico
2
Latin Lover, Love Machine, Vampiro
1992.08.16
Plaza De Toros La Monumental de Monterrey
[4]
3
Infernales (Pirata Morgan, Satanico, MS 1) [2]
Intocables (Pierroth Jr., Masakre, Jaque Mate
1992.09.20
Arena Mexico
1
Los Brazos (Oro, Plata, El Brazo)
1992.10.16
Arena Mexico
[5]
2
Pierroth Jr., Masakre, Jaque Mate
1993.01.31
Arena Coliseo DF
4
Los Brazos (Oro, Plata, El Brazo)
Infernales (Pirata Morgan, Satanico, MS 1)
1993.04.06
Arena Coliseo DF
1
Dos Caras, Gran Hamada, Kendo
1993.06.02
Osaka, Japan
2
La Fiera, Sangre Chicana, Emilio Charles Jr.
1993.06.23
Acapulco
3
Damian el Guerrero, Guerrero Maya, Guerrero Del Futuro
1993.06.26
Pista Arena Revolucion
4
Emilio Charles Jr., Jaque Mate, Kahoz
1993.09.24
Arena Mexico
5
Espectro Jr., Mogur, Titan
1994.01.18
Arena Coliseo DF
6
Brazo de Platino, Kendo, Robin Hood
1994.03.08
Korakuen Hall - Tokyo
7
Dr. Wagner Jr., Gran Markus Jr., El Hijo del Gladiador
1994.03.22
Arena Coliseo DF
5
La Ola Blanca (Dr. Wagner Jr., Gran Markus Jr., El Hijo del Gladiador)
Los Brazos (Oro, Plata, El Brazo)
1994.04.22
Arena Mexico
1
Silver King, El Dandy, El Texano
1994.07.15
Arena Mexico
6
Sangre Chicana, Bestia Salvaje, Emilio Charles Jr.
La Ola Blanca (Dr. Wagner Jr., Gran Markus Jr., El Hijo del Gladiador)
1995.03.31
Arena Mexico
7
Dos Caras, Hector Garza, La Fiera
Sangre Chicana, Bestia Salvaje, Emilio Charles Jr.
1996.03.22
Arena Mexico
1
La Ola Blanca (Dr. Wagner Jr., Gran Markus Jr., El Hijo del Gladiador)
1996.05.18
Pista Arena Revolucion
2
Rambo, Mano Negra Jr., Scorpio Jr.
1996.07.11
Pista Arena Revolucion
titles vacant when Garza jumps to AAA
tournament to decide new champions
8
Satanico [3], Emilio Charles Jr. [2], Rey Bucanero
Apolo Dantes, Black Warrior, Dr. Wagner Jr.
1997.03.21
Arena Mexico
9
Atlantis, Lizmark, Mr. Niebla
Satanico, Emilio Charles Jr., Rey Bucanero
1997.04.29
Arena Coliseo DF
1
Apolo Dantes, Kevin Quinn, Steele
1997.06.06
Arena Mexico
2
Apolo Dantes, Kevin Quinn, Steele
1997.06.13
Arena Mexico
3
Satanico, Emilio Charles JR., Rey Bucanero
1997.07.04
Arena Coliseo Acapulco
[6]
3
Pirata Morgan, Rey Bucanero, Satanico
1998.08.22
KBS Hall - Japan
vacant October 1998 due to Niebla being injuried
tournament to decide next champion
10
Blue Panther, Black Warrior, Dr. Wagner Jr. [2]
Zumbido, Bestia Salvaje, Scorpio Jr.
1998.12.18
Arena Mexico
1
Atlantis, Emilio Charles Jr., Felino
1999.01.22
Arena Coliseo DF
2
Negro Casas, Emilio Charles Jr., Tarzan Boy
2000.04.07
Arena Mexico
3
Rayo de Jalisco Jr., Villano III, Villano IV
2000.09.15
Arena Mexico
4
Los Villanos (Villano III, Villano IV, Villano V)
2000.12.29
Arena Mexico
vacant February 2002 when team split
decision match to determine champion
11
Blue Panther [2], Dr. Wagner Jr. [3], Fuerza Guerrera
Mr. Niebla, Black Warrior, Antifaz Del Norte
2002.03.17
Arena Mexico
8 team tournament for championship match
1
Ultimo Guerrero, Rey Bucanero, Tarzan Boy
2002.03.22
Arena Mexico
2
Los Villanos (Villano III, Villano IV, Villano V)
2002.05.19
Arena Neza
12
Mr. Niebla [2], Black Warrior [2], Atlantis [2]
Blue Panther, Dr. Wagner Jr., Fuerza Guerrera
2002.06.16
Arena Mexico
16 team tournament for championship match
1
Dr. Wagner Jr., Apolo Dantes, Black Tiger
2002.11.22
Arena Mexico
2
Black Tiger, Nosawa, Takemura
2003.01.02
Arena Isabel De Cuernavaca
13
Dr. Wagner Jr. [4], Universo 2000, Black Tiger
Mr. Niebla, Black Warrior, Atlantis
2003.03.21
Arena Mexico
1
Shocker, Mascara Magica, Terrible
2003.05.05
Arena Puebla
16 team tournament for championship match
2
Satanico, El Averno, El Mephisto
2003.08.01
Arena Mexico
3
Atlantis, Blue Panther, Lizmark Jr.
2004.04.07
Arena Coliseo De Acapulco
14
Canek, Black Warrior [3], Rayo de Jalisco Jr.
Dr. Wagner Jr., Universo 2000, Black Tiger
2004.07.09
Arena Mexico
15
Hector Garza [2], Tarzan Boy, Terrible
Canek, Black Warrior, Rayo de Jalisco Jr.
2004.11.19
Arena Mexico
1
Dr. Wagner Jr., Dos Caras Jr., Lizmark Jr.
2005.??.??
Acapulco - Guerrero
championship officially vacant on 2006.09.16, though inactive for 20+ months previous
decision match for vacant championship on 2006.09.29
16
Atlantis [3], Tarzan Boy [2], Ultimo Guerrero
Perro Aguayo Jr., Hector Garza, Shocker
2006.09.29
Arena Mexico
1
Hector Garza, Halloween, Damian 666
2006.12.15
Arena Mexico
17
Mr. Aguila, Perro Aguayo Jr., Hector Garza [3]
Atlantis, Tarzan Boy, Ultimo Guerrero
2007.02.16
Arena Mexico
1
Atlantis, Ultimo Guerrero, Sangre Azteca
2007.03.23
Arena Mexico
championship officially vacant on 2008.05.24
8 team tournament for vacant trios championship
18
Hector Garza [4], La Mascara, Hijo del Fantasma
Místico, Blue Panther, Dos Caras Jr.
2008.06.13
Arena Mexico
1
Averno, Mephisto, Ephesto
2008.07.06
Arena Coliseo de Guadalajara
2
Heavy Metal, Negro Casas, Mr. Niebla
2008.07.28
Arena Puebla
19
Ultimo Guerrero [2], Negro Casas, Atlantis [4]
Hector Garza, La Mascara, Hijo del Fantasma
2008.08.05
Arena Mexico
1
Alex Shelley, Chris Sabin, Sonjay Dutt
2008.09.19
Arena Mexico
2
Marco Corleone, Dos Caras Jr., Hector Garza
2008.10.13
Arena Puebla
20
Hector Garza [5], La Mascara [2], Hijo del Fantasma [2]
Ultimo Guerrero, Negro Casas, Atlantis
2009.01.18
Arena Coliseo Guadalajara
1
Averno, Mephisto, Ephesto
2009.03.15
Arena Mexico
2
Dragon Rojo Jr., Sangre Azteca, Misterioso II
2009.04.03
Arena Mexico
3
Averno, Mephisto, Ephesto
2009.07.14
Arena Mexico
4
Felino, Mr. Niebla, Negro Casas
2009.08.31
Arena Puebla
5
Averno, Mephisto, Ephesto
2009.09.16
Arena Coliseo
21
Hiroshi Tanahashi, Taichi, Okumura
Hector Garza, La Mascara, Hijo del Fantasma
2010.05.07
Arena Mexico
22
La Mascara [3], Mascara Dorada, Sombra
Hiroshi Tanahashi, Taichi, Okumura
2010.05.21
Arena Mexico
1
Negro Casas, Felino, Rey Bucanero
2010.07.19
Arena Puebla
2
Hector Garza, Terrible, Texano Jr.
2010.08.03
Arena Mexico
3
Ultimo Guerrero, Atlantis, Dragon Rojo Jr.
2010.10.17
Arena Mexico
4
El Alebrije, Olimpico, Psicosis II
2010.10.29
Arena Mexico
5
Okumura, Tetsuya Naito, Yujiro Takahashi
2011.01.23
Korakuen Hall
6
Ultimo Guerrero, Atlantis, Dragon Rojo Jr.
2011.02.13
Arena Coliseo Guadalajara
7
Averno, Mephisto, Ephesto
2011.03.06
Arena Coliseo
8
Averno, Mephisto, Volador Jr.
2011.03.19
Veterans Field, Laredo, Texas
23
Averno, Mephisto, Ephesto
La Mascara, Sombra, Mascara Dorada
2011.07.15
Arena Mexico
1
La Mascara, Sombra, Mascara Dorada
2011.08.19
Arena Coliseo Guadalajara
2
Rush, Maximo, Toscano
2011.10.03
Arena Puebla
24
Marco Corleone, Máximo, Rush
Averno, Mephisto, Ephesto
2012.02.19
Arena Mexico
1
Rey Bucanero, Terrible, Tiger
2012.04.27
Arena Mexico
2
Dragón Rojo Jr., Rey Escorpion, Último Guerrero
2012.06.18
Arena Puebla
3
Kraneo, Olímpico, Psicosis
2012.07.01
Arena Mexico
4
Dragón Rojo Jr., Rey Escorpión, Último Guerrero
2012.09.07
Arena Mexico
5
Averno, Mephisto, Tama Tonga[7]
2012.10.30
Arena Coliseo Guadalajara
6
Mr. Aguila, Psicosis, Volador Jr.
2013.01.11
Arena Mexico
7
Mr. Aguila, Psicosis, Kraneo
2013.02.17
Arena Mexico
8
Los Guerreros (Euforia, Niebla Roja, Ultimo Guerrero)
2013.04.08
Arena Puebla
champions vacated on May 9, 2013 due to Corleone right knee injury
eight team tournament to decide the first champion
25
Los Estetas del Aire (Místico, Mascara Dorada [2], Valiente)
Los Guerreros (Ultimo Guerrero, Euforia, Niebla Roja)
2013.06.16
Arena Mexico
1
Averno, Mephisto, Ephesto
2013.07.01
Arena Puebla
2
Dragon Rojo Jr., Polvora, Rey Escorpion
2013.09.13
Arena Mexico
3
Dragon Rojo Jr., Polvora, Rey Escorpion
2013.10.21
Arena Puebla
4
Averno, Mephisto, Ephesto
2013.12.17
Arena Coliseo Guadalajara
5
Cavernario, Felino, Terrible
2014.03.03
Arena Puebla
26
Los Guerreros Laguneros
(Euforia, Niebla Roja, Último Guerrero [3])
Los Estetas del Aire
(Místico, Mascara Dorada, Valiente)
2014.03.28
Arena Mexico
1
Los Reyes del Atlantida (Atlantis, Delta, Guerrero Maya Jr.)
2014.05.20
Arena Mexico
2
Los Reyes del Atlantida (Atlantis, Valiente, Volador Jr.)
2014.07.21
Arena Puebla
3
Atlantis, Máximo, Valiente
2014.10.27
Arena Puebla
27
Sky Team
(Místico II, Volador Jr., Valiente [2])
Los Guerreros Laguneros
(Ultimo Guerrero, Euforia, Niebla Roja)
2015.02.13
Arena Mexico
1
Los Guerreros Laguneros (Euforia, Gran Guerrero, Último Guerrero)
2015.04.28
Arena Coliseo de Guadalajara
2[8]
Los Revolucionarios del Terror (Dragon Rojo, Pólvora, Rey Escorpión)
2015.06.15
Arena Puebla
3[9]
Los Guerreros Laguneros (Euforia, Gran Guerrero, Niebla Roja)
2015.08.23
Arena Mexico
4[10]
La Peste Negra (Mr. Niebla, Negro Casas, Bárbaro Cavernario)
2015.11.16
Arena Puebla
5[11]
Kraneo, Mephisto, Ripper
2016.01.04
Arena Puebla
6[12]
La Fuerza TRV (El Terrible, Rey Bucanero, Vangelis)
2016.01.12
Arena Coliseo de Guadalajara
7[13]
Los Guerreros Laguneros (Euforia, Gran Guerrero, Último Guerrero)
2016.09.02
Arena Mexico
8
Euforia, Gran Guerrero, La Máscara
2016.11.01
Arena Puebla
9
Hechicero, Luciferno, Mephisto
2017.03.17
Arena Mexico
10
Carístico, Gran Guerrero, Último Guerrero
2018.04.02
Arena Puebla
28
Los Guerreros Laguneros
(Ultimo Guerrero [4], Euforia [2], Gran Guerrero)
Sky Team
(Místico II, Volador Jr., Valiente)
2018.07.01
Arena Mexico
29
El Cl4n (Ciber the Main Man, Scharly Rock Star & The Chris)
Guerreros Laguneros
(Ultimo Guerrero, Euforia, Gran Guerrero)
2018.09.14
Arena Mexico
30
Los Guerreros Laguneros
(Ultimo Guerrero [5], Euforia [3], Gran Guerrero [2])
El Cl4n (Ciber the Main Man, Scharly Rock Star & The Chris)
2018.09.28
Arena Mexico
1
Carístico, Místico II, Volador Jr.
2018.11.30
Arena Mexico
2
Carístico, Dragon Lee, Volador Jr.
2019.03.15
Arena Mexico
3
Carístico, Soberano Jr., Stuka Jr.
2019.05.28
Arena Coliseo Guadalajara
31
Nueva Generacion Dinamita
(El Cuatrero, Sansón, Forastero)
Los Guerreros Laguneros
(Ultimo Guerrero, Euforia, Gran Guerrero)
2021.03.26
Arena Mexico
1
Carístico, Místico, Volador Jr.
2021.06.19
Arena Mexico
NGD quit the promotion on 2021.08.10, titles declared vacant
four team tournament for vacant championship
32
Los Malditos
Gemelo Diablo I, Gemelo Diablo II, Sagrado
Atlantis, Gran Guerrero, Último Guerrero
2022.03.18
Arena Mexico
1
Atlantis Jr., Gran Guerrero, Último Guerrero
2022.06.27
Arena Puebla
[14]
33
Los Infernales
(Euforia, Hechicero, Mephisto)
Los Malditos
Gemelo Diablo I, Gemelo Diablo II, Sagrado
2022.09.30
Arena Mexico
1
La Fuerza Tapatia
Esfinge, Fugaz, Star Black
2023.01.31
Arena Mexico
 
 
title change
successful title defense
championship matches which were announced, but results were not found
Gallery of Champions
Gallery of Title Belts
Sources