El Brazo
From Luchawiki
Jump to navigation
Jump to search
Profile
El Brazo (The Arm)

| | |
| --- | --- |
| Name | El Brazo (The Arm) |
| Real name | Juan Alvarado Nieves |
| Nicknames | Juan El Hermoso (Juan, The Beautiful One) |
| Name history | Jhony El Suavecito (debut), El Brazo (mid 1980s - ?), Brazo Negro (1994), Brazo Hermoso (95 - 96), Tio Lucas (AAA, 2/6/01), Latin Boiler (AAA, 04 -), Ingordable (05 - ), La Puerca (07-), La Braza (AAA 11/2011) |
| Family | Shadito Cruz (father), El Brazo Jr. (son), Brazo de Plata, Brazo de Oro, Robin Hood, Super Brazo, Brazo de Platino (brothers), Lady Apache (former sister-in-law), La Alimaña (brother-in-law), Máximo, Kronos and La Máscara (nephews); see Brazo Family |
| Maestro(s) | Shadito Cruz, Felipe Ham Lee |
| Birth date, location | July 30, 1961 - Mexico City |
| Obituary date | October 15, 2013 |
| Debut, location | August 1980 |
| Lost mask to | Villanos I, IV, V - October 21, 1988 - El Toreo |
| Height | 5'7"/170 cms |
| Weight | 253 lbs/115 kg |
| Signature moves | La Bracina (Armbar submission), Small Package, Quebradora con Giro |
| Titles: | Distrito Federal Trios Titles (w/ Brazo de Oro & Brazo de Plata), National Trios Titles (3, w/ Brazo de Oro & Brazo de Plata twice, w/ Brazo de Plata & Super Elektra), UWA World Trios Titles (5, w/ Brazo de Oro & Brazo de Plata), CMLL World Trios Titles w/ Brazo de Oro & Brazo de Plata), Monterrey: FILL Trios Titles (w/ Brazo de Oro & Brazo de Plata), WWA World Trios Titles (w/ Brazo de Oro & Brazo de Plata), Distrito Federal Tag Team Titles (w/ Brazo de Plata) |
Wrestling Observer Hall Of Fame Member
Obituary
by Steve Sims
Juan Alvarado Nieves, who was in his 34th consecutive year as a professional wrestler in Mexico under a varity of ring names – most famously as "El Brazo" in one of the most noteworthy full-time trios teams in professional wrestling history - passed away very late Tuesday night, October 15, 2013, in a hospital in Mexico City. Alvarado had been hospitalized since the previous weekend after complaining of various gastrointestinal issues, and apparently had been in a diabetic coma for about 48 hours before his death. A diabetic coma is a nasty, horrible thing, and it was not a surprise that he suffered a myocardial infarction and stopped breathing late Tuesday night.
Alvarado was one-third of one of the most famous wrestling trios ever, "Los Brazos." The second-eldest of six wrestling sons of Juan Alvarado Ibarra (who died in 2003) and Ana Nieves de Alvarado, Juan (born July 30, 1961) debuted in August 1980 in a trios match with his elder brother Jesus ("El Brazo de Oro" born 10-7-59, debut 10-5-75) and younger brother Jose ("El Brazo de Plata," born 3-19-63, debut 1-21-77), the trio that would become world famous.
For the record, the other three wrestling brothers were Aaron ("Brazo Cibernetico and "Robin Hood" born 5-9-66, debut 12-15-79, 10-27-99); died Martin ("Super Brazo," born 3-7-68, debut 7-7-83); and Daniel ("Brazo de Platino," born 4-7-73, debut 1986). Also, for the record, when the James Bond movie "The Man with the Golden Arm" in the 1960s came out, EMLL under the auspices of Salvador Lutteroth repackaged Shadito Cruz and had him come to the ring for a few months as "El Hombre con el Brazo de Oro." The name was too long (and too obvious a steal from the James Bond); Shadito's son shortened it when the son debuted 10 years later. Lutteroth was not convinced that going the super-hero super-agent route had burned out. The next guy he debuted with a James Bond gimmick was given a mask and the ring name of "El Satanico Doctor No." That man had a Hall-of-Fame career when he dropper the "Dr. No" part of his name. And, for anyone with their mind in the gutter, Lutteroth never named one of his lady wrestlers "Octopussy."
After Cruz retired, he was hired by Lutteroth as one of the trainers at the EMLL gym on the 4th floor of Arena Mexico. As they got older, Cruz brought his sons to work with him. Jesus wanted to know everything about how the business side worked. Juan just farted around, always getting into mischief. Jose was either angelic - funny or totally the miscreant like Juan, more often the latter, but always getting into fights. Juan, El Brazo, had to be kind of dragged along after a while and convinced to give lucha libre a try. He'd rather have been elsewhere. He always felt it wasn't really what he had wanted to do with his life and was kind of a burden he had to bear.
Trios' wrestling was just catching on in 1980 with the rise of UWA and its Misioneros de la Muerte, Cadetes del Espacio, Fantasticos, Hermanos Mascaras, etc. Juan was finally convinced to start to train full time so as to eventually be a part of a family trio. Juan started out as "Johnny, El Suvaecito" in 1980, learned enough to join the family, as the trio despite some internal debate among Francisco Flores, Carlos Maynes, and Rene Guajardo about doing this. They felt that Jesus (Brazo de Oro) was a major superstar in waiting, one of the best workers in the whole business, very good in the locker room, a very reliable union rep, the total package in a promoter's eyes. A few, including Porky (Brazo de Plata), had more charisma even back when he was basically in decent shape. A few, like the three Misioneros, were equal as workers. But Brazo de Oro had it all, and there was a faction that argued keeping Oro and Plata strong as singles and on occasion as a tag team (it was during this discussion window in 1979-80 that Oro & Plata won the Mexican national Tag Titles).
But however it was made, the decision went the other way, and for the next 15 years, Juan, sometimes reluctantly, joined his brothers in winning every major trios title in Mexico (CMLL, UWA, National, FILL, WWA, and DF, and if there had been LA Trios titles like there was an LA Tag title, they'd likely have won that too).
During those 15 years, they had several legendary bouts. With the passage of time, three stand out as notable beyond the others
The March 8, 1985 final of a tournament to create National Trios Champions, which Los Brazes lost to Los Infernales (Satanico, MS1, and Pirata Morgan) at EMLL's Arena Mexico (the Brazos would win the titles from Los Infernales on 12/8/85 at UWA's El Toreo)
The November 22, 1991 final of a tournament to create CMLL World Trios Champions (Antonio Pena's idea, to create CMLL world Champions, and the trios champions came first, which Los Brazos lost to Los Infernales (Satanico, MS1, and Pirata Morgan) at CMLL's Arena Mexico (the Brazos would win the titles from Los Infernales on 4/6/93 at CMLL's Arena Coliseo)
The October 21, 1988, triple-mask-versus-triple-mask match against Los Villanos I, IV, and V, at La Plaza Monumental in Monterrey. In a published interview about 10 years ago, Brazo de Oro revealed that their payoff for losing was 200,000 pesos total (about US $70,000 total at the time), which they got in installments that took years to pay off.
There are many fascinating stories about all three of these matches, but not a one of them really involves Juan very much. By this time, he was a reliable lunch bucket guy, like say Buddy Roberts a third member of a famous trio, capable and reliable but not the one fans usually paid to see win or lose.
There was a very well-done and highly-regarded skit done by Antonio Pena and the Televisa TV director in 1991, one that has become legendary over time. It showed the Brazos sleeping, each one dreaming of something – dreaming of what each man wanted to do in real life. Brazo de Oro wanted to be the big executive running things. El Brazo wanted to be a rock star. Porky wanted to be a professional wrestler. Each one hit the nail on the head legitimately (that was in truth what each man DID want to be when they grew up) and it also fit their professional images to a tee. Porky and Brazo de Oro got what they wanted (Brazo de Oro was Carlos Maynes's right-hand man in the office after the death of Francisco Flores and Brazo de Oro has been the head of the CMLL chapter of the wrestlers' union since roughly 1994). Juan did not.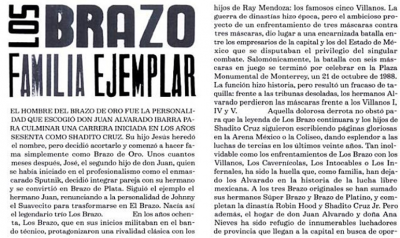 Eventually, this fact, compiled with all the other vagaries in the wrestling business, led to greater friction and discontent among the three brothers, particularly Juan and Jose. It came to a head around 1996 - Juan and his brother had a gigantic falling out. The falling out was so huge that the two never made up fully (they got along to get along) and in fact the night of Juan's death, after he had gone in the diabetic coma and Porky knew this, Porky worked his regular schedule semifinal booking at La Arena Coliseo de Occidente in Guadalajara, doing what was basically a comedy match while his brother was in the final hour of life many miles and hours away in a Mexico City hospital.
The family had been considered to model of wrestling families –so much so that in her picture book on lucha libre titled "Espectacular de lucha libre", Lourdes Groubet took pictures of the three sons, their mom, wives, and children, referring to them as "Los Brazo: Familia Ejemplar".
How ironic that article and picture turned out to be. From the poster of good families in 1983 to the poster guys for a dysfunctional family in 1996-2013.
In other bios and memories, from Kris Zellner to the Cubs Fan to the newsletter, the dates and facts are all listed correctly and a sense of a place in history is there. If there were a Hall-of-Fame sub-category for trios, this trio might well be the first from Mexico that would go in. For 15 years they were the bomb. Then their personal world exploded, Juan jumped ship to AAA, and seemed to most come alive when he was making fun of the sport (Latin Broiler, La Braza) that meant everything to his two brothers, the two brothers he both loved and hated more than anything until the day he died.
Luchas de apuestas record
Date
Apuesta
Winner(s)
Loser(s)
Arena and/or Place
??/??/??
hair
Chessman
El Brazo
unknown
??/??/??
hair
Negro Navarro
El Brazo
Arena San Juan Pantitlán - Neza, Mexico State
??/??/??
hair
Ringo Mendoza
El Brazo
unknown
80/10/26
mask
El Brazo
Frankenstein I
Toreo de Cuatro Caminos
81/12/06
mask
El Brazo
Antares
Arena Coliseo - Mexico City
83/09/05
mask
El Brazo
Coloso
Ixtlahuaca, Mexico State
86/08/06
masks
Brazo de Plata & El Brazo
Los Corsarios (I & II)
El Toreo
88/10/21
masks
Villano I, Villano IV, Villano V
Brazo de Oro, Brazo de Plata, El Brazo
Plaza de Toros Monumental - Monterrey, N.L.
89/11/17
hairs
Brazo de Plata & El Brazo
El Verdugo & Hombre Bala
Arena México - Mexico City
90/02/07
hair
El Brazo
Black Man
Arena Naucalpan - Naucalpan, Mexico State
90/10/28
hair[1]
Villano I
El Brazo
El Toreo de Naucalpan - Naucalpan, Mexico State
93/02/12
hair
Fabuloso Blondy
El Brazo
Arena México - Mexico City
95/03/31
hair[2]
El Brazo
Brazo de Oro
Arena México - Mexico City
95/08/04
hair
Héctor Garza
El Brazo
Arena México - Mexico City
96/03/22
hair
Rambo
El Brazo
Arena México - Mexico City
96/12/13
hair
El Brazo
Enrique Vera
Arena Xochimilco - Xochimilco, Mexico City
99/04/21
hairs
Brazo de Oro, Brazo Cibernético, El Brazo
Bestia Negra I, Bestia Negra II, Bestia Negra III
Palenque de la Feria - Celaya, Guanajuato
01/06/??
hair
Mohicano I
El Brazo
Arena Magueyera - Iztapalapa, Mexico City
02/11/25
hair
Zorro
El Brazo
Deportivo Morelos
03/08/31
hair[3]
Heavy Metal
El Brazo
Arena Solidaridad - Monterrey, Nuevo León
03/09/09
hair[4]
Pimpinela Escarlata
El Brazo
Arena Juba de Reynosa
06/05/06
hair[5]
Angel Mensajero
El Brazo
Mexicali
07/??/??
hair
Sangre Chicana Jr.
Brazo
Nuevo Laredo, Tamaulipas
08/12/06
hair[6]
El Elegido
El Brazo
Plaza de Toros La Concordia - Veracruz
13/09/07
hair[7]
El Hijo del Tirantes
La Braza
Centro Civico Gubernamental - Cd.Victoria, Tamaulipas
Gallery