AAA World Trios Championship
From Luchawiki
Jump to navigation
Jump to search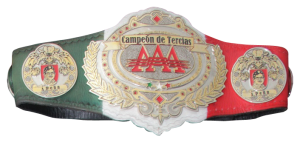 Current Champions
Los Vipers members Psicosis, Abismo Negro Jr. and Toxin are the current champions. They defeated La Familia Dinamita at Verano de Escandalo, 2023 to win, in a match where Hijo de Máscara Año 2000 was replacing Cuatrero thanks to the latter's domestic violence arrest.
History of Championship
The AAA World Trios Championship was introduced in 2011. AAA previously had the AAA Americas Trios Championship, last spotted in 1997. These belts replace the Mexican National Atomicos Championship as the AAA "group" champion.
Los Mercenarios, were a four-person unit apparently allowed to defend the belts with any combination (Free Bird rule). Taurus replaced La Hiedra for a title defense on July 3rd. Texano Jr. left AAA following their July 5, 2021 show, leaving the champions as Escorpion, Hiedra and Taurus.

Champions Listing
#
Champion(s)
Defeated
Date
Location
finals of 8-team tournament to determine first champions
1
Los Perros del Mal
(Damian 666, Halloween, X-Fly)
Los Psycho Circus
(Monster Clown, Murder Clown, Psycho Clown)
2011.06.18
Palacio de los Deportes - Mexico City
1
Los Psycho Circus
(Monster Clown, Murder Clown, Psycho Clown)
2011.10.03
Domo de la Feria - Leon, Guanajuato
2
Los Psycho Circus
(Monster Clown, Murder Clown, Psycho Clown)
Los Perros del Mal
(Damian 666, Halloween, X-Fly)
2012.03.11
Centro Civico - Ecatepec, Mexico State
3
El Consejo
(Máscara Año 2000 Jr., Texano Jr., Toscano)
Los Psycho Circus
(Monster Clown, Murder Clown, Psycho Clown)
2012.05.19
Plaza de Toros Belisario Arteaga - Chilpancingo, Guerrero
1
Los Psycho Circus
(Monster Clown, Murder Clown, Psycho Clown)
2012.08.19
Centro Banamex - Mexico City
2
Los Psycho Circus
(Monster Clown, Murder Clown, Psycho Clown)
2012.09.22
Unidad Deportiva 20 de Noviembre - Campeche, Campeche
4
Los Psycho Circus [2]
(Monster Clown, Murder Clown, Psycho Clown)
El Consejo
(Máscara Año 2000 Jr., Texano Jr., Toscano)
2013.02.18
Lienzo Charro Ignacio Leon Ornelas - Irapuato, Guanajuato
1
El Consejo
(Argos, Texano Jr, Máscara Año 2000 Jr.)
2013.03.03
Domo de la Feria - San Luis Potosi
2
Angel O Demonio, Leon Rojo & Obett
Coco Amarillo, Coco Blanco & Cocolores
Infierno Kid, Ojo Diabolico Jr. & Ultimo Vampiro
2013.03.09
Teatro Zaragoza - Atizapan, Mexico State
3
El Consejo
(El Hijo del Fantasma, Texano Jr., Silver King)
2013.12.08
Auditorio de la Gente - Tepic, Nayarit
4
La Secta
(Dark Cuervo, Dark Escoria, Dark Ozz)
2014.01.17
Arena Naucalpan
5
El Consejo
(El Hijo del Fantasma, Texano Jr., Silver King)
2014.01.19
Arena Coliseo Monterrey
6
Infierno Rockers)
(Demon Rocker, Machine Rocker, Soul Rocker)
2014.03.30
Arena Fusion, Ecatepec, Estado de México
7
El Consejo
(Hijo del Fantasma, Silver King, Texano Jr.)
2014.06.04
Explanada de las Antiguas Instalaciones de la Feria, Celaya, Guanajuato
8
Los Hellbrothers
(Cibernetico, Chessman, Averno)
2014.12.07
Auditorio Benito Juarez de Zapopan in Zapopan, Jalisco, Mexico
5
Los Hellbrothers
(Cibernetico, Chessman, Averno)
Los Psycho Circus
(Monster Clown, Murder Clown, Psycho Clown)
2015.06.14
Arena Monterrey
Vacant on January 6, 2016 due to Cibernético had left the promotion a month prior
6
Zorro, Escoria, Cuervo
La Parka, Electroshock, Garza Jr.
Hijo del Fantasma, Hijo de Pirata Morgan, Taurus
2016.01.22
Gimnasio Juan de la Barrera
1
Aerostar, Drago, Fénix
2016.03.23
Plaza de Toros El Paseo, San Luis Potosí, San Luis Potosí
7
Chessman, Averno, & Ricky Marvin
Los Xinetez
2016.11.04
Gimnasio Hermanos Carreon in Aguascalientes, Mexico
Singles match between Ricky Marvin & Faby Apache where if Faby won she would win titles for her team with Mari Apache & El Apache
8
Fabi Apache, Mari Apache, & El Apache
Chessman, Averno, & Ricky Marvin
2017.03.05
Plaza de Toros Rodolfo Rodriguez el Pana
Dr. Wagner Jr. & Psycho Clown sub for Mari Apache & El Apache
9
Nuevo Poder del Norte
Fabi Apache, Dr. Wagner Jr., & Psycho Clown
2017.04.21
Auditorio de Tijuana
1
Monster Clown Murder Clown & Fabi Apache
2017.04.29
Palenque Del Centro Expositor in Tlaxcala City, Tlaxcala, Mexico
10
O.G.T's
(Averno, Chessman & Súper Fly)
Nuevo Poder del Norte
(Mocho Cota Jr., Soul Rocker & Carta Brava Jr. (AAA))
2017.11.03
Auditorio Instituto Queretano San Javier, Querétaro, Querétaro
11
Nuevo Poder del Norte [2]
O.G.T's
(Averno, Chessman & Súper Fly)
Aero Star, Drago & Raptor (AAA)
Angelikal, Bengala & Máscara de Bronce
2018.01.26
Gimnasio Juan de la Barrera, Mexico City, Mexico
12
Los Jinetes del Aire
(Laredo Kid, Hijo del Vikingo, Myzteziz Jr.)
Nuevo Poder del Norte
2018.12.02
Palenque de la Feria, Aguascalientes, Aguascalientes
Vacant on August 3, 2019 due to Laredo Kid abandoning the trio to focus on a singles career
13
Los Jinetes del Aire
(Octagon Jr., Hijo del Vikingo, Myzteziz Jr.)
Nuevo Poder del Norte
(Tito Santana, Mocho Cota Jr, & Carta Brava Jr.)
Las Fresas Salvajes
(Pimpinela Escarlata, Mamba & Máximo)
2019.08.03
Arena Mexico
1
Los Mercenarios
(La Hiedra, Rey Escorpion, Taurus)
2020.02.22
Domo del Parque Solidaridad , Toala, Jalisco
2
Injustice
(Jordan Oliver, Kotto Brazil, Myron Reed)
2020.03.13
Auditorio de Tijuana, Tijuana, Baja California
14
Los Mercenarios
(Texano Jr. [2], La Hiedra, Rey Escorpion)
Los Jinetes del Aire
(Hijo del Vikingo, Octagon Jr., & Myzteziz Jr.)
2021.05.02
San Pedro Cholula, Puebla
1
Los Psycho Circus
(Monster Clown, Murder Clown, Psycho Clown)
2021.07.03
Tequisquiapan, Querétaro
[1]
Texano Jr. leaves AAA, is replaced by Taurus on the championship team
2
Los Jinetes del Aire
(Aramís, Myzteziz Jr., Octagón Jr.)
2021.10.09
Coliseo La Concordia, Orizaba, Veracruz
15
La Empresa
(DMT Azul, Puma King, Sam Adonis)
Los Mercenarios
(Rey Escorpión, Taurus, Villano III Jr.)
2022.03.05
Domo Madero, Ciudad Madero, Tamaulipas
16
Nueva Generación Dinamita
(Sanson (II), Cuatrero & Forastero)
La Empresa
(DMT Azul, Puma King & Sam Adonis) accompanied by Dra.EstreQueen and Microman
2022.08.05
Nuevo Lienzo Charro Isla San Marcos, Aguascalientes, Mexico
A match in Triplemanía XXX where you have to defeat the champions to gain the titles
1
Psycho Clown, Laredo Kid & Bandido; Sam Adonis, Brian Cage & Johnny Caballero (w/Estrellita)
2022.10.15
Arena Ciudad de México, Mexico
2
Arez, Komander & Dave the Clown
2022.12.03
Mullet Arena, Tempe, AZ, USA
3
La Rebelión Amarilla
(Mecha Wolf, Bestia 666 & Damián 666)
2022.12.09
Auditorio de Tijuana, Tijuana, Baja California
4
Aramis, Willie Mack & Octagon Jr.
2022.12.17
Domo Madero, Cd Madero, Tamaulipas
5
Aramis, Myzteziz Jr. & Willie Mack
2022.12.28
Arena GNP Seguros, Acapulco, Guerrero
6
Rush, Bestia del Ring & Rey Escorpión (no contest)
2023.02.11
Campo Militar 1, Miguel Hidalgo, D.F.
7
Chris Masters, Thom Latimer & Kratos
2023.03.14
Foro Sol, Iztacalco, D.F.
(The World is a Vampire: NWA vs. AAA)
17
Los Vipers
(Psicosis, Abismo Negro Jr. & Toxin)
Sanson, Forastero & Hijo de Máscara Año 2000
2023.07.22
Arena San Marcos, Aguascalientes
 
 
title change
successful title defense
championship matches which were announced, but results were not found
Sources:
↑

Taurus replaces La Hiedra for this match
Gallery of Champions