El Consejo
From Luchawiki
Jump to navigation
Jump to search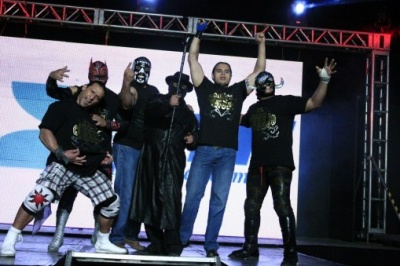 A group of psuedo-CMLL invaders who wanted to prove they were better than everyone in AAA. Toscano, Texano Jr. and Mascara Ano 2000 Jr. were the first to appear, invading as part of the Guerra de Titanes, 2011 main event. The trio continued to gain entry to AAA events to interfere, and it was revealed Semental & Mortiz - who had recently also jumped from CMLL - had been secret members of El Consejo all along. Argos, who had been Astro Boy in CMLL, similarly betrayed AAA to join up with the group. Finally, a mysterious man in a black, Hombre en Negro was revealed to be managing the group.
Mascara Ano 2000 Jr. was a confusing inclusion in the group, as he had been wrestling in IWRG and on independent shows, not with CMLL. Consejo members would explain Mascara Ano 2000 Jr. had been training in CMLL's gyms when forced to give an explanation, but mostly just ignored it. Mascara would go on to lose his mask as part of the biggest match on TripleMania XX.
Hombre en Negro was a clone of a reoccurring but never quite explained CMLL mystery man who would often advise Los Capos in their feuds with Rayo De Jalisco Jr. and others. The character had recently been brought back in 2011 as CMLL's mystery man in charge of luchadors for the reality show El Luchador. The CMLL character was portrayed by Panico on both occasions, and he held a job similar to his character's role on El Luchador. CMLL never acknowledged Panico was Hombre en Negro, but it was known by many and somewhat parodied by AAA in their version. The AAA Hombre en Negro seemed to change a couple times; his height and personality was different from taping to taping, but he was more jovial and mischievous than the stoic CMLL character. The AAA Hombre en Negro was finally 'revealed' to be Mascara Ano 2000, leading his son to revenge on Dr. Wagner Jr.
The group started with had a run of early victories, including winning the AAA World Trios Championship over the Psycho Circus, but the mask loss at TripleMania XX was a setback. Consejo underwent some shifts afterwards. Mortiz had quietly stopped appearing in AAA and returned to wrestling locally in Tijuana. Mascara Ano 2000's last appearance was at TripleMania. Argos was still considered a Consejo member, but was rarely used on TV. Semental was referred to as a Consejo member, but made only a few more appearances while switching to his Machine Rocker character. Silver King was added to the group, having revealed to be part of this group for some time and previously teaming with Wagner in a long term plan to betray him in the mask match (which didn't work out for Silver King.)
Silver King declared himself leader of El Consejo, and quickly came into conflict with fellow member Toscano about Toscano's dedication to the group. It also moved the group towards friendly relations with La Sociedad and the rest of AAA rudos; Consejo had come into AAA attacking both tecnicos and rudos indiscriminately, but Texano Jr. now became the special project of Dorian Roldan and Konnan. Texano Jr. excelled and won the AAA World Heavyweight Championship thanks to help from his new friends, but Toscano's problems with Silver King expanded to problems with the rest of the group. Toscano walked out on his teammates after losses (which were usually his fault) twice before definitively turning on Texano and Mascara in February 2013, costing them the AAA World Trios Championship. El Consejo replaced Toscano with Argos in an attempt to win the trios titles back in a rematch, but lost again. The group was quietly dissolved in 2014.
Members Include:

Past Members
Gallery