AAA World Tag Team Championship
From Luchawiki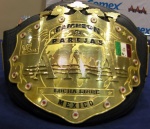 Current Champions
Texano Jr. & Rey Escorpión are the current champions. They defeated Dark Cuervo & Dark Scoria on March 25, 2018 to win the championships.
History of Championship
The AAA World Tag Team Championship were introduced in 2007. It is not to be confused with the earlier AAA/IWC World Tag Team Championship. The two are generally considered unrelated from one another and have no shared history, but the early AAA title is sometimes referred to as "AAA Tag Team Championship."

Champions Listing
#
Champion(s)
Defeated
Date
Location
16 team league style tournament to determine first champion
1
Cuervo & Ozz
Alan Stone & Zumbido
Super Fly & Pegasso
Crazy Boy & Joe Lider
2007.03.18
El Toreo De Naucalpan
2
Crazy Boy & Joe Lider
Cuervo & Ozz
2007.07.15
El Toreo De Naucalpan
1
Cuervo & Ozz
Juventud Guerrera & Extreme Tiger
Escoria & Espiritu (AAA)
2007.09.08
El Palenque de Gomez, Palacio
2
Chris Stone & Super Calo
2007.10.02
Casino Los Fresnos, Tepic, Nayarit
3
Charly Manson & Chessman
Extreme Tiger & Halloween
Sabu & Teddy Hart
2007.11.30
Centro de Convenciones de Ciudad Madero, Tamaulipas
3
Halloween & Extreme Tiger
Crazy Boy & Joe Lider
2008.04.27
Auditorio Benito, Juarez
1
Joe Lider & Nicho el Millionario
2008.09.08
Arena Cuatro Caminos de Nuevo Laredo
4
Joe Lider [2] & Nicho el Millionario
Halloween & Extreme Tiger
Crazy Boy & Ultimo Gladiador
Jack Evans & Teddy Hart
2008.09.14
Auditorio Benito, Juarez
1
Jack Evans & Teddy Hart
Extreme Tiger & Halloween
2008.10.01
Cancha Germán Evers, Mazatlan, Sinaloa
2
Extreme Tiger & Psicosis II
TJ Boy & Arandu
2008.10.03
Auditorio de Tijuana
3
Extreme Tiger & Halloween
2008.10.04
Cancha de Futbol Rapido de Rosarito
4
Extreme Tiger & Shiryu Dragon
2008.10.16
Arena Victoria De Guadalajara
5
Jack Evans & Teddy Hart
Chris Stone & Alan Stone
2008.10.24
Beisbol Beto Avila, Veracruz
6
Jack Evans & Teddy Hart
2008.12.06
Plaza de Toros La Concordia
7
Jack Evans & Teddy Hart
Extreme Tiger & KENTA
2008.12.17
Arena Xalapa
8
Jack Evans & Teddy Hart
2008.12.25
Auditorio de Tijuana
9
Latin Lover & Marco Corleone
2009.06.13
Palacio De los Deportes, Mexico City
10
Crazy Boy & Extreme Tiger
2009.10.03
Plaza de Toros San Sebastian
11
Jack Evans & Marco Corleone
2009.12.11
Centro de Convenciones, Ciudad Madero, Tamaulipas
5
Takeshi Morishima & Taiji Ishimori
Joe Lider & Nicho el Millonario
2010.03.19
Gimnasio Juan de la Barrera
1
Genba Hirayanagi & Takeshi Rikio
2010.04.10
Korakuen Hall - Tokyo, Japan
6
Go Shiozaki & Atsushi Aoki
Takeshi Morishima & Taiji Ishimori
2010.05.23
Niigata City Gymnasium - Niigata, Japan
7
Silver Cain & Último Gladiador
Go Shiozaki & Atsushi Aoki
Joe Lider & Nicho el Millionario
Robert Roode & James Storm
2010.06.06
Palacio de los Deportes, Mexico City
1
Hijo de Cien Caras & Mascara Ano 2000 Jr.
2010.08.19
Arena Naucalpan
2
Joe Lider[1]
2010.09.19
Centro Civico de Ecatepec
3
Joe Lider & Nicho el Millionario
El Ilegal & Hernandez
2010.12.05
Auditorio Benito Juárez, Zapopan, Jalisco
8
Extreme Tiger [2] & Jack Evans
Silver Cain & Último Gladiador
2011.03.21
Domo de la Feria, León, Guanajuato
1
Mr. Anderson & Abyss
2011.06.18
Palacio de los Deportes, Mexico City
2
Billy Boy & Escoria
2011.09.01
Gimnasio Agustin Millan, Toluca
9
Abyss & Chessman
Extreme Tiger & Jack Evans
2011.10.09
Arena Monterrey
1
Joe Lider & Juventud Guerrera
2012.05.06
Poliforum Zamna
10
Joe Lider [3] & Vampiro Canadiense
Chessman & Abyss
2012.10.07
El Domo San Luis Potosí
championships declared vacant on May 22, 2013 due to lack of defenses
five way tag match for vacant championships
11
Mexican Powers (Crazy Boy [2] & Joe Lider [4])
Angélico & Jack Evans
Drago & Fénix
Daga & Psicosis
Mr. E & Sexy B
2013.06.16
Arena Ciudad de Mexico, Mexico City
1
Psicosis I & Daga
2013.08.02
Gimnasio Juan de la Barrera
12
Angélico & Jack Evans [2]
Crazy Boy & Joe Lider
Aero Star & Drago
Escoria & Espiritu
2013.10.18
Gimnasio Miguel Hidalgo de Puebla, Puebla
1
Machine Rocker & Demon Rocker
Aero Star & Drago
Hijo del Fantasma & Psicosis
2014.03.17
Plaza de Toros La Monumental, Monterrey, Nuevo León
2
Daga & Steve Pain
2014.05.02
Centro de Convenciones de Minatitlán
3
Daga & Eterno
Sensacional Carlitos & Tommy Diablo
2014.07.27
Centro Civico Nueva Aragon, Ecatepec, Estado de México
13
Pentagón Jr. & Joe Lider [5]
Angélico & Jack Evans
Fenix & Pentagon Jr.
2014.12.07
Auditorio Benito Juárez, Zapopan, Jalisco
14
Angélico[2] & Jack Evans [3]
Pentagón Jr. & Joe Lider
Fenix & Myzteziz
2015.10.04
Domo de San Luis Potosi , San Luis Potosi
championship vacant due to knee injury to Angélico on January 22, 2016
15
Averno & Chessman [2]
Aerostar & Fenix
Mascara Ano 2000 Jr. & Villano IV
2016.01.22
Gimnasio Juan de la Barrera
1[2]
Australian Suicide & Argenis
Daga & Joe Lider
2016.03.23
Plaza de Toros El Paseo, San Luis Potosí, San Luis Potosí
2[3]
Australian Suicide & Argenis
2016.04.29
Arena Xalapa, Xalapa, Veracruz
3
Argenis & Australian Suicide
2016.05.14
Plaza de Toros La Concordia, Orizaba, Veracruz
16
Jack Evans[4] & Angélico [3]
Averno & Chessman
Monster Clown & Murder Clown
2016.07.17
Pista Los Laureles in Oaxaca de Juarez, Oaxaca, Mexico
17
Aero Star & Drago
Jack Evans & Angélico, El Hijo del Fantasma & Garza Jr. and Matt Cross & Paul London
2016.08.28
Arena Ciudad de Mexico
1
La Nueva Familia Fronteriza
Laredo Kid & Super Fly
Monster Clown & Murder Clown
2016.10.02
Arena Monterrey
2
Daga & Joe Lider
Monster Clown & Murder Clown
2016.12.17
Chilpancingo de los Bravo, Guerrero, Mexico
18
Cuervo [2] & Escoria
Aero Star & Drago
2017.03.31
Arena Neza
1
Australian Suicide & Bengala
2017.04.21
Auditorio de Tijuana
19
El Mesías & Pagano
Cuervo & Escoria
2017.05.26
Gimnasio Olímpico Juan de la Barrera, Ciudad de México, Distrito Federal
20
Cuervo [3] & Escoria [2]
El Mesias & Pagano
2017.06.04
Gimnasio Josue Neri Santos, Ciudad Juarez, Chihuahua
1
Hernandez & Máscara de Bronce
2017.06.19
Poliforum, Nuevo Laredo, Tamaulipas
2
Hijo del Fantasma & Texano Jr.
2017.07.16
Arena Jose Sulaiman, Monterrey, Nuevo Leon
21
Murder Clown & Zombie Clown
Dark Cuervo & Dark Scoria, Aerostar & Drago, DJZ & Andrew Everett
2017.08.26
Arena Ciudad de Mexico
1
Dark Cuervo & Dark Scoria
2017.12.02
Arena Xalapa
22
Dark Cuervo [4] & Dark Scoria [3]
Histeria & Psicosis
Murder Clown & Zombie Clown
2017.12.16
Plaza de Toros Monumental, Apizaco, Tlaxcala
1
Joe Lider & Parka Negra
2018.02.09
Palenque de la Feria Nacional De San Marcos, Aguascalientes, Aguascalientes
2
Joe Lider & Mr. Águila
2018.03.17
Unidad Deportiva Miraval, Cuernavaca, Morelos
23
Texano Jr. & Rey Escorpión
Dark Cuervo & Dark Scoria
2018.03.25
Arena José Sulaimán
1
Aero Star & Drago
2018.04.20
Auditorio de Tijuana
2
Psycho Clown & Pagano
2018.05.05
Arena Neza
3
Hijo del Fantasma & Pagano
2018.05.31
Arena Aficion
4
Pagano & Psycho Clown
2018.07.18
Auditorio Miguel Barragan, San Luis Potosí, San Luis Potosí
5
Aero Star & Drago
Mamba & Máximo
Jack Evans & Teddy Hart
2018.09.02
Arena Jose Sulaiman
6
Máximo & Pimpinela Escarlata
2018.09.16
Arena Xalapa
7
Bandido & Flamita
DJZ & Laredo Kid
2018.10.28
Gimnasio Miguel Hidalgo, Puebla, Puebla
8
Joe Lider & Pagano
Cíclope & Miedo Extremo
2018.12.02
Palenque de la Feria, Aguascalientes, Aguascalientes
9
Psycho Clown & Pagano
2018.12.03
Lienzo Charro Ignacio León Ornelas, Irapuato, Guanajuato
10
Pentagon Jr. & Fénix
2019.01.01
Arena Neza
24
Pentagon Jr. & Fénix
Texano Jr. & Rey Escorpión
2019.03.16
Acropolis Puebla
25
Matt Jackson & Nick Jackson
Fénix & Pentagon Jr.
2019.03.16
Acropolis Puebla
 
 
title change
successful title defense
championship matches which were announced, but results were not found
Gallery of Champions
Sources