AAA World Cruiserweight Championship
From Luchawiki
Jump to navigation
Jump to search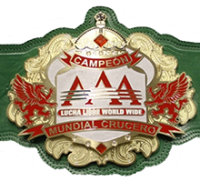 Current Champion
Komander is the current champion. He Defeated Mecha Wolf, La Estrella and Kuukai. Championship was previously vacant.
History of Championship
As part of AAA's evolution towards a US-style promotion, and as a nod to the WCW title of the same division, this championship was created in 2009 to serve as a crown for those not big enough to be in contention for the AAA World Heavyweight Championship. Unlike the Mexican National championships previously used in this role all wrestlers are eligible for this championship regardless of the home country. No specific weight limit has ever been emphasized for this division, just the broad idea there must be one.
AAA held a two stage, thirteen man tournament to determine the first champion. As tends to happen in AAA tournaments, it was complicated more than most, though there was a greater emphasis on explaining the tournament. As with the previous tournament for the AAA minis championship, the final was a three-way, elimination match.
The title was irregularly defended over the next five years, frequently going many months without being exposed on television and often used as a way just to get a lot of midcarders onto a show. There were individual feuds teased, but singles matches were much more likely to take place on indy appearances.
In the lead up to TripleMania XXII, AAA declared both this championship and the AAA Fusion Championship would be unified into a new AAA World Cruiserweight Championship. Despite some confusion (mostly on this wiki's part), this cruiserweight championship is considered to have an unbroken lineage - it's being treated as the same championship, just a new belt.
Champions Listing
#
Champion(s)
Defeated
Date
Location
13 man tournament for initial championship
1
Alex Koslov
Alan Stone & Extreme Tiger
2009.05.21
Auditorio Jose Maria Morelos, Aguascalientes
2
Extreme Tiger
Alex Koslov, Alan Stone & Crazy Boy
2009.06.13
Palacio de los Deportes, Mexico City
3
Alex Koslov [2]
Extreme Tiger, Jack Evans, Teddy Hart & Rocky Romero
2009.08.21
Centro de Convenciones, Ciudad Madero
championship vacant when Koslov fired as a result of losing match on August 30, 2009
five man match for vacant championship
4
Extreme Tiger [2]
Sugi San, Jack Evans, Teddy Hart & Rocky Romero
2009.09.26
Arena Monterrey
1
Joe Lider
2009.11.08
Parque Revolucion, Culican
2
Alex Koslov
2010.03.12
Plaza de Toros Santa Maria, Queretaro
5
Jack Evans
Extreme Tiger, Nosawa & Christopher Daniels
2010.06.06
Palacio de los Deportes, Mexico City
1
Escoria
2011.09.16
Gimnasio Miguel Hidalgo, Puebla
6
Juventud Guerrera
Jack Evans, Psicosis & Teddy Hart
2012.05.19
La Plaza de Toros Belisario Arteaga, Chilpancingo, Guerrero
1
Chessman & Fénix
2012.07.15
Deportivo Villa Coalco, México City
7
Daga
Fénix, Nicho el Millonario, Jack Evans, Juventud Guerrera, Joe Lider
2012.12.02
Auditorio Benito Juarez, Zapopan, Jalisco
1
Eita, Rich Swann, Dinastía, Flamita, Tribal, Angel del Mistero
2012.12.11
Arena Aficion
2
Fenix, Atomic Boy, Dizzy
2013.03.19
Explanada de la Iglesia, Iztapalapa, Distrito Federal
3
Fenix, Pentagon Jr., Super Fly
2013.03.31
Arena Solidaridad
4
Joe Lider
2013.06.06
Estadio Teodoro Mariscal, Mazatlan, Sinaloa
5
Super Fly, Argenis, Australian Suicide
2014.03.16
Plaza de Toros La Monumental, Monterrey, Nuevo León
6
Belial
2014.05.18
Arena Fusion, Ecatepec, Estado de Mexico
7
Australian Suicide, Willie Mack, Pentagon
2014.07.18
Auditorio de Tijuana
Championship absorbed by the new World Cruiserweight Championship on 2014.08.17
10 way match for new championship, replacing both the AAA Cruiserweight Championship and AAA Fusion Championship
8
Hijo del Fantasma
Angelico, Daga, Fenix, Pentagon Jr., Bengala, Jack Evans, Drago, Joe Lider
2014.08.17
Arena Ciudad de Mexico
1
Aerostar
2014.09.26
Domo Deportivo Noe Hernandez, Zumpango, Estado de México
2
Bengala, Aerostar, Angelico, Jack Evans, Steve Pain, Joe Lider, Súper Fly
2014.10.12
San Luis Potosi, Mexico
3
Fenix
2015.03.18
Auditorio Benito Juárez, Zapopan, Jalisco
4
Fenix
2015.05.08
Auditorio de Tijuana
5
Australian Suicide, Daga
2016.09.16
Hard Rock Hotel Riviera Maya in Playa del Carmen, Quintana Roo, Mexico
6
Angelico, Drago
2016.10.28
Lienzo Charro de Los Reyes Ixtacala in Tlalnepantla, Estado de Mexico, Mexico
7
Garza Jr.
2017.01.20
Gimnasio Juan de la Barrera in Mexico City, Mexico
9
Johnny Mundo
Hijo del Fantasma, Texano Jr.
2017.03.19
Arena Jose Sulaiman, Monterrey, Nuevo Leon
1
Hijo del Fantasma, Texano Jr.
2017.07.21
Auditorio Fausto Gutierrez de Tijuana
2
Hijo del Fantasma, Texano Jr.
2017.08.26
Arena Ciudad de Mexico - Mexico City
10
Lanzeloth
Johnny Mundo, Máscara de Bronce, Venum, Hijo Del Vikingo, Solaris, Dragón Solar, Villano III Jr., Angelikal, and Tiger Boy
2017.10.01
San Luis Potosí, San Luis Potosí
1
Australian Suicide
2017.11.03
Auditorio Instituto Queretano San Javier, Querétaro, Querétaro
11
Australian Suicide
Lanzeloth
2018.01.26
Gimnasio Juan de la Barrera in Mexico City, Mexico
1
Hijo Del Vikingo
2018.02.09
Palenque de la Feria Nacional De San Marcos, Aguascalientes, Aguascalientes
2
Lanzelot
2018.05.31
Arena Aficion
12
Sammy Guevara
Australian Suicide
Shane Strickland
ACH
2018.08.25
Arena Ciudad de Mexico
1
Laredo Kid
2019.02.01
Auditorio de Tijuana , Tijuana, Baja California
13
Laredo Kid
Sammy Guevara
2019.02.16
Palacio del Aire in Morelia
1
Flamita
Parka Negra
Mocho Cota Jr.
2019.03.25
Arena Cuatro Caminos, Nuevo Laredo, Tamaulipas
2
Hijo del Vikingo
2019.06.09
Arena Coliseo Monterrey
3
Drago
2020.10.03
Autodromo Hermano Rodriguez
4
Octagon Jr.
2020.10.04
Autodromo Hermano Rodriguez
5
Zenshi
2020.10.21
Glit Nightclub, Orlando, Flordia
[1]
Lio Rush defeats Laredo Kid; see MLW Dispute
6
Octagon Jr.
Aramis
2021.02.07
Hacienda de Santa María Xalostoc, Tlaxco, Tlaxcala
7
Willie Mack
2021.02.13
Ector County Coliseum, Odessa, Texas
[2]
8
Arez
2021.03.20
Autocinema Aire Libre Coyoacán
9
Latigo
2021.05.31
Huasca de Ocampo, Hidalgo
10
Willie Mack & Taurus
2022.03.13
Poliforum Zamna, Mérida, Yucatán
11
Bandido & Flamita
2022.03.31
Fairmont Hotel, Dallas, Texas
12
Travis Banks
2022.05.15
Arena Naucalpan
13
Arez & Gringo Loco
2022.06.12
2300 Arena
14
Fénix
Hijo Del Vikingo
Laredo Kid
Bandido
Taurus
2022.06.18
Estadio Caliente, Tijuana, Baja California
Vacant on July 17, 2023 when Fénix was unable to appear in AAA due to commitments in other promotions.
15
Komander
Mecha Wolf
La Estrella
Kuukai
2023.09.23
Gimnasio Olímpico Juan de la Barrera, Ciudad de México
 
 
title change
successful title defense
championship matches which were announced, but results were not found
Ignored MLW Title Change
Lio Rush defeated Laredo Kid in a champion versus champion match also including the MLW Middleweight Championship on MLW TV in 2021. The match is believed to be taped on or around October 21st, 2020, and aired on February 10, 2021. AAA acknowledged the title change at the time the match aired, then reverted to referring to Laredo Kid as champion without ever referencing the title change on TV. MLW continued to reference Lio Rush as champion in pre-taped episodes. On the May 5th, 2021 episode of MLW Fusion, the promotion explained Laredo Kid kept the belt and believed he was still champion due to what he believed was Lio Rush tapping out during the match. The announcers framed this as a dubious reason; it was also appeared to be retcon explanation to accommodate AAA deciding not to acknowledge the title change.
Gallery of Champions
Gallery of Title Belts