AAA World Minis Championship
From Luchawiki
Jump to navigation
Jump to search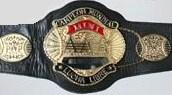 Current Champion
Dinastia won the championship on March 16, 2019 in Foro Sol, Iztacalco, Distrito Federal.
History of Championship
AAA's minis division singles championship had been the Mexican National Minis Championship since the formation of the group. Faced with the prospect of losing the belt and his position, Mascarita Sagrada 2000 did not show for a scheduled title defense and jumped to CMLL in 2007. Sagrada 2000 is listed as the current champion, while AAA is believed to have possession of the physical belt.
AAA downplayed the minis division for over a year, then suddenly announced a tournament to decide a new champion. The tournament was mostly notable for how short the matches were, as shown on TV. All were under four minutes, and many were half of that. The tournament final, as part of Verano de Escandalo, 2008, was the only match to go a significant length. In the three way final, Mini Abismo Negro was able to defeat Octagoncito, but surprisingly was upset by Mini Charly Manson. Manson became the first champion.
Despite holding the belt for 15 months, Mini Charly Manson apparently defended the championship zero times. Manson suffered knee and nose injuries that kept him out of the ring for long periods of time. The minis division and championship was of little importance in AAA during this period, so there was no thought to taking the title off Manson while he was injured. Even when Manson was not hurt, AAA did not often use the minis on it's television shows.
AAA basically restarted the division at Guerra de Titanes 2009, holding a elimination match featuring most of the regular AAA minis. Mini Charly Manson came into the match with the belt, but was basically forced to defend against everyone at once. Mini Abismo Negro avenged the previous year's loss, defeating Mini Charly Manson directly during the elimination match, and beating Octagoncito once again to win the championship match.
Octagoncito won the title in a Table, Ladders and Chairs match at TripleMania XVIII defeating former champion Mini Abismo Negro as well as Mini Charly Manson, Mascarita Divina, Mini Histeria, Mascarita Sagrada, Mini Psicosis, Mini Chessman and La Parkita. Octagoncito became the first man to actively and successfully defend this championship, both on TV tapings and live shows.
Octagoncito's title reign was defined by the rudo Mini Vipers all trying to take the title away to prove which one of them was the best. Octagoncito turned back Mini Histeria and Mini Abismo, but was surprisingly defeated by Mini Psicosis, costing him the championship. This was the first title change in a singles match.
Champions Listing
#
Champion(s)
Defeated
Date
Location
12 wrestler tournament to decide initial champion
1
Mini Charly Manson
Octagoncito
Mini Abismo Negro
2008.09.14
Auditorio Benito, Juarez
2
Mini Abismo Negro
Mascarita Divina
Mini Histeria
Mini Charly Manson
Mini Psicosis
Octagoncito AAA
Mini Chessman
Mascarita Sagrada
La Parkita AAA
2009.12.11
Centro de Convenciones, Ciudad Madero, Tamaulipas
3
Octagoncito
Mini Abismo Negro
Mini Charly Manson
Mascarita Divina
Mini Histeria
Mascarita Sagrada
Mini Psicosis
Mini Chessman
La Parkita
2010.06.06
Palacio de los Deportes, Mexico City
1
Mini Histeria
2010.09.14
Deportivo Tlalli, Tlalnepantla
2
Mini Abismo Negro
2010.10.30
Poliforum Juan Gabriel, Ciudad Juarez
3
Mini Chessman
Mini Charly Manson
Mascarita Divina
Mini Psicosis
Mini Histeria
2010.11.22
Domo de la Feria, Leon
4
Mascarita de la Muerte
2010.12.25
Cancha German Evers
4
Mini Psicosis
Octagoncito AAA
2011.04.27
Plaza De Toros Batallon, Zacapoaxtla, Puebla
1
Mascarita Dorada
2012.05.19
Plaza De Toros Belisario Arteaga, Chilpancingo, Guerrero
5
Dinastía
Mini Psicosis
2013.02.18
Lienzo Charro Ignacio Leon Ornelas, Irapuato
1
Mini Chessman & Mini Psicosis
2013.05.18
Instalaciones de la Feria, Chilon, Chiapas
2
Mini Abismo Negro
2013.09.22
Plan Sexenal, Mexico City
3
Mini Charly Manson
2014.03.03
Lienzo Charro Ignacio Leon Ornelas, Irapuato, Guanajuato
4
Mini Elegido & Nino Suicida
2014.07.17
Arena Mololoa, Tepic, Nayarit
5
Mini Charly Manson
2014.12.07
Auditorio Benito Juárez, Zapopan, Jalisco
6
Mini Psycho Clown
2015.06.28
Plaza de Toros La Concordia, Orizaba, Veracruz
6
Mini Psycho Clown
Dinastía
2017.05.26
Gimnasio Juan de la Barrera
1
Dinastía
2017.09.04
Palenque Inforum, Irapuato, Guanajuato
2
Dinastía
Mini Psicosis
2018.12.23
Palenque de la Feria, Silao, Guanajuato
3
Mini Gronda & La Parkita (2019)
2019.03.10
Instalaciones de la Feria, Mixquiahuala, Hidalgo
7
Dinastia [2]
Mini Psycho Clown
La Parkita Negra
La Parkita (2019)
Mini Murder Clown
Mini Monster Clown
2019.03.16
Foro Sol, Iztacalco, Estado de Mexico
1
Laredo Boy
Mini Psycho Clown
Demus
Drago Kid
2019.10.26
Domvs Zina Centro de Espectaculos, San Miguel Zinacantepec, Estado de México
2
La Parkita
Mini Psycho Clown
Octagoncito
La Parkita Negra
Laredo Boy
2020.03.14
Foro Sol, Iztacalco, Estado de Mexico
3
Drago Kid
Octagoncito
2020.10.17
Autodromo Hermanos Rodriguez, Venustiano Carranza, Ciudad de Mexico
4
Drago Kid
La Parkita
2021.03.20
Autocinema Aire Libre Coyoacán, Coyoacán, Ciudad de Mexico
 
 
title change
successful title defense
championship matches which were announced, but results were not found
Gallery of Champions