Infierno Rockers
From Luchawiki
Jump to navigation
Jump to search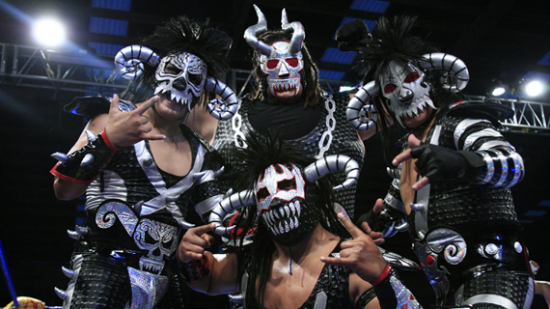 The Infierno Rockers are an AAA rudo trio who debuted in summer 2012.
Similarly masked rudos, who love playing air guitar and headbanging. Their look, and flame breathing entrance, seems inspired a bit by the Los Vatos Locos.
Machine, Devil and Soul were introduced together as a new trio who went on an immediate winning streak. AAA had previously talked about wanting to find new roles for it's existing talented undercard luchadors, so it was immediately assumed the Rockers were three current AAA luchadors in a new identity.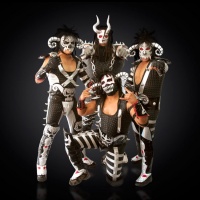 Machine Rocker was immediately recognizable as El Consejo member Semental. He switched back between both characters as the Rockers started up, but quietly stopped appearing with Consejo shortly after TripleMania XX. Devil Rocker matched with Tito Santana's size and moves, and Tito had disappeared from AAA cards, so that connection was made. Soul was speculated to be Tito's partner Tigre Cota or Decnnis, both of whom had also disappeared from AAA lineups, but both would so mention they were actually leaving AAA entirely. Word finally leaked out that Soul was actually the return of AAA original member Picudo, who had not been a regular part of the promotion in years.
A fourth Rocker, Uro Rocker was introduced at the first AAA Fusion taping. After also erroneously being suspected as being a Canadian wrestler, he was later confirmed to be the former American Killer, who previously had a AAA tryout match in early 2012. Uro Rocker struggled in his debut, and has been mostly limited to joining in on post match group attacks since that first match. Uro is much larger than the rest of his team, both in height and weight.
The Rockers spent the second half of 2012 beating various undercard tecnico teams. In interviews, they teased a match up with the trio they were more often compared with - Psycho Circus - who had their own long undefeated run when they came into AAA as a new rudo trio. The Rockers, with the help of Uro, attacked the Psycho Circus on shows in November, leading to the two teams first ever match at Guerra de Titanes, 2012. The Psycho Circus defeated the Infierno Rockers, ending their winning streak. Uro appeared after the match, attacking Murder Clown.