Los Hellbrothers
From Luchawiki
Jump to navigation
Jump to search
Los Hellbrothers was a stable that was announced in November 2006 by Cibernetico. It was created as a tecnico group, set on getting revenge on La Secta for turning on them. The group consisted of:

In 2007 they feuded mostly with La Secta and Konnan's foreign legion. However in 2008 after Charly Manson went down with injury and Vampiro was added as a pseudo-member due to his on-going feud with El Mesias. Slowly the long-time ties between Cibernetico and Chessman began to unwind through out the summer. It came to a head in September when they were in a AAA world title match at Guerre de Titanes and Chessman became a full fledged rudo, turning on his long-time partner.
2014 Hellbrothers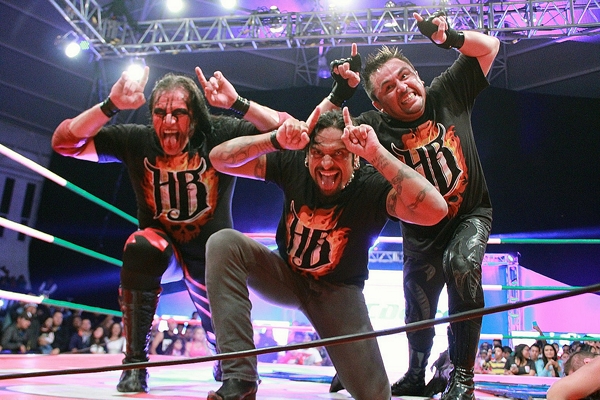 In September 2014, Cibernetico reformed Los Hellbrothers with Chessman & recent jump from CMLL Averno as new member but as a rudo group rather than tecnicos. In 2015, the group joined up with long-time rival Konnan as members of his La Sociedad. This group would disband when Cibernetico would jump to Lucha Libre Elite.
2015 Hellbrothers
Cibernetico
Sharlie Rocker

Upon joining Lucha Libre Elite, Cibernetico would start another version of Hellbrothers with Averno's long-time partner Mephisto and the returning Charly Manson now going by Sharlie Rocker. This group would continue to be rudos. Cibernetico would also debut in CMLL as well.
Gallery