CMLL World Heavyweight Championship
From Luchawiki
Jump to navigation
Jump to search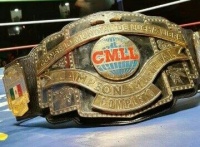 Current Champion

Hechicero is the current champion. He defeated Último Guerrero on September 24, 2021 in Arena México to win the vacant championship.
History of Championship
A championship reign for Brazo de Plata is erroneously omitted from most listings of this championship history. His championship reign with this title overlapped his CMLL World Trios Championship with Los Brazos.

Champions Listing
#
Champion(s)
Defeated
Date
Location
tournament to determine first champion
1
Konnan
Cien Caras
1991.06.09
Arena Mexico
2
Cien Caras
Konnan
1991.08.18
Plaza De Toros La Monumental de Monterrey
[1]
1
Konnan
1991.09.21
Arena Coliseo Acapulco
[2]
2
Rayo de Jalisco Jr.
1991.11.28
Arena Isabel de Cuernavaca
3
Perro Aguayo
1992.01.19
Arena Coliseo Guadalajara
4
Salomon Grundy
1992.03.08
Arena Mexico
5
Vampiro
1992.03.15
Plaza De Toros La Monumental de Monterrey
[3]
6
Rayo de Jalisco Jr.
1992.04.16
Arena Puebla
title vacant on June 12; Cien Caras left CMLL a month prior
tournament to fill vacant title
3
Black Magic
Rayo de Jalisco Jr.
1992.11.20
Arena Mexico
[4]
1
Corazon de Leon
1992.12.06
Monterrey
[5]
2
Villano IV
1993.01.01
Pista Arena Revolucion
3
Tigre Canadiense
1993.01.17
Plaza De Toros La Monumental de Monterrey
4
Brazo de Plata
1993.01.31
Pista Arena Revolucion
5
Brazo de Plata
1993.02.10
Arena Coliseo De Acapulco
6
Rayo de Jalisco Jr.
1993.03.19
Arena Mexico
7
King Haku
1993.03.28
Arena Mexico
8
Vampiro
1993.05.?
Arena Mexico
4
Brazo de Plata
Black Magic
1993.06.27
Arena Mexico
1
Black Magic
1993.07.21
Arena Coliseo Acapulco
2
Silver King
1993.09.05
El Toreo De Naucalpan
3
Gran Markus Jr.
1993.10.14
Arena Naucalpan
4
Pierroth Jr.
1994.04.18
Arena Puebla
5
Silver King
Brazo de Plata
1994.07.28
Arena Isabel De Cuernavaca
1
Dr. Wagner Jr.
1994.08.25
Arena Isabel de Cuernavaca
2
Pirata Morgan
1994.10.05
Arena Naucalpan
3
Zandokan
1994.11.02
Arena Naucalpan
4
Pirata Morgan
1995.01.29
Arena San Juan Pantitlan
5
Brazo de Plata
1995.02.01
?
6
Dr. Wagner Jr.
1995.03.30
Arena Isabel de Cuernavaca
7
Dr. Wagner Jr.
1995.05.27
Arena Puebla
[6]
6
Apolo Dantes
Silver King
1995.06.23
Arena Mexico
1
Rayo de Jalisco Jr.
1995.07.13
Arena Isabel de Cuernavaca
[7]
2
Corazon De Leon
1995.09.19
Arena Coliseo DF
3
Vampiro
1995.11.12
Arena Coliseo DF
4
Vampiro
1995.12.15
Arena Mexico
7
Rayo de Jalisco Jr.
Apolo Dantes
1996.04.14
Arena Coliseo DF
1
Apolo Dantes
1996.04.28
Pista Arena Revolucion
2
Apolo Dantes
1996.05.01
Arena Coliseo De Acapulco
3
Apolo Dantes
1996.05.31
Arena Coliseo DF
4
Gran Markus Jr.
1996.09.20
Arena Mexico
5
Mascara Ano 2000
1996.11.06
Auditorio Morelos - Aguascalientes
6
Apolo Dantes
1997.02.03
Japan
8
Steele
Rayo de Jalisco Jr.
1997.04.18
Arena Mexico
1
Rayo de Jalisco Jr.
1997.08.17
Arena Coliseo Guadalajara
[8]
title vacant when Steel leaves CMLL
12 man tournament for vacant championship
9
Universo 2000
Rayo de Jalisco Jr. & Cien Caras
1997.10.17
Arena Mexico
1
Brazo de Plata
1997.12.16
Arena Coliseo DF
2
Mascara Sagrada
1998.02.06
Arena Coliseo De Acapulco
3
Rayo de Jalisco Jr.
1998.06.07
Auditorio de Tijuana
[9]
4
Rayo de Jalisco Jr.
1998.07.26
Arena Coliseo DF
10
Rayo de Jalisco Jr. [2]
Universo 2000
1998.09.13
Guadalajara
1
Cien Caras
1998.10.13
Arena Coliseo DF
2
Cien Caras
1998.10.25
Dove Gym, Minatitlán, Veracruz
[10]
2
Mascara Ano 2000
1999.10.17
Arena Coliseo DF
11
Universo 2000 [2]
Rayo de Jalisco Jr.
1999.12.10
Arena Mexico
1
Mascara Sagrada
2000.01.23
Arena Coliseo DF
2
Brazo de Plata
2000.02.14
Arena Puebla
3
Rayo de Jalisco Jr.
2000.04.10
Arena Puebla
4
Rayo de Jalisco Jr.
2000.05.12
Auditorio De Tijuana
5
Rayo de Jalisco Jr.
2000.05.30
Arena Coliseo DF
6
Brazo de Plata
2000.08.01
Arena Coliseo DF
7
Villano IV
2001.01.23
Arena Coliseo DF
8
Rayo de Jalisco Jr.
2001.07.29
Arena Coliseo de Guadalajara
9
Rayo de Jalisco Jr.
2001.10.28
Arena Neza
10
Villano IV
2001.12.04
Arena Coliseo DF
11
Lizmark Jr.
2001.12.12
Arena Coliseo De Acapulco
12
Mr. Niebla
2002.01.14
Arena Puebla
13
Rayo de Jalisco Jr.
2002.02.26
Arena Coliseo DF
14
Rayo de Jalisco Jr.
2002.04.18
Arena Neza
15
Rayo de Jalisco Jr.
2002.07.04
Arena Isabel De Cuernavaca
16 (19th Defense)
Violencia
2003.01.01
Arena Coliseo DF
12
Mr. Niebla
Universo 2000
2003.04.18
Arena Mexico
1
Universo 2000
2003.05.20
Arena Coliseo DF
2
Apolo Dantes
2003.08.17
Arena Coliseo DF
3
Shocker
2003.11.30
Gimnasio Nuevo Leon
4
Rey Bucanero
2003.12.28
Arena Coliseo DF
5
Tinieblas Jr.
2004.05.17
Arena Puebla
13
Universo 2000 [3]
Mr. Niebla
2004.10.12
Arena Coliseo DF
1
Dos Caras Jr.
2005.05.10
Arena Coliseo DF
2
Mr. Niebla
2006.02.27
Arena Puebla
3
Mascara Sagrada
2006.07.23
Salon Renault - Poza Rica, Veracruz
4
Dos Caras Jr.
2006.08.06
Arena Coliseo de Guadalajara
14
Dos Caras Jr.
Universo 2000
2007.07.08
Arena Coliseo DF
1
Lizmark Jr.
2007.08.19
Arena Coliseo DF
2
Universo 2000
2007.09.16
Arena Coliseo de Guadalajara
3
Ultimo Guerrero
2008.06.08
Arena Coliseo de Guadalajara
15
Ultimo Guerrero
Dos Caras Jr.
2008.12.22
Arena Puebla - Puebla
1
Hector Garza
2009.02.16
Arena Puebla
2
Shocker
2009.03.03
Arena Mexico
3
Villano V
2009.04.02
Arena Olimpico Laguna
4
Ray Mendoza Jr.
2009.04.17
Arena Puebla
5
Hector Garza
2009.07.27
Arena Puebla
6
Ephesto
2009.08.13
Arena Olimpico Laguna
7
Hector Garza
2009.08.17
Arena Puebla
8
Jushin Liger
2009.09.25
Arena Mexico
9
Yujiro
2009.10.15
Arena Olimpico Laguna
10
Hector Garza
2010.01.22
Arena Mexico
11
Shocker
2010.02.28
Arena Coliseo
12[11]
Shocker
2010.08.30
Arena Coliseo Guadalajara
13
La Mascara
2010.10.18
Arena Puebla
14
Misterioso II
2010.12.30
Arena Olimpico Laguna de Gomez Palacio
15
Spartaco
2011.03.27
Arena Coliseo Monterrey
16
Mr. Niebla
2011.04.04
Arena Puebla
17
Hirooki Goto
2011.04.29
Arena Mexico
18
La Sombra
2011.05.22
Arena Coliseo Guadalajara
19
Voltron
2011.05.29
Arena Guatemala Mexico, Guatemala
[12]
20
Rush
2011.06.12
Arena Mexico
16
Hector Garza
Ultimo Guerrero
2011.08.12
Arena Mexico
title vacant when Garza leaves CMLL
1
Rey Hechicero
2011.11.01
Arena Coliseo Monterrey
[13]
10 man tournament to determine finalists for vacant championship
17
Terrible
Rush
2012.01.01
Arena Mexico
1
Yujiro
2012.06.24
Arena Coliseo
2
Shocker
2012.07.16
Arena Puebla
3
Diamante Azul
2012.09.10
Arena Puebla
4
La Sombra
2012.12.02
Arena Coliseo
5
Diamante Azul
2013.01.07
Arena Puebla
6
Rush
2013.01.22
Arena Mexico
7
Shocker
2013.09.17
Arena Mexico
8
Rush
2013.11.12
Arena Coliseo Guadalajara
18
Maximo
Terrible
2015.01.30
Arena Mexico
1
Rey Bucanero
2015.05.09
Arena Coliseo
2
Rey Escorpion
2015.07.14
Arena Coliseo Guadalajara
[14]
3
Euforia
2015.07.27
Arena Puebla
[15]
4
Terrible
2015.10.18
Arena Mexico
[16]
5
Vangelis
2016.01.18
Arena Puebla
[17]
6
Euforia
2016.02.16
Arena Coliseo Guadalajara
[18]
7
Shocker
2016.06.20
Arena Puebla
8
Rey Escorpión
2016.08.02
Arena Mexico
9
Hechicero
2017.01.21
Korakuen Hall Tokyo, Japan
10
Terrible
2017.04.18
Arena Mexico
championship vacant on 2017.05.22 when Maximo is fired by CMLL
Torneo Cibernetico to decide new champion with final 2 competitors facing off in a one fall match
19
Marco Corleone
Terrible
2017.06.06
Arena Coliseo Guadalajara
1
Terrible
2017.06.18
Arena Mexico
2
Vangelis
2017.08.05
Arena Coliseo
3
Diamante Azul
2017.08.21
Arena Puebla
4
Euforia
2017.09.19
Arena Coliseo Guadalajara
5
Rush
2017.10.16
Arena Puebla
6
Diamante Azul
2018.01.15
Arena Puebla
Championship vacated by CMLL on August 22, 2018
Torneo Cibernetico held on October 9, 2018 to decide new champion with final 2 competitors facing off in a one on one match on October 16, 2018
20
Último Guerrero [2]
Diamante Azul
2018.10.16
Arena Mexico
1
Sansón
2018.11.19
Arena Puebla
2
Vangellys
2019.03.04
Arena Mexico
3
Valiente
2019.04.15
Arena Puebla
4
Ciber the Main Man
2019.08.09
Arena Mexico
5
Cibernetico
2019.09.25
Auditorio Miguel Barragan San Luis Potosi
6
Valiente
2019.11.26
Arena Puebla
7
Kojima
2020.01.19
Korakuen Hall
8
Euforia
2020.11.27
Arena Mexico
9
Diamante Azul
2021.04.10
Arena Mexico
[19]
10
Corcel Maldito
2021.05.23
Arena Cri-Cri, Cuernavaca, Morelos
21
Hechicero
Último Guerrero
2021.09.24
Arena México
1
Barbaro Cavernario
2021.11.12
Arena Mexico
2
Gran Guerrero
2022.03.19
Arena Coliseo
21
Gran Guerrero
Hechicero
2022.11.07
Arena Puebla
[20]
 
 
title change
successful title defense
championship matches which were announced, but results were not found
Gallery of Champions
Gallery of Title Belts
Sources