CMLL Arena Coliseo Tag Team Championship
From Luchawiki
Jump to navigation
Jump to search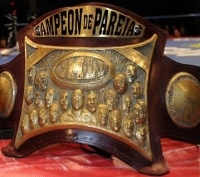 Current Champions
Furia Roja & Guerrero de la Muerte are the champions. They defeated Robin and Hombre Bala Jr. on March 14, 2023 while also Occidente Tag Team Championship.
History of Championship
Alan Stone and his brother Chris Stone/Moto Cross were the Arena Coliseo (DF) Tag Team Champions, as of 2005 (though last defended 2002). The championship, which is only defended in Mexico City's Arena Coliseo, is treated as a secondary championship, in the same way the Mexican national championships are secondary to the CMLL world championships. In this case, AAA controlled the Mexican National Tag Team Championship, so CMLL uses their own arena-specific title instead for a secondary parajes championship.
There are occasional references to an earlier Arena Coliseo tag team championship, seemingly serving the same secondary tag team championship purpose. The teams of Villano II & Villano I (around 1973, according to La Magia del Ring 3) and Kato Kung Lee & Kung Fu are said to be past champions, but detailed history is unavailable.
The early 2000s era of the championship never got much traction in CMLL; while they were used to highlight the Stone brothers and to build a feud with Guerrero del Futuro & Damian el Guerrero into a hair match, they vanished into the background after the last known defense.
The championship went dormant for a long stretch, due to departures by both champions. Alan has since joined AAA, and Chris also joined AAA only to return to CMLL. The possibility of holding a tournament for new champions was occasionally mentioned in the following years, but never really focused on.
With no advance warning, a 16 team tournament finally took place in June 2008, focusing on wrestlers who were usually relegated to the opening three matches. Due to a scheduling oddity, the first week of the tournament actually took place in Arena Mexico. The final to determine new champions took take place on June 29th, with Flash and Stuka Jr. defeating favorites Euforia and Nosferatu for the titles.
After a couple month chase, with the rudo Infernales usually defeating the champions in trios matches, Euforia and Nosferatu were granted a rematch. Stuka Jr. and Flash were able to defend them once again.
Champions Listing
Original Championship
EMLL originally promoted both Sunday and Tuesday Arena Coliseo Tag Team championships, which were only defended on those days in those buildings. Neither belts were mentioned or active often. The listings below are believed to be the Tuesday belts, which were the most prominent of the two. This history is not close to complete.
2000 Restart Championship
Gallery of Champions
Sources