When Worlds Collide
From Luchawiki
Jump to navigation
Jump to search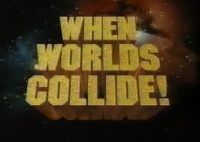 When Worlds Collide (Cuando Los Mundos Chocan) was a historical Pay-Per-View from AAA and IWC, with co-promotion by WCW. The event took place on November 6, 1994 at the Los Angeles Sports Arena and is credited as being the first introduction of the Lucha Libre phenomenon to a North American Audience. The event was available in both English and Spanish, as Chris Cruise and current TNA commentator Mike Tenay performed the English commentary, and Arturo Rivera and Andres Maronas handled the Spanish commentary.
When Worlds Collide is most remembered for it's semi-main event: a double hair versus double mask, two-out-of-three falls match that pitted Los Gringos Locos members Art Barr & Eddie Guerrero (the rudo team) against the team of Octagon & El Hijo Del Santo (the tecnicos). The match was built around the former partnership between not only Eddie Guerrero and El Hijo Del Santo, but also around the former partnership of their fathers (Gory Guerrero and El Santo); Both men claimed that one carried the other throughout the partnership, as well as claiming that their father carried the other's father throughout the partnership.
Allegedly, there were backstage problems prior to the show, as WCW production decided to cut the broadcast down 45 minutes from the original run time, resulting in all of the undercard matches becoming one-fall to a finish. In addition, Art Barr and Octagon were removed from the booking sheet and booked as seconds to their partners. In addition, the tag team semi-main event was cut down from 30 minutes to 20 minutes.
Matches
External links