The Crash Women's Championship
From Luchawiki
Jump to navigation
Jump to search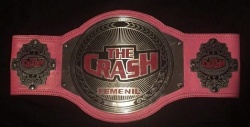 Women's championship in The Crash promotion.
Current Champion
Lady Flamer was the latest champion. She vacated the title on December 12, 2020 to appear in Triplemania XXVIII.

History of the Championship
In the fifth anniversary of The Crash celebrated on November 26, 2016 at Auditorio de Tijuana there was a match for the vacant The Crash Women's Championship. The challengers to determine the inaugural champion were Sexy Dulce against Keira. Sexy Dulce defeated Keira and became the first The Crash Women's Champion.
Keira was the second champion. She defeated Sexy Dulce, Lady Maravilla, Santana Garrett, Candy White, & Laurel Van Ness on April 5th, 2017 to win the championship.
Lacey Lane became the 3rd champion defeating Keyra on January 20, 2018 at Auditorio de Tijuana - Tijuana, Baja California. This match was not programmed. After their mixed tag team match, Lacey Lane challenged Keyra to a championship match. Keyra accepted and La Rebelión Amarilla helped Lane to win the championship.
Tessa Blanchard was the 4th champion defeating Lacey Lane and Santana Garrett in a triple threat match on July 14, 2018.
Lady Flamer was the 5th champion, she defeated Reina Isis, Miranda Alize & Christi Jaynes on February 9, 2019 at Auditorio de Tijuana, Tijuana, Baja California to win the vacant championship after previous champion Tessa Blanchard vacated the title.
Champions Listing
#
Champion(s)
Defeated
Date
Location
decision match for the first champion
1
Sexy Dulce
Keira
2016.11.26
Auditorio de Tijuana - Tijuana, Baja California
2
Keira
Sexy Dulce
Lady Maravilla
Santana Garrett
Candy White
Laurel Van Ness
2017.04.05
Gimnasio Olímpico Juan de la Barrera, Ciudad de México, Distrito Federal
1
La Magnifica
Chik Tormenta
Diosa Quetzal
2017.08.10
Domo de San Luis Potosí, San Luis Potosí
2
Christi Jaynes
Diosa Quetzal
2017.09.13
Auditorio Miguel Barragan, San Luis Potosí
3
Baronessa
Christi Jaynes
Lacey Lane
2017.11.04
Auditorio de Tijuana
4
Lacey Lane
2017.12.03
Centro Civico Nueva Aragon, Ecatepec, Estado de México
5
Lacey Lane
Christi Jaynes
Mima Shimoda
2017.12.15
Arena Neza
3
Lacey Lane
Keira
2018.01.20
Auditorio de Tijuana - Tijuana, Baja California
1[1]
Santana Garrett
2018.02.24
Kissimmee, Florida
2
Tessa Blanchard
2018.05.19
Auditorio de Tijuana - Tijuana, Baja California
4
Tessa Blanchard
Lacey Lane
Santana Garrett
2018.07.14
Auditorio de Tijuana - Tijuana, Baja California
1
Lady Flamer
Kiera Hogan
Lluvia
2018.11.03
Auditorio de Tijuana - Tijuana, Baja California
Tessa Blanchard vacated the title
Fatal Four Way Match to determine the new champion
5
Lady Flamer
Reina Isis
Miranda Alize
Christi Jaynes
2019.02.09
Auditorio de Tijuana, Tijuana, Baja California
1
Baronessa
Lady Puma
Perla Lagunera
2019.04.07
Arena Coliseo Monterrey
2
Christina Von Eerie
2019.11.01
Auditorio de Tijuana - Tijuana, Baja California
Lady Flamer vacated the title on 2020.12.12.
 
 
title change
successful title defense
championship matches which were announced, but results were not found
Sources:
↑

a NGCW show, perhaps not official
Gallery of Champions