The Crash Heavyweight Championship
From Luchawiki
Jump to navigation
Jump to search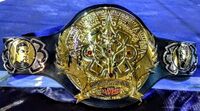 The Crash Heavyweight Championship is a major title promoted by The Crash. The championship is only contested for wrestlers in the Heavyweight class.
Current Champion
DMT Azul is the current champion, he won the title on May 5, 2023 in Auditorio de Tijuana in a match against Blue Demon Jr., Matt Taven, and EC3.

History of the Championship
At the sixth anniversary event of The Crash celebrated on November 4, 2017 at Auditorio de Tijuana there was a match to crown the first The Crash Heavyweight Champion. The participants to determine the inaugural champion were Rey Misterio Jr., Rush, La Máscara & Pentagón Jr. Rey Misterio Jr. won to become the first The Crash Heavyweight Champion.
Willie Mack was the second champion. He defeated El Mesias, Michael Elgin and Barbaro Cavernario on November 3, 2018 to win the vacant championship.
Austin Theory was the third champion. He defeated Willie Mack, Sanson (II) and Barbaro Cavernario on March 2, 2019.
Rey Horus was the fourth champion. He defeated Austin Theory, MJF, & Adam Brooks on May 4, 2019.
Bandido was the 5th champion. He defeated Rey Horus & Marty Scurll , on November 23, 2019.
Hijo del Vikingo was the 6th champion. He defeated Bandido, Willie Mack & Dragon Lee, on November 5, 2021. He vacated the title when The Crash and AAA broke relations. There was a match for the vacant title on March 18, 2022 in which Cinta de Oro won. Cinta was billed as new champion, though they didn't appear to have the actual physical belt instead Cinta's IOWC championship was presented. Cinta eventually received the actual belt.
LA Park was the 7th champion, and was eventually stripped from of the title for undisclosed reasons.

Champions Listing
#
Champion(s)
Defeated
Date
Location
Four Way Match to crown the first champion
1
Rey Misterio Jr.
La Máscara
Penta El Zero M
Rush
2017.11.04
Auditorio de Tijuana - Tijuana, Baja California
1
Bestia 666
Penta El Zero M
2018.05.18
Lienzo Charro Prof Enrique Gonzalez, Saltillo, Coahuila
Vacated on October 7, 2018 when Rey Misterio Jr. was stripped of the championship.
Match for the vacant championship held on November 3, 2018.
2
Willie Mack
Michael Elgin
El Mesias
Barbaro Cavernario
2018.11.03
Auditorio de Tijuana - Tijuana, Baja California
3
Austin Theory
Willie Mack
Sanson (II)
Bárbaro Cavernario
2019.03.02
Auditorio de Tijuana - Tijuana, Baja California
4
Rey Horus
Austin Theory
Adam Brooks
MJF
2019.05.04
Auditorio de Tijuana - Tijuana, Baja California
1
Extreme Tiger
The King Rey Misterio
Bandido
2019.07.05
Auditorio de Tijuana - Tijuana, Baja California
2
CIMA
Jeff Cobb
2019.11.01
Auditorio de Tijuana - Tijuana, Baja California
5
Bandido
Rey Horus
Marty Scurll
2019.11.23
Auditorio de Tijuana - Tijuana, Baja California
6
Hijo Del Vikingo
Bandido
Willie Mack
Dragón Lee
2021.11.05
Auditorio de Tijuana
1
Flip Gordon
2022.01.28
Auditorio de Tijuana
title vacated
Triple Threat Match to crown the new champion
7
Cinta de Oro
Lince Dorado
Pentagon Jr.
2022.03.18
Auditorio de Tijuana
8
LA Park
Cinta de Oro
Nuevo Pierroth
Texano Jr.
2022.07.01
Auditorio de Tijuana
LA Park was stripped of the title
four way match to crown a new champion
9
DMT Azul
Blue Demon Jr.
Matt Taven
EC3
2023.05.05
Auditorio de Tijuana
 
 
title change
successful title defense
championship matches which were announced, but results were not found
Gallery of Champions