The Crash Junior Championship
From Luchawiki
Jump to navigation
Jump to search
Current Champion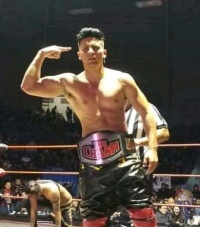 Dinámico is the current champion, he defeated Terror Azteca & Demonio del Aire on February 22, 2020 in Auditorio de Tijuana.

History of the Championship
The championship was decided in the opener of the July 2015 show.
This championship is considered a lesser championship than the The Crash Cruiserweight Championship and has been primarily disputed between local wrestlers. The Cruiserweight championship has been defended more regularly on shows in 2016, and the Junior title hasn't appeared on the promotion's shows since February 2016.
Astrolux was the 8th champion. He won the championship by defeating Tiago, Latigo, Rayo Star & Torito Negro on March 17, 2018 at Auditorio de Tijuana, Tijuana, Baja California.
X-Peria became the 9th champion. He defeated Rayo Star, Torito Negro and Tiago on November 3, 2018 to win the championship.
Tiago was the 10th champion. He defeated X-Peria on May 26, 2019 to win the championship.
Terror Azteca was the 11th champion, he won the vacant title on November 1, 2019 in Auditorio de Tijuana.
Champions Listing
#
Champion(s)
Defeated
Date
Location
decision match for the first champion
1
Star Dragón
Enigma
Destroyer
Mosco Negro
Mirage
Black Boy (Tijuana)
2015.07.03
Auditorio de Tijuana
1
Black Danger
2015.08.16
Nueva Arena Tijuana
2
Mirage
2015.10.02
Auditorio de Tijuana
2
Mirage
Black Danger
2015.10.11
Nueva Arena Tijuana
3
Black Boy (Tijuana)
Mirage
Séptimo Dragón
Jinzo
Próximo
2016.02.12
Auditorio de Tijuana
1
Fantastik
2016.03.13
Nueva Arena Tijuana
2
Mirage
2016.04.24
Nueva Arena Tijuana
4
Black Danger (Tijuana)
Black Boy (Tijuana)
2016.07.24
Nueva Arena Tijuana
1
Mirage
Fantastik
2016.08.14
El Perro Salado, Tijuana, Baja California
2
Jonathan
2016.10.09
Gimnasio Independencia, Tijuana, Baja California
5
Arkangel Divino
Black Danger (Tijuana)
2017.01.21
Auditorio de Tijuana
1
Látigo
2017.06.02
Auditorio de Tijuana, Tijuana, Baja California
2[1]
Latigo
Mirage
2017.06.03
Gimnasio Mariano Matamoros
3
Skalibur
Black Danger
2017.09.09
Arena Nacionalista - Mexicali, Baja California
4
Astrolux
Último Maldito
Black Boy
Mirage
Tiago
2017.11.04
Auditorio de Tijuana, Tijuana, Baja California
6
Black Boy [2]
Arcángel Divino
2017.12.25
Rancho Grande - Tijuana, Baja California
1
Mega Danger
2018.02.08
Gilt Nightclub - Orlando, Florida, USA
Championship vacated on March 17, 2018 when Black Boy does not appear for title defense. Decision match to crown new champion.
7
Astrolux
Tiago
Latigo
Rayo Star
Torito Negro
2018.03.17
Auditorio de Tijuana - Tijuana, Baja California
1
Aramis
2018.04.28
Arena San Juan Pantitlán - Ciudad Nezahualcoyotl, Mexico State
8
Torito Negro
Astrolux
2018.05.20
Palenque de Tlaxcala - Tlaxcala, Tlaxcala
1
Tiago
Toxin
2018.06.30
Palenque de Tlaxcala - Tlaxcala, Tlaxcala
9
X-Peria
Tiago
Rayo Star
Torito Negro
2018.11.03
Auditorio de Tijuana, Tijuana, Baja California
1
El Talibán
2018.12.01
Auditorio de Tijuana
10
Tiago
X-Peria
2019.05.26
Arena Big Punch - Tijuana, Baja California
Championship vacated when Tiago signed with AAA. TLC match to crown new champion.
11
Terror Azteca
Baby Extreme
Próximo
Toto
2019.11.01
Auditorio de Tijuana
1
Baby Extreme
Máscara Oriental
2019.11.23
Auditorio de Tijuana
12
Dinámico
Demonio del Aire
Terror Azteca
2020.02.22
Auditorio de Tijuana
 
 
title change
successful title defense
championship matches which were announced, but results were not found
Gallery of Champions