IWL Trios Championship
From Luchawiki
Jump to navigation
Jump to search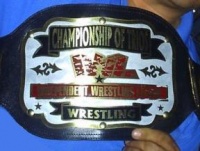 The IWL Trios Championship is a professional independent wrestling title of IWL.
Current Champion
Team D-TUlancingo (Aeroboy, Demente Extreme & Violento Jack) are the current champions. They defeated Los Porros (Angel O Demonio, Leon Rojo & Obett) on December 14, 2013 in Auditorio Municipal de Tampico of Tampico, Tamaulipas.
History of Championship
IWL held a show in Salon Quinta Paraiso in November 14, 2010 with a mini tournament to crown the new IWL Trios Champions. The team participants was Los Brazos Jr. (Brazo de Plata Jr., Brazo Jr. & Brazo Metalico), Los Payasos del Terror (Carroña, Miedo & Terror) and La Secta Negra (Cerebro Negro, Fantasma de la Opera & Radge). Originally Carta Brava Jr. was announced but didn't show to wrestle and was replaced by Radge.
Champions Listing
#
Champion(s)
Defeated
Date
Location
final of 4-Team tournament for crown the first champions
1
Los Porros
(Angel O Demonio, Leon Rojo & Obett)
La Secta Negra
(Cerebro Negro, Fantasma de la Opera & Radge)
2010.11.14
Salon Quinta Paraiso,
Cuautitlan Izcalli, Mexico State
1
La Secta Negra
(Cerebro Negro, Fantasma de la Opera & Radge)
2010.11.27
Parque El Zotoluco,
Tlalnepantla, Mexico State
2
Los Payasos
(Coco Amarillo, Coco Azul & Coco Rojo)
2010.12.19
Auditorio Municipal,
Ixtapaluca, Mexico State
3
La Secta Negra
(Fantasma de la Opera, Pesadilla & Radge)
2011.03.01
Polideportivo Universitario UAEH,
Pachuca, Hidalgo
4
Carta Brava Jr., Cerebro Negro & Eterno
Centinela, Ojo Diabolico Jr. & Ultimo Vampiro
Oficial 911, Oficial AK-47 & Oficial Fierro
2011.05.28
Deportivo Tlalli,
Tlalnepantla, Mexico State
5
Accion Total Maxima
(Epitafio, Fantasma de la Opera & Sepulturero)
2011.09.10
Arena IWL,
Tultitlan, Mexico State
2
Los Psycho Circus
(Monster Clown, Murder Clown & Psycho Clown)
Los Porros
(Angel O Demonio, Leon Rojo & Obett)
2012.05.26
Centro de Convenciones,
Tlalnepantla, Mexico State
3
Los Porros [2]
(Angel O Demonio, Leon Rojo & Obett)
Coco Amarillo, Coco Blanco & Cocolores
Infierno Kid, Ojo Diabolico Jr. & Ultimo Vampiro
Monster Clown, Murder Clown & Psycho Clown
2013.03.10
Gimnasio de la Unidad Deportiva,
Huehuetoca, Mexico State
4
Los Psycho Circus [2]
(Monster Clown, Murder Clown & Psycho Clown)
Los Porros
(Angel O Demonio, Leon Rojo & Obett)
2013.06.08
Teatro Zaragoza,
Atizapan, Mexico State
5
Los Porros [3]
(Angel O Demonio, Leon Rojo & Obett)
Los Psycho Circus
(Monster Clown, Murder Clown & Psycho Clown)
2013.06.18
Arena Aficion,
Pachuca, Hidalgo
6
Team D-TUlancingo
(Aeroboy, Demente Extreme & Violento Jack)
Los Porros
(Angel O Demonio, Leon Rojo & Obett)[1]
2013.12.14
Auditorio Municipal de Tampico,
Tampico, Tamaulipas
1
Angel O Demonio, Leon Rojo & Obett
ATM Metal, ATM Red & ATM Silver
2013.12.17
Arena Aficion,
Pachuca, Hidalgo
 
 
title change
successful title defense
championship matches which were announced, but results were not found
Gallery of Champions