IWL International Heavyweight Championship
From Luchawiki
Jump to navigation
Jump to search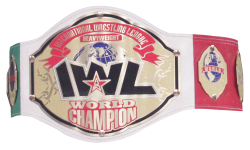 The IWL International Heavyweight Title is a professional wrestling championship promoted by International Wrestling League. It is one of two heavyweight championships in IWL, complementing the IWL Independent Heavyweight Championship.
Current Champion
Dr. Wagner Jr. is the current champion. He defeated Canek, L.A. Park, Super Crazy and Villano IV on October 1, 2013 at Arena Aficion of Pachuca, Hidalgo.
History of Championship
IWL began a tournament in 2010 in order to get their first IWL Heavyweight Champion. The tournament started normally but never was finished. In 2013, IWL finally crowned their first IWL International Heavyweight Champion at their 3rd Anniversary Show. L.A. Park defeated Canek, Dr. Wagner Jr. and Justin Credible and became the inaugural champion. On September 28, 2013 the promotion crowned other heavyweight champion, this time Canek became the first IWL Independent Heavyweight Champion, remaining as one of two top champions of same class in IWL.
Champions Listing
#
Champion(s)
Defeated
Date
Location
decision match to crown the inaugural champion
1
L.A. Park
Canek, Dr. Wagner Jr. & Justin Credible
2013.09.14
Centro de Convenciones - Tlalnepantla, Mexico State
2
Dr. Wagner Jr.
Canek, L.A. Park, Super Crazy & Villano IV
2013.10.01
Arena Aficion - Pachuca, Hidalgo
1
Pirata Morgan, L.A. Park, Canek
2013.12.14
Auditorio Municipal de Tampico
2
L.A. Park
2014.04.27
2300 Arena - Philadelphia, Pennsylvania, USA
3
L.A. Park
2015.05.02
Arena Azteca Budokan
 
 
title change
successful title defense
championship matches which were announced, but results were not found
Gallery of Champions