IWRG Intercontinental Lightweight Championship
From Luchawiki
Jump to navigation
Jump to search
Current Champion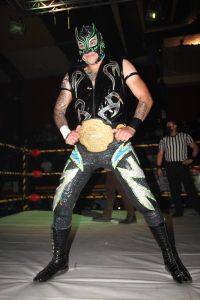 Aster Boy is the current champion. He defeated Puma de Oro on October 31, 2021 at Castillo del Terror 2021.
History of Championship
Freelance became the first lightweight champion, beating Aeroman in a three falls final. Freelance spent most of 2008 contesting for the DF Trios titles, but found himself in a feud with AJPW trainee Tetsuya (also known as Bushi) by the end of the year.
Tetsuya was finally able to win the championship on February 8th, in a three way with Dr. Cerebro. Due to the stipulations of the match, Cerebro and Freelance later met in a hair match. With those two occupied, Zatura quickly stepped up as Testuya's challenger and defeated him for the title after a short month reign.
Zatura lost the title in his first defense to Trauma II on June 18th. The two had been partners until they had a major falling out which set the stage for the excellent technical title match. Bushi beat Trauma II in November to recapture the title, only to lose it in his first defense to Dr. Cerebro.
Pantera I was the 13th lightweight champion. He defeated Diablo Jr. I in a tournament final for the vacant championship on November 13th, 2016.

Champions Listing
#
Champion(s)
Defeated
Date
Location
Aeroman, Freelance, Avisman, Marco Rivera, Star Boy, Halcon 2000, Black Thunder, Dr. Cerebro, Cerebro Negro, Turbo participate in an elimination match to determine finalists for new championship
1
Freelance
Aeroman
2008.05.29
Arena Naucalpan
1
Tetsuya
2008.12.25
Arena Naucalpan
2
Tetsuya
Freelance & Dr. Cerebro
2009.02.08
Arena Naucalpan
3
Zatura
Tetsuya
2009.03.15
Arena Naucalpan
4
Trauma II
Zatura
2009.06.18
Arena Naucalpan
1
Avisman
2009.07.26
Arena Naucalpan
5
Avisman
Trauma II
2009.08.16
Arena Naucalpan
1
Freelance
2009.10.01
Arena Naucalpan
6
(Tetsuya) Bushi [2]
Avisman
2009.11.26
Arena Naucalpan
7
Dr. Cerebro
Bushi
2010.01.10
Arena Naucalpan
1
El Hijo del Diablo
2010.01.31
Arena Naucalpan
2
Hijo del Pantera
2010.03.04
Arena Naucalpan
championship vs championship with Diablo's WWS Welterweight Championship
3
Hijo del Diablo
2010.03.21
Arena Naucalpan
4
Masada
2010.04.11
Arena Naucalpan
8
Comando Negro
Dr. Cerebro
2011.01.30
Arena Naucalpan
1
Multifacético
2011.03.20
Arena Naucalpan
2
Eterno
2011.04.10
Arena Naucalpan
9
Dinamic Black
Comando Negro
2011.11.03
Arena Naucalpan
10
Carta Brava Jr. II
Dinamic Black
2011.12.22
Arena Naucalpan
1
Saruman
2012.02.02
Arena Naucalpan
2
Alan Extreme
2012.02.19
Arena Naucalpan
3
Chicano
2012.05.06
Arena Naucalpan
11
Chicano
Carta Brava Jr.
2012.07.01
Arena Naucalpan
championship vacant when Chicano leaves IWRG, moves up weight division, and has injury from car accident
eight man tournament for vacant championship
12
Imposible
Astro Rey Jr. & Dragon Celestial
2013.07.07
Arena Naucalpan
1
Golden Magic
2013.08.15
Arena Naucalpan
2
Douki
2013.11.24
Arena Naucalpan
3
Dragon Celestial
2013.11.28
Arena Naucalpan
4
Emperador Azteca
2014.08.10
Arena Naucalpan
5
Dragón Celestial
2014.10.29
Arena Naucalpan
6
Hip Hop Man
2014.11.26
Arena Naucalpan
7
Metaleon
2014.12.17
Arena Naucalpan
8
Leo
2015.09.16
Arena Naucalpan
9
Metaleon
2015.09.16
Arena Naucalpan
10
Hijo del Pantera[1]
2015.10.11
Arena Naucalpan
11
Pantera I[2]
2015.12.20
Arena Naucalpan
12
Freelance[3]
2016.04.27
Arena Naucalpan
13
Freelance
2016.05.22
Arena Naucalpan
14
Emperador Azteca[4]
2016.07.13
Arena Naucalpan
championship vacant on August 21 when Imposible announces he's moving up to fighting for the middleweight championship[5]
Tournament final for vacant championship
13
Pantera I
Diablo Jr. I
2016.11.13
Arena Naucalpan
1
Demonio Infernal (IWRG)
2017.04.05
Arena Naucalpan
2
Aramis
2017.09.17
Arena Naucalpan
3
Arez
2017.11.02
Arena Naucalpan
4
Aramis
2018.01.14
Arena Naucalpan
Championship vacant on August 5 when Pantera I misses his scheduled match vs Freelance due illness
eight man tournament for vacant championship
14
Baby Extreme
Puma de Oro
2020.12.06
Arena Naucalpan
1
Prometeo
2021.03.20
Arena Lucha Time
2
Aster Boy
2021.04.09
Arena Lucha Time
3
Aster Boy & Vertigo
2021.05.28
Arena Lucha Time
Baby Extreme quits IWRG on 2021.07.03, vacates the championship
eight person elimination decision match
15
Puma de Oro
Baby Star Jr., Sobredosis, Noicy Boy, Mr. Puma, Lunatic Xtreme, Redimido, Aster Boy
2021.07.15
Arena Naucalpan
16
Aster Boy
Puma de Oro
2021.10.31
Arena Naucalpan
1
Noisy Boy
2021.11.30
Arena Naucalpan
2
Tonalli
2022.03.03
Arena Naucalpan
3
Yorvak
2022.04.03
Arena Naucalpan
4
Aramís
2022.05.15
Arena Naucalpan
 
 
title change
successful title defense
championship matches which were announced, but results were not found
Gallery of Champions
International Wrestling Revolution Group (IWRG) Championships
Active: Light (Aster Boy), Welter (Jessy Ventura), Middle (Tonalli), Heavy (El Hijo de Espectro Jr.)
Tag Team (Golden Dragon & Atomico Jr.), Trios (

Espartaco, Latino, Tempestad

)
Mexico (Puma de Oro), Junior de Juniors (Dick Angelo 3G),
Inactive: Super Welter, Women
Tournaments: El Protector (El Hijo de Fishman & Tonalli), Rey del Ring (Hijo de Pirata Morgan)
Related: Mexico State Trios Championship (

Gran Pandemónium, Hijo de Pandemónium, Pandemónium Jr.

), WWS Welter (El Hijo del Diablo)