DTU Consagrado Championship
From Luchawiki
Jump to navigation
Jump to search
The DTU Consagrado Championship is a professional wrestling championship promoted by Desastre Total Ultraviolento.
Current Champion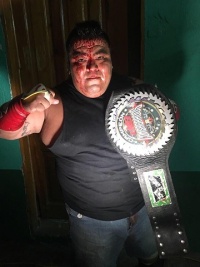 Obett is the current champion. He defeated Halloween on December 14, 2017.
History of Championship
This championship is of mysterious origin. Joe Lider lost the DTU Extremo Championship on December 25, 2011, but continued to defend a DTU championship in Guadalajara. It was eventually explained this was the DTU Consgrado Championship and it would be defended on DTU shows proper. Early championship history is very uncertain.

Champions Listing
#
Champion(s)
Defeated
Date
Location
Joe Lider declares self champion?
1
Joe Lider
?
?
?
2
Shiryu Dragon
Joe Lider, Neutron
2012.01.08
Arena Jalisco, Guadalajara, Jalisco
1
Tony Rodriguez
2012.02.27
Arena Demonio Blanco, Puerto Vallarta, Jalisco
3
Joe Lider[1]
Shiryu Dragon
2012.04.08
Arena Roberto Paz, Guadalajara, Jalisco
1
Black Fire, Demente Extreme, Fantasma de la Ópera
2013.02.19
Arena Aficion
2
Shiryu Dragon, X-Fly, Violento Jack, Ángel o Demonio
2013.10.20
Arena Roberto Paz, Guadalajara, Jalisco
4
Angel o Demonio
Joe Lider, Dance Boy, Shiryu Dragon
2013.12.21
Arena Lopez Mateos
1
Shiryu Dragon
2014.02.16
Arena Roberto Paz, Guadalajara, Jalisco
2
Crazy Boy, Super Mega
2014.03.09
Autolavado VM, Tulancingo, Hidalgo
3
Shiryu Dragon
2014.04.14
Cancha Germán Evers, Mazatlan, Sinaloa
5
Obett
Angel o Demonio
2014.08.19
Arena Aficion
1
Juventud Rebelde
2014.09.21
Gimnasio Paralimpico, León, Guanajuato
6
Paranoiko
Obett, Angel O Demonio, Jhonky
2014.09.26
Autolavado VM, Tulancingo, Hidalgo
1
Rocky Santana, Shiryu Dragon, Super Mega, X-Fly
2014.12.20
Arena Lopez Mateos
7
Super Mega
Paranoiko, Dement Extreme
2015.03.15
Arena Neza - Nezahualcoyotl, Mexico State
8
Sharly Rockstar[2]
Super Mega
2016.03.01
Arena Aficion
1
Ovett, Psicosis II, Crazy Boy, Paranoiko, Ángel o Demonio
2016.07.15
Arena Neza
9
Halloween
Sharly Rockstar, Obett
2017.09.26
Arena Aficion
1
Ovett
2017.10.15
Centro Civico de Tulpetlac in Ecatepec, Estado de Mexico, Mexico
10
Obett (2)
Halloween
2017.12.14
Arena Aficion
 
 
title change
successful title defense
championship matches which were announced, but results were not found
Sources:
↑

sources have Joe Lider as defending here, unclear if he won it back sometime previously
Gallery of Champions