Zeus
From Luchawiki
Jump to navigation
Jump to search
many other people have used the name Zeus
Zeus

| | |
| --- | --- |
| Name | Zeus |
| Real name | Octavio Marroquín Quesada |
| Nicknames | El Enmascarado Purpura |
| Name history | Zeus |
| Family | Martha Valero (niece, publisher of El Halcon magazine), Hector Valero (brother-in-law, publisher of El Halcon magazine) |
| Maestro(s) | El Enfermero |
| Birth date, location | September 23, 1947- Ario de Rosales, Michoacan |
| Obituary date | December 16, 1994 |
| Debut, location | July 1966- Iztapalapa, Distrito Federal |
| Lost mask to | Ultraman & Estrella Blanca - June 19, 1977 - Palacio de los Deportes, Mexico City |
| Height | 168 cm |
| Weight | 75 kg |
| Signature moves | |
| Titles: | Mexico State Lightweight Title |
Profile
Zeus was born on September 23rd, 1947 in the small town of Ario de Rosales, Michoacán, Mexico. He trained under El Enfermero and debuted in July 1966. His nickname was "El Enmascarado Purpura" and he was one of many to use the name of Zeus, who was the god of the sky, lightning and thunder in Ancient Greek mythology. He was a lightweight wrestler with a revered physique who was said to be fast, agile and possessed a strong temper.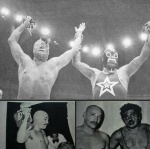 He feuded with El Dinámico in 1968. Dinamico would go on to become Ultraman, and Zeus unmasked him on September 15th, 1968. The match was said to be a heated match with both wrestlers almost tasting defeat. He also captured the masks of Black Bull and Robin at some point, though the exact dates are unknown. He captured the mask of Angel de La Muerte on March 18th, 1975. It is unknown when, but he captured the mask of a Corsario Negro during his career and then captured the mask of his partner Corsario Negro II on July 22nd, 1975. He had rivalries with Los Villanos and had a very strong rivalry with Estrella Blanca, a famous wrestler with over 200 apuestas victories.
He competed in the June 19th, 1977 Toneo De La Muerte. The event was a one night losers advance double mask vs double mask tag team tournament. The event was a star-studded line-up featuring multiple superstars of lucha libre. During the battle royal to determine seeding, he was placed with Pantera Azul. The team lost to Huracan Ramirez and El Matematico in the first round. They were then defeated by Villano I and Masked Marvel in the semifinals. In the finals, they met Estrella Blanca and Ultraman. Zeus had a rivalry with both men and had even unmasked Ultraman(as El Dinamico) earlier in his career, but was defeated and he and Pantera Azul were forced to unmask. This result made Zeus one of the few luchadores in history who were unmasked by a wrestler they had already unmasked.
He is said to have beaten Rokambole, who would go onto become Villano V, for the Mexico State Lightweight Championship on December 20th, 1977, though how long he held the title for is unknown.
He retired in the mid-80's and in 1989, he gave permission to Ray Richard to use the Zeus name. Richard continued with the name until May 28th, 1992, when he was unmasked.
Zeus passed away on December 16th, 1994.
Luchas de apuestas record
Gallery