Lucha Underground Trios Championship
From Luchawiki
Jump to navigation
Jump to search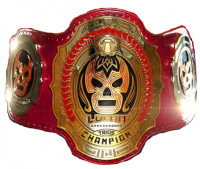 WARNING
Any Lucha Underground page may include results from tapings which have not yet aired on the television show (and may not for many months.) Read at your own risk.
Current Champions
Kobra Moon, Daga & Jeremiah Snake are the current champions after defeating Son of Havoc, Killshot & The Mack on episode 10 of season 4.
History of Championship
Championship apart of Lucha Underground.

Champions Listing
#
Champion(s)
Defeated
Date
Episode
Location
6 team tournament to determine first champions
1
Angelico, Son of Havoc & Ivelisse
The Crew
Bael, Mr. Cisco & Cortez Castro
2015.02.08
1x24
Lucha Underground Temple - Los Angeles, California
1
The Crew
Bael, Mr. Cisco & Cortez Castro
2015.02.22
1x28
Lucha Underground Temple - Los Angeles, California
2
Big Ryck, Cage, Delavar Daivari
2015.03.21
1x30
Lucha Underground Temple - Los Angeles, California
2
The Disciples of Death
(Barrio Negro, Siniestro de la Muerte & Trece)
Angelico, Son of Havoc & Ivelisse
2015.04.18
1x38
Lucha Underground Temple - Los Angeles, California
3
Angelico, Son of Havoc & Ivelisse
The Disciples of Death
(Barrio Negro, Siniestro de la Muerte & Trece)
2015.11.22
1x38
Lucha Underground Temple - Los Angeles, California
1
The Disciples of Death
(Barrio Negro, Siniestro de la Muerte & Trece)
2015.12.12
2x8
Lucha Underground Temple - Los Angeles, California
2
The Disciples of Death
(Barrio Negro, Siniestro de la Muerte & Trece)
2015.12.12
2x10
Lucha Underground Temple - Los Angeles, California
4
Dragon Azteca Jr., Prince Puma & Rey Mysterio Jr.
Son of Havoc & Ivelisse[1]
Fenix, Jack Evans, & PJ Black
Cortez Castro, Mr. Cisco & Joey Ryan
2016.01.10
2x14
Lucha Underground Temple - Los Angeles, California
1
Johnny Mundo, Son of Havoc & Ivelisse
2016.01.10
2x16
Lucha Underground Temple - Los Angeles, California
5
Worldwide Underground
Jack Evans, Johnny Mundo & PJ Black
Dragon Azteca Jr., Prince Puma & Rey Mysterio Jr.
2016.01.17
2x18
Lucha Underground Temple - Los Angeles, California
1
Dragon Azteca Jr., Prince Puma & Rey Mysterio Jr.
2016.01.16[2]
2x19
Lucha Underground Temple - Los Angeles, California
2
"These Guys"[3]
2016.03.26[4]
DNA
Lucha Underground Temple - Los Angeles, California
6
Fénix, Drago, & Aero Star
Worldwide Underground
Jack Evans, Johnny Mundo & PJ Black
2016.01.31
2x26
Lucha Underground Temple - Los Angeles, California
1
Worldwide Underground
Jack Evans, Taya & PJ Black
2016.05.15
3x3
-[5]
Rabbit Tribe
(Mala Suerte, Paul London, Saltador)
2016.04.09
DNA
Lucha Underground Temple - Los Angeles, California
2
Rabbit Tribe
(Mala Suerte, Paul London, Saltador)
2016.04.23
3x12
Lucha Underground Temple - Los Angeles, California
7
Reptile Tribe
(Drago [2], Vibora & Pindar)
Fénix & Aero Star
2016.05.07
3x21
Lucha Underground Temple - Los Angeles, California
8
Dante Fox, Killshot & The Mack
Reptile Tribe
(Drago, Vibora & Pindar
2016.06.26
3x39
Lucha Underground Temple - Los Angeles, California
Son of Havoc replaces Dante Fox as part of the champions on 4x1
1
Jack Swagger, Sammy Guevara & Big Bad Steve)
?.?.?
4x2
Lucha Underground Temple - Los Angeles, California
9
Kobra Moon, Daga & Jeremiah Snake
Son of Havoc, Killshot & The Mack
????.??.??
4x10
Lucha Underground Temple - Los Angeles, California
1
Fénix, Drago, & Aero Star
?.?.?
4x14
Lucha Underground Temple - Los Angeles, California
2
Joey Ryan, Ivelisse, XO Lishus
?.?.?
4x16
Lucha Underground Temple - Los Angeles, California
3
Sammy Guevara, Ivelisse & XO Lishus
The White Rabbit, El Bunny & Paul London
?.?.?
4x21
Lucha Underground Temple - Los Angeles, California
 
 
title change
successful title defense
championship matches which were announced, but results were not found
Gallery of Champions
Gallery of Title Belts