Los Invasores
From Luchawiki
Jump to navigation
Jump to search
Los Invasores is a CMLL group based around rudos who have invaded CMLL. Most of the wrestlers were previously independent after leaving AAA, Perros del Mal or IWRG. They have also used Los Invasores Independientes, Los Independientes and Los Supre Libre as other names early on.
In usual CMLL-ness, they announced Héctor Garza as leader of the group at a June press conference, only for Garza to say he wasn't actually in the group a few weeks later. Both Garza's involvement and the leadership of the group is blurry; he frequently teams with the group, but also with his usual CMLL partners Terrible & Texano Jr.. Psicosis II was the leader early on, until Hector Garza was introduced as a new rudo who was also the leader of this group. Psicosis later on feuded with Mistico and became the defacto leader again after Garza defected.
Volador Jr. started teaming with members of the group in mid 2011 and adopted Mije as his part-time mascot (despite occasionally treating him badly).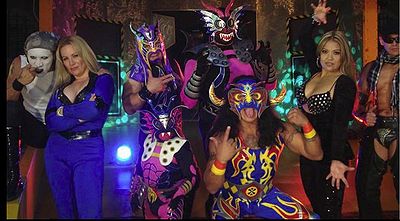 Members
Gallery