LLI
From Luchawiki
Jump to navigation
Jump to search


Lucha Libre Internaciónal (LLI) was a Mexican lucha libre promotion from 1975 to 1996. It's often remembered as Universal Wrestling Association, the name used as the governing body over the promotion's championship. The UWA and LLI names are basically interchangable; those in Mexico tend to use the LLI name (because the shows used those names) or remember it as "El Toreo" after the home arena. Those outside tend to use UWA (because they're more familiar with the championships.) Francisco José Flores was the head promoter of LLI. Carlos Maynes was a secondary promoter who too over after Flores death until the promotion ceased to exist.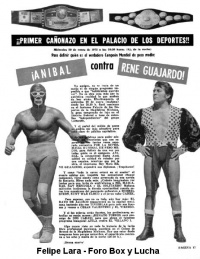 LLI started as a group of wrestlers and promoters splitting from EMLL. There had been no national rival group to EMLL since the death of the Televicentro promotion in the early 50s. There were instead a loose network of promoters outside of Mexico City, some of who would pay EMLL to bring in talent and some who would use local or unaffiliated wrestlers. There had also been a steady growth of luchadors outside of the EMLL system. Wrestling schools were producing more capable wrestlers than could be employed. Young wrestlers were unable to advance in EMLL (or even get booked there). The luchadors at the very top of EMLL tended to leave the promotion as well, feeling they do could do better on their own working non-EMLL affiliated indies without EMLL taking a cut of their booking fee. LLI came into existence as a way to better coordinate those non-EMLL promoters and wrestlers.
A distinct business difference between the promotions were the rights of the luchadors. EMLL strictly controlled their wrestler's schedule, while LLI wrestlers were more independent and could make their own schedules.
The first show LLI took place on January 29, 1975 at El Palacio de los Deportes. The promotion's first show in El Toreo de Naucalpan took place in 1977.
Canek, Villano III, Fishman, and Perro Aguayo were some of the stars of the promotion.
LLI had working agreements with New Japan Pro Wrestling and the World Wrestling Federation, and often brought in foreign talent to work short programs with their company stars. Many, like the Blue Blazer, were only really notable as a footnote when the wrestler involved achieved fame elsewhere, but a big part of the promotion was centered around nominally rudo Canek defending Mexican pride (and the UWA World Heavyweight Championship) against foreign scourges, including Hulk Hogan, Vader, and Andre the Giant.
Other international stars who worked at UWA were Lou Thesz, Tatsumi Fujinami, Tiger Mask I (Satoru Sayama), Riki Choshu, Antonio Inoki, Abdullah the Butcher, Carlos Colón, Búfalo Allen, Stan Hansen, Tiger Jeet Singh, Jushin Liger, Chris Benoit, Bam Bam Bigelow, Kokina (Yokozuna) and 2 Cold Scorpio (Black Scorpio).
The original referees of the group were Miguel Camarena, Carlos "El Brujo" Duarte and Alfonso "El Pompin" Ramirez. Shadito Cruz and El Fresero would later join the ranks of referees.
LLI faded away in the early 90s. The old stars had been on top too long, and they were unable to create new ones. Talent left for CMLL, looking for better money and opportunity. When CMLL roster became too big, AAA was formed from a new splinter group causing further damage to LLI's prestige. In 1994 and 1995, AAA and LLI copromoted a few events named Double Power, anticipating the mass transfert of all what remained of LLI's roster into AAA ranks in 1995 and formal closedown of LLI.
The UWA championships continue to be defended and traded years after the promotion dissolved. While they continue the line of previously established champions, the UWA belts are now owned property of individual wrestlers or promoters. Some of the belts have been acquired by Japanese promotions to connect them with the lucha libre style. The Mexico-based belts are mostly vanity titles, existing so the owner can promote himself as a champion, with occasional feuds over the belt.
Universal Wrestling Association Championships
Official: Heavy (Dr. Wagner Jr.)
Outlaw: Light (Kato Kung Lee Jr.), Junior Light Heavy (Diluvio Negro II)
Now in Japan: Welter, Middle, Junior Heavy, Tag, Trios,
Defunct: Feather, Light Heavy, Women, International Women, Women Junior, Women's Tag,
Associated: WWF Light Heavy
| | This article is a stub of a yet to be completed article. Free to add your own details to this article |
| --- | --- |