IWL Furia de Titanes Rookies Cup
From Luchawiki
Jump to navigation
Jump to search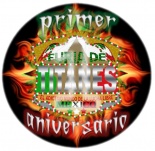 This is a tournament held by IWL to search the challenger for the IWL Primer Torneo de Novatos Copa Furia de Titanes. All sections took place on July 17, 2011
battle royal for seeding
22 luchadors entered a battle royal, eliminated by going over the top rope. Those in the match: Galáctico Infernal, Black Boy, Black Estruendo, Halcón Xtreme, Black Génesis, Kansuke, Relámpago Veloz, Guerrero del Sur, Hijo del Jaguar, Alas de Oro, Murciélago Jr., Dark Milo, Extreme Boy, Farcor, Inmortal, Atomic Star, Guerrero Arlequin, Molusco Jr., Flanagán, Shadoy Boy, Sidka, Zandor.
Participants & results from lucha campal:
Grupo Jaguar
Grupo Aguila
2nd Stage: Jaguar vs Aguila matches
Final
The winner was decided by judges after mano a mano matches, doesnt mater if contender loses. JUDGES: Valerie Richter, Sepulcro, Jaque Mate, Aguila Solitaria, Dr. Karonte and Furia de Titanes.
Winners from mano a mano:
results