AULL Tag Team Championship
From Luchawiki
Jump to navigation
Jump to search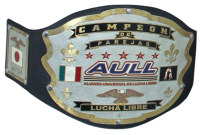 The AULL Tag Team Titles is a major championship promoted by Alianza Universal de Lucha Libre.
Current Champions
Alas de Oro & Alas de Plata are the current champions. They defeated Sádico (AULL) & Yoruba, Scorpio Jr. & Zumbido & Freelance & Centella Oriental on December 7, 2019 at Arena Lopez Mateos
History of Championship
2) Silver Cat I and Silver Cat II were the second AULL Tag Team champions, defeating first champions Epidemia & Robin Maravilla in the finals of a losers advance tag team tournament to claim the titles.
Iron Love & Chucho el Roto defeated Terry 2000 & Rey Krimen in the finals of a one night tournament to win the title.

Champions Listing
#
Champion(s)
Defeated
Date
Location
tournament to determine first champion
1
Epidemia & Robin Maravilla
Los Draveks (I & II)
Dr. Cerebro & Fantasma de la Opera
2007.03.31
Arena Lopez Mateos - Tlalnepantla, Mexico State
1
Dr. Karonte Jr. & Psicopata
2007.05.19
Arena Lopez Mateos - Tlalnepantla, Mexico State
2
Las Tortugas Mutantes (I & II)
2007.09.09
Arena Lopez Mateos - Tlalnepantla, Mexico State
2
Los Silver Cats (I & II)
Epidemia & Robin Maravilla
2008.11.02
Arena Lopez Mateos - Tlalnepantla, Mexico State
1
Furia Poblana & Super Rockero
2009.05.08
Auditorio Municipal, Rio Grande, Oaxaca
2
Epidemia & Simbolo
2009.05.14
Explanada Municipal - Madero Yautepec, Oaxaca
3
Conde Negro & Epidemia
2009.09.27
Gimnasio JLC - Panzacola, Oaxaca
4
Iron Love & Super Panda
2009.10.18
Arena Lopez Mateos - Tlalnepantla, Mexico State
5
Epidemia & Heavy Boy
2009.12.13
La Monumental del Tule - Oaxaca, Oaxaca
3
Super Panda & Tortuguillo Ninja
Los Silver Cats (I & II)
2010.01.29
Arena Lopez Mateos - Tlalnepantla, Mexico State
4
Los Compadres (Chucho El Roto & Iron Love)
Cerebro Maligno & Herejia
Rey Krimen & Terry 2000
Super Panda & Tortuguillo Ninja
2010.05.26
Arena Lopez Mateos - Tlalnepantla, Mexico State
1
Cerebro Maligno & Herejia
2010.06.27
Arena Lopez Mateos - Tlalnepantla, Mexico State
2
Rey Krymen & Terry 2000
2010.10.17
Arena Lopez Mateos - Tlalnepantla, Mexico State
3
Epitafio & Herejia
2011.01.01
Arena Lopez Mateos - Tlalnepantla, Mexico State
4
Rey Krymen & Sepulturero
2011.01.01
Arena Lopez Mateos - Tlalnepantla, Mexico State
5
Aeroboy & Violento Jack
2011.01.27
Arena Lopez Mateos
5
Los Compadres Extremos (Aeroboy & Violento Jack)
Chucho El Roto & Iron Love
2011.02.06
Arena Coliseo Tulancingo - Tulancingo, Hidalgo
6
Los Compadres (Chucho El Roto & Iron Love) [2]
Aeroboy & Violento Jack
2011.03.??
Arena Lopez Mateos - Tlalnepantla, Mexico State
7
Los Hermanos Trauma (Trauma I & Trauma II)
Chucho El Roto & Iron Love
2011.05.15
Arena Lopez Mateos - Tlalnepantla, Mexico State
1
Cerebro Maligno & Rey Krymen
2012.03.19
Arena Lopez Mateos - Tlalnepantla, Mexico State
2
Chucho el Roto & Iron Love
Daga & Eterno
2011.06.12
Arena Lopez Mateos
3
Sádico (AULL) & Yakuza (Mexico City)
Comando Negro & Daga
Chucho el Roto & Iron Love
2011.09.25
Arena Lopez Mateos
4
Eterno & Judas el Traidor
2011.10.02
Coliseo Coacalco
5
Angel o Demonio & Super Crazy
Daga & Judas el Traidor
Chucho el Roto & Iron Love
2012.01.22
Arena Lopez Mateos
6
Cerebro Maligno & Rey Krimen
2012.03.19
Arena Lopez Mateos
8
Los Bastardos (Epitafio & Leviathan)
Cerebro Maligno & Rey Krimen
Chucho El Roto & Iron Love
Trauma I & Trauma II
2012.04.14
Arena Lopez Mateos - Tlalnepantla, Mexico State
1
Los Compadres (Chucho El Roto & Iron Love)
2012.06.17
Arena Lopez Mateos
2
Judas el Traidor & Rey Krimen
2012.08.05
Arena Lopez Mateos
9
Los Compadres (Chucho El Roto & Iron Love) [3]
Los Bastardos (Epitafio & Leviathan)
2012.08.22
Arena Lopez Mateos - Tlalnepantla, Mexico State
10
Ares & Escualo
Chucho El Roto & Iron Love
2012.09.16
CCB Reina De Los Angeles - San Jose, Costa Rica
11
Los Compadres (Chucho El Roto & Iron Love) [4]
Ares & Escualo
2013.01.19
Gimnasio Plaza Viquez, San Jose, Costa Rica
1
Cerebro Maligno & Herejia
2013.03.31
Arena Lopez Mateos
2
Cerebro Maligno & Herejia
2013.04.07
Arena Lopez Mateos
3
Ares & Escualo
2013.09.22
Arena Lopez Mateos
12
Oficial 911 & Oficial AK47
Chucho el Roto & Iron Love
Trauma I & Trauma II
Rocky Santana & Romano Garcia
2013.11.06
Arena Lopez Mateos
13[1]
Los Bastardos (Samael & Tormento)
Oficial 911 & Oficial AK47
2013.12.08
Arena Lopez Mateos
1[2]
Trauma I & Trauma II
Cerebro Maligno & Sepulturero
Chucho el Roto & Yakuza
2014.02.09
Arena Lopez Mateos
2
Decadente & Psicópata
2015.04.19
Arena Lopez Mateos
14
Yakuza (Mexico City) & Angel del Amor
Samael & Tormento
2016.03.20
Arena Lopez Mateos
15
Sádico (AULL) & Yoruba
Ángel Del Amor & Yakuza
Emperador Azteca (IWRG) & Multifacetico
2016.10.15
Arena Lopez Mateos
1[3]
Emperador Azteca (IWRG) & Flamita
2017.01.14
Arena Lopez Mateos
2
Lokillo & Danger King
2017.05.20
Gimnasio Hercules
3
Cerebro Maligno & Tormento
2017.07.30
Arena Lopez Mateos
4
Toxin Boy & Tromba (Estado de México)
2017.09.30
Arena Lopez Mateos
5
Angel Jr & Principe Aereo
2018.07.22
Gimnasio Raton Macias, Tláhuac, Distrito Federal
6
Latigo & Tromba (Estado de México)
2018.08.18
Arena San Juan Pantitlan, Ciudad Nezahualcóyotl, Estado de México
7
Danger & Lokillo
2018.08.26
Centro de Alto Rendimento The Crash, Ecatepec, Estado de México
8
Keyra & Diosa Quetzal
2018.12.16
Foro México, Cuauhtémoc, Distrito Federal
9
Epitafio & Tormento
Rokambole Jr. & Villano V Jr.
Dante & Filder
2019.06.23
Arena Lopez Mateos
16
Alas de Oro & Alas de Plata
Sádico & Yoruba
Scorpio Jr. & Zumbido
Freelance & Centella Oriental
2019.12.07
Arena Lopez Mateos
1
Dragon Bane & Hijo de Canis Lupus
Sádico & Terry 2000
2020.10.17
Arena Lopez Mateos
2
Leviathan & Sádico
2021.03.27
Arena Lopez Mateos
3
Capo del Norte & Pistolero Negro
2021.09.16
Arena Los Reyes
4
Terry 2000 & Sádico
2021.10.10
Arena Lopez Mateos
5
Capo del Norte & Capo del Sur
2022.03.27
Arena Lopez Mateos
 
 
title change
successful title defense
championship matches which were announced, but results were not found
Gallery of Champions
Gallery of Title Belts
Sources
Arena Lopez Mateos
Promotions: AULL, UWE (Previously UWA affilated)
Promoter: Hector Guzman
AULL Championships: Light, Welter, Middle, Light Heavy, Heavy, Tag, Trios, Women's
UWE World Tag Team Championship
Notable luchadors: Rocky Santana, Iron Love, Chucho el Roto, Sádico, Terry 2000