AULL Heavyweight Championship
From Luchawiki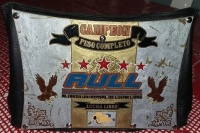 The AULL Heavyweight Title is a major championship promoted by Alianza Universal de Lucha Libre.
Current Champion
Máscara Año 2000 Jr. is the current champion. He defeated Montaña (or Tony Montaña) on October 13, 2019 at Arena Lopez Mateos to win the championship.
History of Championship
Sepulturero defeated Último Vampiro II on August 30, 2009 in a match to crown the first heavyweight champion of the promotion.

Champions Listing
Gallery of Champions
Arena Lopez Mateos
Promotions: AULL, UWE (Previously UWA affilated)
Promoter: Hector Guzman
AULL Championships: Light, Welter, Middle, Light Heavy, Heavy, Tag, Trios, Women's
UWE World Tag Team Championship
Notable luchadors: Rocky Santana, Iron Love, Chucho el Roto, Sádico, Terry 2000