Talk:Mexican National Women's Championship
From Luchawiki
Is this all one Diabolica? Is it Tiffany's Mom Diabolica or CMLL Women's Champion When They Had No Actual Division Diabolica? --Thecubsfan 16:35, 5 April 2006 (CDT)
It's all the same Diabolica. Tiffany's mom was never a big star.--Robert 17:41, 5 April 2006 (CDT)
missing 2001 defense
Does Alfredo have the correct date on the second taping? It would make sense for AAA to be repeating a show on Christmas, but I haven't seen mention of this mention either here or the Reina de Reinas info. --thecubsfan 15:30, 1 June 2007 (EDT)
Sirenita -> Martha fix
We previously had it listed that Sirenita vacated the title and Martha won it from La Practicante on 1996.06.21 in Culiacan. That doesn't appear to be right
Martha definitely beat Sirenita for the title on 1995.11.25 in Culiacan. It aired at least twice on TV, and it was mentioned in the WON results (date WON 1995-12-11)
Martha defended her title versus Julissa on 1996.06.21 in Neza. (WON 1996.07.15 has it just listed as the city, but results from that period from Neza are always the Arena.)
No idea how Practicante fits in, yet.
--thecubsfan (talk) 20:50, 20 September 2013 (CDT)
1969 title changes?
Box Y Lucha 874 has a recap of Jarochita Rivera beating Chabela Romero to win the title on July 2nd, 1969 in Veracruz. That's right in the middle of an Irma reign. Not going to added it yet without getting something else to coordinate it, but it's always possible with this title.
title tournament in 1987?
Today's discovery: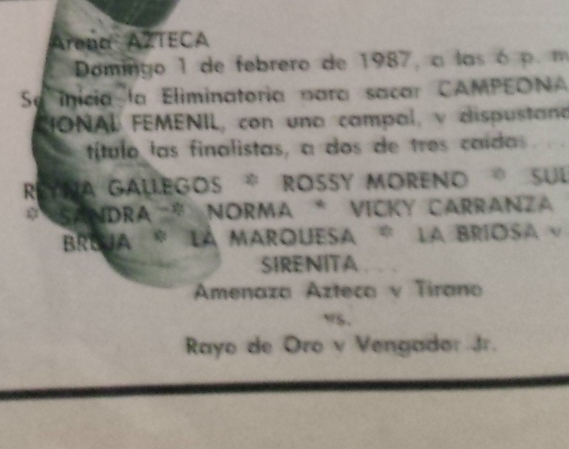 That's a (badly photographed magazine page of a) title tournament in 1987. Gallegos should've been champion at that time, but is the tournament for what appears to be a vacant title. Unsure how it fits in, if it fits in. --Thecubsfan (talk) 15:13, 19 November 2013 (CST)
title vacated/tournament in 1988
Article says Zuleyma won a tournament for the title in 1988 when La Briosa vacated the title for personal reasons.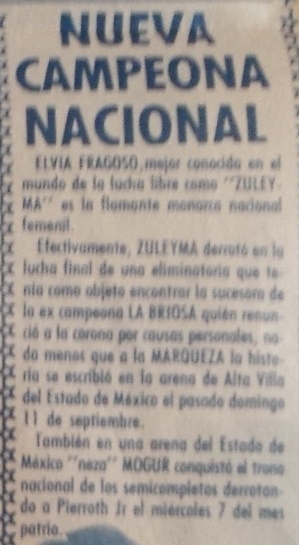 We previously had Zuleyma beating La Briosa on 1988.07.10 in Xochimilco.
--Thecubsfan (talk) 00:42, 29 November 2013 (CST)
Chela Salazar 1978
I'm leaning towards that being confusion over titles rather than her winning this title.
the apparent sequence of events
after a false start or two, Mexico State resumes allowing women's wrestling in 1978 (mostly seen on Mora/UWA shows)
Mexico State adds to the main title belts floating around in the area by creating an official women's championship
Chela Salazar picks it up at some point and starts touring around the country on Mora shows, defending the EDM title in other states.
Because it's being defended nationally (or because the "state" just gets dropped), Chela's title is often called the Mexican Women's Championship as if it's this title.
This might be affecting other reigns until this title Mexico City officially starts sanctioning their title again. This title meant quite a bit to the people who had it but it's unlikely the history behind it will be clear. --thecubsfan (talk) 12:55, 5 February 2021 (PST)