La Pareja del Terror
From Luchawiki
Jump to navigation
Jump to search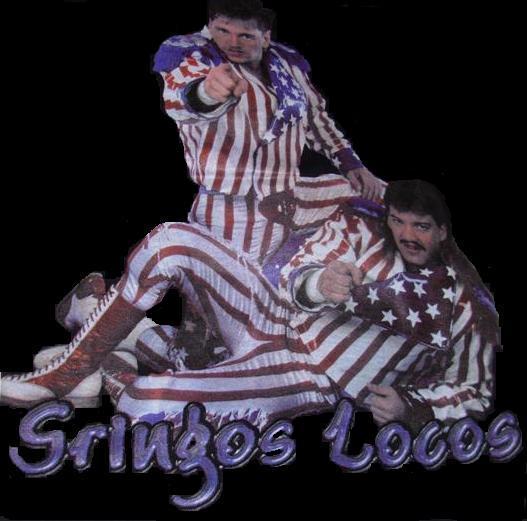 La Pareja del Terror (The Atomic Pair) was a professional wrestling tag team of Eddy Guerrero and Art Barr in mid-1990s. The tag team wrestled in Asistencia Asesoria y Administracion. The tag team was formed in 1992 after Guerrero turned on El Hijo del Santo. Later that same year, they would become the members of a group known as Los Gringos Locos (The Crazy Americans) which also consisted of Black Cat, Konnan and Louie Spicolli.
It was the most hated group in the Lucha Libre history. Barr and Guerrero feuded with El Hijo del Santo and his new partner Octagon. They lost to El Hijo del Santo and Octagon in a decision match on November 11, 1993 for the AAA/IWC World Tag Team Championship. However, they defeated El Hijo del Santo and Octagon on July 23, 1994. They became the most popular Mexican group (despite being most hated) and were offered contracts by WWF, WCW and ECW.
Barr and Guerrero chose to work for ECW. However, this never happened because Barr died before they could go to ECW. Before his death, Barr wrestled his last match on November 8, 1994 at the WCW promoted first pay-per-view event in Mexico, When Worlds Collide. La Pareja del Terror lost to Octagon and El Hijo del Santo in a two-out-of-three falls mask vs. hair match. Barr and Guerrero's team lost. After Barr's death, Guerrero used Barr's finisher Frog Splash as his own finishing move and then used it until his own death eleven years later in November 2005.