LLF Extreme Championship
From Luchawiki
Jump to navigation
Jump to search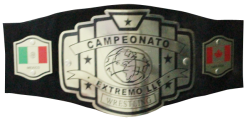 The LLF Extreme Championship is a professional wrestling championship managed by Lucha Libre Femenil. As of today, it's the oldest active championship in the promotion, having being introduced in 2003. The championship is generally contested in extreme/hardcore style matches.
Current Champion
Estrella Explosiva is the current champion. She defeated Princesa Maya on March 17, 2017 at the Arena Femenil in Monterrey, Nuevo Leon to win the championship.
History of Championship
The championship was introduced on December 13, 2013 at the LLF 3rd Anniversary show. LuFisto faced Princesa Sugheit in order to crown the promotion's first ever LLF Extreme Champion. LuFisto won the title belt and remained as champion until September 7, 2014 when she relinquished the championship to returned it back to LLF.
On November 6, 2015 at Arena Femenil, reigning LLF Champion Princesa Maya defeated LLF Extreme Champion Dark Fantasy in a Title vs Title Match to become first double champion.
Champions Listing
#
Champion(s)
Defeated
Date
Location
decision match to crown the initial champion
1
LuFisto
Princesa Sugheit
2003.12.13
Vat-Kru Rock House - San Pedro, Nuevo León
1
Polly Star
2004.03.20
Deportivo El Castillo - Apodaca, Nuevo León
2
La Bruja, Luna Mágica, Nikki Roxx & Polly Star
2005.05.13
Arena Femenil - Monterrey, Nuevo León
3
Luna Mágica
2005.06.24
Arena Femenil - Monterrey, Nuevo León
LuFisto relinquished the championship on September 7, 2014
finals of 9-woman tournament to crown the new champion
2
Dark Fantasy
Dark Magic, Princesa Maya & Sadica
2015.10.16
Arena Femenil - Monterrey, Nuevo León
3
Princesa Maya
Dark Fantasy[1]
2015.11.06
Arena Femenil - Monterrey, Nuevo León
1
Ludark Shaitan
2015.12.04
Arena Femenil - Monterrey, Nuevo León
2
La Bandida[2]
2016.03.11
Arena Femenil - Monterrey, Nuevo León
3
Estrella Explosiva
2016.10.14
Arena Femenil - Monterrey, Nuevo León
1
Estrella Explosiva[3]
Princesa Maya[4]
2017.03.17
Arena Femenil - Monterrey, Nuevo León
1
Heroina
Dark Fantasy
2018.07.14
Estacionamiento de la Arena Monterrey - Monterrey, Nuevo Leon
2
Sexy Sol
2018.07.15
Arena Valle Verde
 
 
title change
successful title defense
championship matches which were announced, but results were not found
Gallery of Champions
Sources