Catch Argentino International Championship
From Luchawiki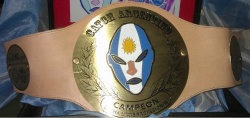 The Catch Argentino International Championship is a professional wrestling championship endosed by Argentinian promotion Catch Argentino. It was promoted as AIWA Argentinian National Cruiserweight Championship by governing body American Independent Wrestling Alliance (AIWA).
Current Champion
Hip Hop Man is the current champion. He defeated Dragón Celestial on May 5, 2015 in Arena Naucalpan.
History of Championship
Catch Argentino and AIWA, both promotions of Argentina, held a tournament of Argentinean wrestlers from July 12 2014 in order to crown the first AIWA Argentinean National Cruiserweight Champion. Hip Hop Man defeats Demetrio, Diegui El Wachiturro and Izco Da Silva to become the first champion.
Champions Listing
Gallery of Champions