Aristóteles I
From Luchawiki
Jump to navigation
Jump to search
Profile
Aristóteles I
Career
He was born on January 21st, 1960, and may have debuted in 1975. His name comes from the Ancient Greek philosopher, Aristotle.
He made a name for himself on the Acapulco wrestling scene, becoming a regular in La Arena Zapata de Acapulco. He won the lightweight championship in his state and won tag titles with Aspirante. He captured one of his firsts masks when he defeated El Guerrero on December 16th, 1981, and his career really took shape in April 1982. On April 4th, 1982, he defeated Avispón Verde (The Green Hornet) for his mask and then the very next day, he and his partner Aspirante, took the masks of Especial and Cósmico.
Due to his successes in the Acapulco area, he was chosen to compete in the 1982 Mexican National Lightweight Title Tournament. The tournament was created after Chamaco Valaguez changed weight divisions in February 1982 and the tournament began on April 11th, 1982. He defeated future legend Fuerza Guerrera in the round. He beat the future Hijo de Black Shadow in Pequeño Solín in the second round, and an unknown wrestler before defeating future legend Negro Casas in the finals. The win netted him the Rookie of the Year award from El Halcon magazine, though he was not a rookie. He defended the title atleast three times, with two successful defenses against Fuerza Guerrera and another against Sombra Roja. He never lost the title but vacated it in July 1983 after 8 successful defenses, when he changed weight divisions.
His title win also earned him a regular spot in EMLL, which evolved into a three year run. In EMLL, he was often put against his rival Sombra Roja, Fuerza Guerrera, Vulcano Tony Arce and El Savaje. On September 24th, 1983, he defeated El Dandy in a hair vs mask match and on December 26th, 1983, he defeated Pilatos for his mask.
His career peaked in 1985, when he feuded with El Hijo del Santo. Santo had won the UWA World Lightweight Championship from Negro Casas in October 1984 and was still an upcoming star. Aristoteles defeated Santo for the title on July 14th, 1985 and the rivalry got heated. The two agreed to a mask vs mask match on July 28th, 1985, which El Hijo Del Santo won.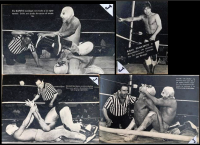 Aristoteles ripped Santo's mask during the match and submitted to Santo's famous camel clutch. He was revealed to be Leonardo Araujo, 25 years old with 8 years experience as a wrestler. The match was the main event of the show which also featured the likes of Canek, Fishman, Villano III and others. Aristoteles lost his UWA World Lightweight Championship title to Santo on September 1st, 1985, then lost in a rematch two weeks later. Aristóteles II, the brother of Aristoteles, swore revenge for his brother's mask loss but was unmasked as well by Santo on November 27th, 1985.
Aristoteles then tested Santo again in a hair vs mask match on March 9th, 1986, but was again defeated. Aristoteles had one final chance at Hijo Del Santo on March 18th, 1987, in a triangle hair vs hair vs mask match that included El Dandy. Dandy finally got his revenge though from their September 1983 hair match and Aristoteles had his head shaved once again. By this point, Aristoteles name value had dropped and he had gone back to Acapulco. Aristoteles went onto lose his hair two more times against Javier Cruz in 1991 and against a wrestler named Che Guevara in March 1992 in a triangle match.
Little is known of Aristoteles post-1992, but he remains an Acapulco wrestling legend to this day and can still be seen at various lucha events from time to time.

Luchas de apuestas record
Gallery