Arena Nacionalista Championship
From Luchawiki
Jump to navigation
Jump to search
Current Champion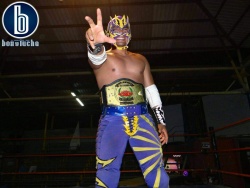 Aeroboy is the seventh and current champion. He defeated Genio del Aire on October 30, 2020.
History of the Championship
On October 30, 2016 Arena Nacionalista created its own Championship in its 27th anniversary. There was a battle royal to define the inaugural champion. The opponents were eliminated by going over the top rope. The two finalists should wrestle in an one fall match. Vaquero Jr. defeated Estudiante Jr. in the finals. On March 3, 2017 at Arena Nacionalista, Rey Negro became the second champion defeating Vaquero Jr in a wrestling event named "Noche de Campeones." On October 29, 2017 during the 28th Anniversary Event of Arena Nacionalista, Humilde, became the third Champion defeating Estudiante Jr. in the finals of an elimination match in which were also involved Mr. Tempest, Drakma, Black Abyss Jr. & the former champion, Rey Negro. On March 4, 2018, El Estudiante Jr. became the fourth champion defeating Humilde. El Sagrado was the fifth champion. He defeated the former champion Estudiante Jr. & Genio Del Aire on October 28, 2018 in Arena Nacionalista's 29 th anniversary. Genio del Aire was the champion. He defeated Sagrado on February 24, 2019 having the longest reign so far.
Champions Listing
#
Champion(s)
Defeated
Date
Location
Battle Royal to crown the first champion
1
Vaquero Jr. (Mexicali)
Estudiante Jr.
Caballero Azteca Jr.
Guerrero Rojo
Pzayko
Rey Negro
Corsario Negro
Tigre Leon
Mr. Tempest
2016.10.30
Arena Nacionalista - Mexicali, Baja California
2
Rey Negro
Vaquero Jr. (Mexicali)
2017.03/12
Arena Nacionalista, Mexicali, Baja California
3
Humilde
Estudiante Jr.
Rey Negro
Mr. Tempest
Drakma
Black Abyss Jr.
2017. 10/29
Arena Nacionalista - Mexicali, Baja California
4
El Estudiante Jr.
Humilde
2018.03/04
Arena Nacionalista - Mexicali, Baja California
5
El Sagrado
El Estudiante Jr.
Genio del Aire
2018.10/28
Arena Nacionalista - Mexicali, Baja California
6
Genio del Aire
El Sagrado
2019.02/24
Arena Nacionalista - Mexicali, Baja California
1
El Pzayko
2019.03/17
Arena Nacionalista - Mexicali, Baja California
2
Laredo Kid
2019.07/28
Arena Nacionalista - Mexicali, Baja California
3
Aeroboy
Extreme Tiger
Rey Horus
2019.11/16
Plaza Calafia - Mexicali, Baja California
4[1]
Rey Negro
2020.05/30
unknown location - Mexicali, Baja California
7
Aeroboy
Genio del Aire
2020.10/30
Arena Nacionalista - Mexicali, Baja California
1
Jitsu
2021.05/15
Deportivo 11 de Julio, Pachuca, Hidalgo
 
 
title change
successful title defense
championship matches which were announced, but results were not found
Sources:
↑

Title defense is not recognized by the Commission of Box Lucha y Artes Marciales Mixtas de Mexicali
Gallery of Champions