Arena José Sulaimán
From Luchawiki
Jump to navigation
Jump to search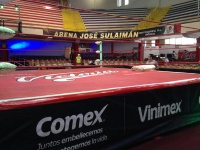 The Arena José Sulaimán, formerly known as Arena Solidaridad, is a lucha libre and boxing arena based in Monterrey, Nuevo León. It was opened on August 23, 1991.
Renewal
On October 30, 2014 the Arena Solidaridad was renamed as Arena José Sulaimán by World Boxing Council president Mauricio Sulaimán. The renewal of the arena occurred during 10th FECOMBOX National Boxing Convention. Mauricio Sulaimán was accompanied by former Mexican boxers Érik "Terrible" Morales and Humberto "Chiquita" González, as well as Confederation of Mexican Workers president Ismael Flores and Federation of Boxing Commissions of Mexico (FECOMBOX) president Carlos González.
Facts
Last wrestling show in Arena Solidaridad was held by Chilanga Mask on October 26, 2014. First show in Arena José Sulaimán was held by AAA/KDNA on November 9, 2014. AAA uses the arena to host shows in Monterrey.
Address
5 De Febrero corner with Michoacán, Col. Nuevo Repueblo, Monterrey, Nuevo León.
Gallery
Links
Monterrey
Arenas: Arena Coliseo Monterrey, Arena Femenil, Arena Monterrey, Arena José Sulaimán, Gimnasio Nuevo León, Plaza de Toros Monumental
Local Legends: Blue Demon, Humberto Garza, Karonte, Mr. Lince, Princesa Sugehit, Super Parka, Tigre Universitario; all
Local Titles: Lucha Libre Azteca (LLA), Northern (Light Heavy), Northeast (Tag), Nuevo Leon (Junior Tag, Women's), NGX (Extreme, Tag, Women's), LLF (Junior, Juvenil, Tag),
FILL (Welter, Middle, Light Heavy, Heavy, Super Heavy, Tag, Trios, Atomicos, Mixed Tag, Women's), FULL (Super Middle), OLX (Extreme)