AAB International Women's Championship
From Luchawiki
Jump to navigation
Jump to search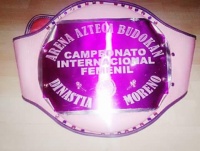 Arena Azteca Budokan International Women's Championship also known as Dinastía Moreno Women's Championship is a women's lucha libre title in Arena Azteca Budokan. The Championship was created by Arena Azteca Budokan in 2016.
Current Champion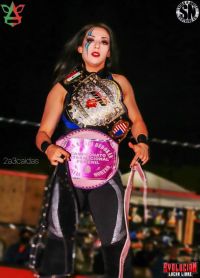 Stephanie Vaquer is the current Arena Azteca Budokan International Women's Champion.
History of Championship
Introduced by Arena Azteca Budokan on July 17, 2016 there was a Gaunlet Tournament to Crown the First Champion. La Magnifica became the first champion defeating La Jarochita in the finals. In that tournament also participated Hielera, Tania La Guerrillera, Sexy Polvora & Dulce Queen. On June 25, 2015, Lady Monster defeated La Magnifica to become the second champion.
Champions Listing
Gallery of Champions