WAR City
From Luchawiki
Jump to navigation
Jump to search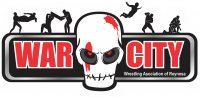 Wrestling Association of Reynosa City, commonly known as WAR City Wrestling, WAR City, or just WCW, is a Reynosa-based lucha libre promotion founded by Jesús Leonel Peña Ayala and Juan Carlos García Ordóñez in 2012. WAR City runs their events in Arena Coliseo Reynosa and Arena Juba.
Arena WAR City
The Arena El Halcón it was renamed as Arena WAR City when Ronaldiño take over control of the arena in 2017, is a lucha libre arena based in Monterrey, Nuevo León. It primarily hosts independent wrestling shows, running events under banner WAR City Monterrey.
Address: Camino Real Avenue 1536, Col. CROC, Monterrey, Nuevo León.
Championships