UWA Intercontinental Heavyweight Championship
From Luchawiki
Jump to navigation
Jump to search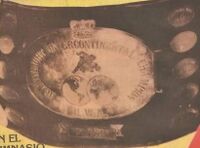 Current Champion
Defunct Championship. Skeletor (Guatemala version) was the last champion.
History of Championship
The Intercontinental Heavyweight Title (AKA UWA Intercontinental Heavyweight Title on Guatemala) was created in Guatemala promotion in the 80's. It only appeared on Guatemala Wrestling and Arena Mexico on Mexico City. It was important championship belt in Guatemala.
This belt brought him to Guatemala in 1987 by the japanese masked wrestler Caballero de Bushido.
The title was never recognized by the UWA, but became a title quite valuable in Guatemala.
Champions Listing
El Faraon Branch , as Central America Continental Championship
At some point Astro de Oro lost the UWA Intercontinental belt on a match in EMLL Territory in Mexico. The title was renamed as Central America Continental Championship.
Its defeat in Mexico was never spread in Guatemala, anyway Astro de Oro was still the UWA Intercontinental Heavyweight Champion in Guatemala.
Champions Listing
#
Champion(s)
Defeated
Date
Location
Astro de Oro brought him the UWA Intercontinental Heavyweight Title to Mexico on 80's
1
El Faraon
Astro de Oro
80's
Mexico
championship status unclear, the belt was disappeared
 
 
title change
successful title defense
championship matches which were announced, but results were not found
Gallery of Champions