Talk:UWA World Heavyweight Championship
From Luchawiki
Enrique Vera
So how did Enrique Vera become champ for a week? That triangle match? --thecubsfan 19:25, 22 June 2006 (CDT)
Yeah, off the top of my head it was him/Canek/Dos Caras which led to controversy. Just a way for Canek to become champ in the end anyhow.:)--Robert 19:29, 22 June 2006 (CDT)
Sergio Cronicas Y Leyendas has Vera winning the belt in 1983, which is a year before what we have for that triangle match.
http://www.cronicasyleyendasdelaluchalibre.com/?p=4380
Do we have the date wrong, or did he actually win the title for a while (to give him credibility before he got wiped out in the IWGP tournament?) --thecubsfan 04:12, 9 February 2011 (UTC)
In an exciting update to this story, this SuperLuchas has an article on 10/23/1983 show where the triangle match happened. At the end of the show, it appeared Vera had definitely won the title. Which means I may need to add a title reign and definitely need to at least explain this on the actual page ;) --thecubsfan (talk) 03:44, 21 May 2012 (UTC)
Removed a defense listed as 10/19/1992 @ Puebla; reports from the time say Canek lost two straight in trios to Torre Infernale, setting up a title match between those two on 10/26. Scorpio was done on 10/25, but perhaps the match actually happened earlier? --thecubsfan 05:42, 10 January 2012 (UTC)
1987 date issues
Box Y Lucha 1816 (cover date 1987-10-30) has an interview introducing Killer. He's an American star who's had also had success in Japan and has a (unnamed) manager at this point. There's no mention of him winning the UWA title yet and he's not even on the El Toreo card. The Canek/Killer/Canek title changes would've had to happen in November or December if they were in that year. --thecubsfan (talk) 15:56, 2 October 2013 (CDT)
1986/Dos Caras
So I have this photo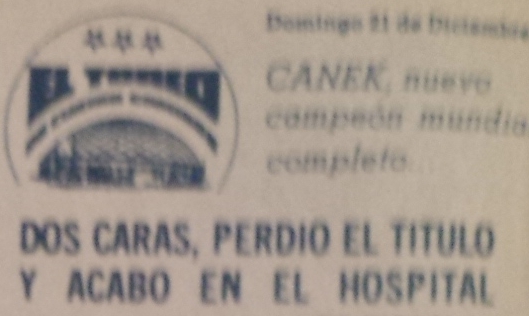 Dos Caras lost the title and went to the hospital. Canek won the title. The article itself is blurry beyond reading, but the cover of the magazine confirms it's 1986.
The problem is we have Dos *winning* the title on 1986.12.30. Canek should be still be champion on the date of match.
12.30 is a Tuesday, which doesn't really make sense. I'm finding records of Toreo shows on odd days, but they're mostly rookie shows and they wouldn't be doing a title match on them.
11.30 is a Sunday, which is definitely a day they could do the original title match. With absolutely no other evidence to go on, I'm going to assume there was a typo on the title change month at some point, move that to 11.30, and figure this title change is the missing "1987" one. If anyone can confirm or reject this, please do. --Thecubsfan (talk) 14:01, 18 November 2013 (CST)
It took one hour for me to tumble onto the 11.30 card - which doesn't has the title match. New idea: change the Dos Caras title win to question marks until I can figure this out. (Maybe there was an extra couple of changes?)
Canek title defenses/date changes
I'm pulling this from a 10th anniversary of UWA @ el Toreo program. One of these is a little more blurry.
I'm assuming the defenses listed are the ones in Toreo, but that doesn't consistently appear to be true. There is enough there to confirm both the corrected 1986 title change and the general time of Killer's title win, though the exact missing info is still missing. --Thecubsfan (talk) 18:14, 5 December 2013 (CST)