Tierra Caliente Lightweight Championship
From Luchawiki
Jump to navigation
Jump to search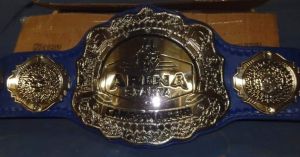 The Tierra Caliente Lightweight Championship is a professional wrestling title promoted by Tierra Caliente Promotions, a Baja California Promotion based in Mexicali. All wrestlers in the lightweight class are eligible for the championship.
Current Champion
Alas de Oro Jr. is the current champion. He won the championship on May 20, 2022 by defeating Amnesia Jr. in a rematch at Salón CTM, San Luis Rio Colorado, Sonora.

History of Championship
This title was introduced by the then Spartan Promotions as Spartan Lightweight Championship. The inaugural champion was defined in a battle royal with 16 participants plus a surprise luchador. The outcome of that match was Alas de Oro Jr. as the first champion. That match took place on August 1, 2021 in Arena Nacionalista.
Amnesia Jr. was the second champion. He won the championship on December 4, 2021 by defeating Alas de Oro Jr. at Cancha de Fútbol, Tijuana, Baja California.
When the promotion changed its name on 2022 as Tierra Caliente Promotions, all its titles were renamed as well.

Champions Listing
Gallery of Champions