Queretaro Women's Championship
From Luchawiki
The Querétaro Women's Championship is an state title which is defended in Querétaro. It is abbreviated as LLQ Women's Championship.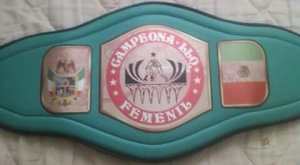 Current Champion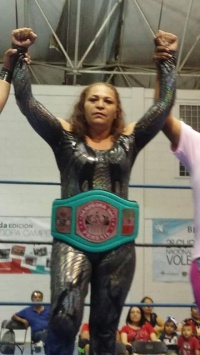 Rossy Moreno is the second and current champion. She won against Reina Dorada on September 16, 2016 to win the championship at Auditorio Unidad Deportiva Cerrito Colorado in Querétaro, Querétaro.

History of the Championship
This title was introduced by Lucha Libre Querétaro. There was a tournament announced in which there would be two triangle matches in which the winner of each will compete in the following event for the championship. On March 20, 2015 Sherry and Dark Lady competed for the new title. Sherry become the first champion. She eventually vacated the title.
Previously, Lucha Libre Queretaro made a 2 block tournament to find the first two contenders who would dispute the vacant women's state title on September 16, 2016. The winner of the first block was Reina Dorada and in the following event the winner of the second block was Rossy Moreno. On September 16, 2016 the finalists disputed the title. Rossy Moreno defeated Reina Dorada to become the new champion.

Champions Listing
Gallery of Champions
Gallery of Title Belts
Source