Poder del Norte
From Luchawiki
Jump to navigation
Jump to search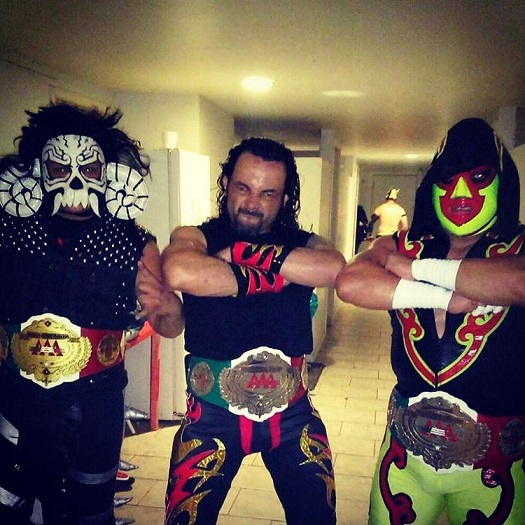 Poder del Norte is a pair of rudo trios in AAA. The first version started out on AAA shows in Northern Mexico, and got onto the TV roster in mid 2009, usually working the first or second match and facing members of the Real Fuerza Aérea AAA. The second was introduced as a main event rudo trio.
2009 Poder del Norte
Rio Bravo decided to no longer wrestle with AAA in fall of '09. Instead of replacing him with a new member, AAA simply replaced him with a new Rio Bravo, and never acknowledged the change. The new Rio Bravo didn't last long, and Tito Santana and Tigre Cota were eventually folded into La Milicia. Cota & Santana have teamed with the original Rio Bravo back in northern Mexico, but neither Bravo has returned to AAA.
2016 Neuvo Poder del Norte
In late 2016 Tigre Cota returned to AAA now going by the name of Mocho Cota Jr. (since he is the son of Mocho Cota) and recruited Soul Rocker and Carta Brava Jr. to reform the group as Nuevo Poder del Norte. After Soul Rocker lost his mask, he was revealed to be Tito Santana of the original Poder del Norte trio. Tito would continue under this name.