Mucha Lucha Atlanta Championship
From Luchawiki
Jump to navigation
Jump to search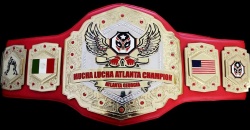 The Mucha Lucha Atlanta Championship is a professional wrestling championship owned by Mucha Lucha Atlanta (MLA).
Current Champion
Dragon Lee is the current champion. He defeated Austin Theory, and Rush on March 17, 2019 in Espacio Discotheque, Norcross, Georgiato win the title.
History of Championship
The Mucha Lucha Atlanta Championship was introduced in 2015. Mucha Lucha Atlanta faced off Drako Lord against Tigre del Ring in a one-on-one match in order to crown their first champion. Tigre del Ring won the match and became the inaugural Mucha Lucha Atlanta Champion.
On July 17, 2016 at the Espacio Discotheque, Pentagón Jr. defeated PDM Light Heavyweight Champion Fénix and Mucha Lucha Atlanta Champion Tigre del Ring to win both titles.

Champions Listing
#
Champion(s)
Defeated
Date
Location
Decision Match to crown the inaugural champion
1
Tigre del Ring
Drako Lord
2015.08.16
Espacio Discotheque - Norcross, Georgia
1
Drako Lord
2015.10.04
POR Promotions Arena - Scottsdale, Arizona
2
Fuego
2015.11.15
Espacio Discotheque - Norcross, Georgia
2
Pentagón Jr.
Fénix, and Tigre del Ring[1]
2016.07.17
Espacio Discotheque - Norcross, Georgia
1
Mr. 450
2016.10.16
Espacio Discotheque - Norcross, Georgia
3
Mr. 450
Penta El Zero M[2]
2017.03.26
Espacio Discotheque - Norcross, Georgia
4
Rush
Carístico, and Mr. 450
2017.10.08
Espacio Discotheque - Norcross, Georgia
5
Dragon Lee
Austin Theory and Rush
2019.03.17
Espacio Discotheque - Norcross, Georgia
 
 
title change
successful title defense
championship matches which were announced, but results were not found
Gallery of Champions