Mexico State Welterweight Championship
From Luchawiki
Jump to navigation
Jump to search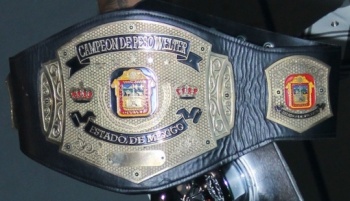 The Mexico State Welterweight Championship is a regional championship defended in Mexico State. It should not be confused with the Distrito Federal Welterweight Championship.
Known champions not listed include:
Current Champion
Astro is the current champion. He defeated Iron Kid, Rencor Negro Jr., and Sangre Felina on September 17, 2017 in Auditorio Municipal San Lucas out of San Antonio La Isla, Mexico State to win the title.
History of Championship
On March 4, 2013 in Centro Social Infonavit of Metepec, the Alianza de Lucha Libre Mexiquense ran a 9-Man Torneo Cibernetico in order to crown the new champion for vacant Mexico State Welterweight Championship. Astro Rey Jr. won the title by defeating Astro de Plata, Gemelo Fantastico I, Gemelo Fantastico II, Huracán Ramírez Jr., Impulso, Oscuro, Trauma I, and Trauma II.
On March 2, 2013 in the Gimnasio GFL located in San Mateo Atenco, Mexico State, was held a benefit show to Astro de Plata, who suffered a severe injury on February 2 in a XMW show. The event was featured by Astro Rey Jr. defending the Mexico State Welterweight Championship in an Elimination Match. The order of eliminations was the next: Príncipe Pantera (by Impulso), Fresero Jr. (by Impulso), Alan Extreme (by Gemelo Fantastico II), Gemelo Fantastico II (by Súper Nova), Impulso (by Súper Nova), Súper Nova (by Astro Rey Jr.), and Gemelo Fantastico I (Disqualified by count-out).
Champions Listing
#
Champion(s)
Defeated
Date
Location
title history unknown prior to the point
-
Canima
-
-
-
-
Rebelde Rojo
Canima[1]
1968.08.11
Arena KO Al Gusto,
Naucalpan, Mexico State
title history unknown
torneo cibernetico to crown the new champion
-
Astro Rey Jr.
Astro de Plata, Gemelo Fantastico I, Gemelo Fantastico II, Huracán Ramírez Jr., Impulso, Oscuro, Trauma I, and Trauma II
2012.03.04
Centro Social Infonavit,
Metepec, Mexico State
1
Alan Extreme, Fresero Jr., Gemelo Fantastico I, Gemelo Fantastico II, Impulso, Príncipe Pantera, and Súper Nova
2013.03.02
Gimnasio GFL,
San Mateo Atenco, Mexico State
-
Fulgor I
Astro Rey Jr.
2013.12.22
Arena Coliseo Coacalco,
Coacalco, Mexico State
-
Astro Rey Jr. [2]
Fulgor I, and Psycko Kid
2015.05.30
Gimnasio GFL,
San Mateo Atenco, Mexico State
-
Psycko Kid
Astro Rey Jr., and Fulgor I
2015.06.21
Arena Coliseo Coacalco,
Coacalco, Mexico State
1
B-Boy, Demon Boy, and Halcón X
2016.01.16
Arena Unión,
Coacalco, Mexico State
2
Aero Boy, and Iron Kid
2016.02.27
Deportivo Martín Alarcón,
Metepec, Mexico State
-
Astro [3][2]
Psycko Kid
2016.05.01
Unidad Deportiva Bicentenario,
San Mateo Atenco, Mexico State
-
Iron Kid
Astro, and Resplandor Jr.
2016.08.08
Mercado Nuevo Bicentenario,
Capulhuac, Mexico State
1
Astro, and Fandango[3]
2017.08.19
Pista Los Ciruelos,
Malinalco, Mexico State
-
Astro [4]
Iron Kid, Rencor Negro Jr., and Sangre Felina
2017.09.17
Auditorio Municipal San Lucas,
San Antonio La Isla, Mexico State
 
 
title change
successful title defense
championship matches which were announced, but results were not found
Gallery of Champions