Difference between revisions of "Mexican National Tag Team Championship"
From Luchawiki
Line 1:
Line 1:
 

[[Image:mextag_belt.jpg|200px|right]]

 

[[Image:mextag_belt.jpg|200px|right]]

 

== Current Champions ==

 

== Current Champions ==

−

[[La Parka Jr.]] & [[Octagon]] were the most recent champions, but this title is considered unofficially defunct.

+
 
+

[[Jr.]] & [[]] the champions, .

 
 
 

== History of Championship ==  

 

== History of Championship ==  
---
Revision as of 22:11, 13 March 2020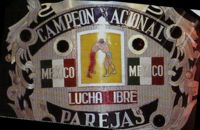 Current Champions
Atlantis Jr. & Flyer are the current champions, they defetaed Hijo del Villano III & Templario for the vacant titles on March 13, 2020 at Arena Mexico.
History of Championship
While being a national commission regulated championship, it has primarily been held and defended in AAA since AAA's formation. AAA moved away from using the national championships in the late 2000s. La Parka and Octagon would defend the championship once every other year on non-televised shows until the championship went quiet.
Records for this championship are sparse before 1982. It appears to have existed before that period, but it was not a championship defended in EMLL and so there were few records of the championship in the media. Thru 1975, an annual commission list of recognized champions did not include the tag team titles. EMLL would occasionally feature it's own Arena Mexico Tag Team Championship; some of the early reigns listed for this championship may actually be for that one. It's possible the formation of LLI spurred creation (or increased interest) in this championship, but the exact official origin is currently unclear.
Magazine Golpe 4 mentions Karloff Lagarde & Rene Guajardo were champions until losing to Rayo de Jalisco and an unspecified partner on October 25, 1963. However, the dates in the rest of the future seem inexact or inaccurate and may be wrong, and it seems to be referring to that Arena Mexico Tag Team championship.
The Mendozas title reign in 1982 should be considered the start of proven championship reigns. Everything prior was likely for a championship, but it's not certain they held the same championship.
From December 1995 until August of 1997, this championship was a source of confusion. Father/son champions Juventud Guerrera and Fuerza Guerrera held the titles in 1995, but the titles were declared vacant when Fuerza left AAA. AAA held a decision match for the vacant title on 1996.01.12 in Neza, where Juventud Guerrera and new partner Psicosis defeated Volador and El Mexicano for the vacant belts. Later that year, after Juventud also left AAA, the commission invalidated that championship match, deciding that the Guerreras were still champions because they never actually lost the titles in a match. In August of that same year, the commission re-vacated the championship for the same reason it originally did - Juvi and Fuerza still did not wrestle in the same promotion and could not team up. Both the Fuerza/Psicosis and the second Psicosis/Juvi reigns are not listed in the lineage due to the commission's decisions.
AAA did not fill the championship again until 1997.
Champions Listing
#
Champion(s)
Defeated
Date
Location
Medico Asesino & El Enfermero win an 8 team tournament, but the commission invalidates the tournament
EMLL claims to have national tag champions, unclear if they actually did
decision match for vacant championship after 8 team tournament
1
Black Shadow & Blue Demon
Tarzan Lopez & Enrique Llanes
1957.06.14
Arena Mexico
2
Espanto I & Espanto II
Black Shadow & Blue Demon
19??.??.??
?
3
El Santo & Rayo de Jalisco
Espanto I & Espanto II
1964.10.16
Arena Mexico
1[1]
Ángel Blanco & Dr. Wagner
1966.12.30
Arena Mexico
title status unknown
Espectro I & Ray Mendoza held the titles at some point
Karloff Lagarde & René Guajardo held the titles at some point
Tarzan Lopez & Henry Pilusso held the titles at some point
Angel Blanco & Dr. Wagner held the titles at some point
Brazo de Oro & Brazo de Plata held the titles at some point
title status unknown
?
Villano I & Villano II
?
?
?
?[2]
Bruno Victoria & Dr. O'Borman
Villano I & Villano II
1972
?
title status unknown
?
El Halcon & Falcon
?
?
?
?[3]
Cuchillo & Maquina Salvaje
1981.10.20
Gimnasio Municipal Benito Juarez, Cuautitilan, Estado de Mexico
title status unknown
4
Ringo Mendoza & Cachorro Mendoza
Satanico & Espectro Jr.
1982.06.18
Arena Mexico
1[4]
El Faraon & Espectro Jr.
1982.08.15
Arena Coliseo Guadalajara
2[5]
Brazo de Oro & Brazo de Plata
1982.09.19
Palacio de los Deportes, Distrito Federal
3[6]
Brazo de Oro & Brazo de Plata
1982.12.19
Palacio de los Deportes DF
4[7]
Alfonso Dantes & El Faraón
1983.01.02
Arena Coliseo Guadalajara
5[8]
La Fiera & Mocho Cota
1983.06.24
Arena Mexico
6[9]
Espectro II & Espectro Jr.
1984.05.06
Arena Coliseo Guadalajara
7[10]
Cien Caras & Mascara Ano 2000
1984.10.28
Arena Coliseo Guadalajara
8[11]
Cien Caras & Sangre Chicana
1984.11.20
Plaza de Toros Torreon
5
Sangre Chicana & Cien Caras
Ringo Mendoza & Cachorro Mendoza
1985.04.12
Arena Mexico[12]
6
Rayo de Jalisco Jr. & Tony Benetto
Sangre Chicana & Cien Caras
1985.10.28
Arena Nuevo Laredo
7
Cien Caras [2] & Mascara Ano 2000
Rayo de Jalisco & Tony Benetto
1986.04.16
Cuernavaca
1[13]
Alfonso Dantes & Kiss
1986.07.18
Arena Mexico
8
Masakre & MS-1
Cien Caras & Mascara Ano 2000
1987.03.26
Cuernavaca
9[14]
Angel Azteca & Atlantis
Masakre & MS-1
1988.03.06
Pista Arena Revolucion
1[15][16]
Hombre Bala & Verdugo
1988.05.15
Arena Coliseo
2
Hombre Bala & Pirata Morgan
1988.07.02
Arena Puebla
3
El Dandy & El Texano
1989.03.31
Arena Mexico
4
Pierroth Jr. & Ulises
1990.05.09
Arena Coliseo De Acapulco
10
Pierroth & Bestia Salvaje
Angel Azteca & Atlantis
1990.05.26
Arena Puebla
1
Atlantis & Angel Azteca
1990.07.07
Pista Arena Revolucion
2
Octagon & Javier Cruz
1990.12.01
Arena Puebla
11
Angel Azteca [2] & Volador
Pierroth Jr. & Bestia Salvaje
1991.03.09
Arena Puebla
1
Tony Arce & Vulcano
1991.04.18
Salamanca, Guanajuato
12
Tony Arce & Vulcano
Angel Azteca & Volador
1991.05.29
Arena Coliseo De Acapulco
1
Aguila Solitaria & Pantera II
1991.06.16
Arena Coliseo DF
2
Misterioso & Super Astro
1991.07.04
Arena Isabel De Cuernavaca
3
Plata & Platino
1991.07.19
Arena Coliseo DF
4
Cachorro Mendoza & Solar II
1991.07.27
San Luis Potosi
5
Oro & Plata
1991.10.11
Leon, Guanajuato
6
Black Terry & Jose Luis Feliciano
1991.10.30
Arena Naucalpan
13
Oro & Plata
Tony Arce & Vulcano
1991.12.04
Arena Coliseo De Acapulco
titles held up on 1991.12.10 after a match versus Los Destructores
14
Tony Arce [2] & Vulcano [2]
Oro & Plata
1991.12.17
Arena Coliseo DF
1
Pantera & Robin Hood
1992.01.19
Korakuen Hall - Tokyo
2
Oro & Plata
1992.02.05
Arena Lopez Mateos
3
Oro & Plata
1992.02.08
Arena Lopez Mateos
15
Misterioso & Volador
Tony Arce & Vulcano
1992.03.08
Arena Mexico
16
Tony Arce [3] & Vulcano [3]
Misterioso & Volador
1992.08.28
Arena Coliseo De Monterrey
17
Misterioso [2] & Volador [2]
Tony Arce & Vulcano
1992.10.09
Aguascalientes
1
Tony Arce & Vulcano
1992.10.18
Tampico
2
Babe Sharon & The Rose
1992.11.01
Merida
3
La Parka & El Hijo del Espectro
1992.11.14
Tapachula, Chiapas
18
Tony Arce [4] & Rocco Valente
Misterioso & Volador
1993.02.12
Gimnsaio Juan De La Barera
1
Volador & Misterioso
1993.04.17
San Luis Potosi
2
Angel Azteca & Winners
1993.07.09
Gimnasio Juan De La Barera
3
Volador & Dragon De Oro
1993.09.24
Gimnasio Juan De La Barera
4
Psicosis & El Magnate
1993.11.20
Arena Xochimilco
19
Heavy Metal & Latin Lover
Tony Arce & Rocco Valente
1994.09.11
Arena Coliseo De Monterrey
20
Fuerza Guerrera & Juventud Guerrera
Latin Lover & Heavy Metal
1994.12.02
Mexico City
1
Heavy Metal & Latin Lover
1995.01.08
Mexico City
2
Rey Misterio Sr. & Rey Misterio Jr.
1995.02.19
Azcapotzalco
3
Rey Misterio Sr. & Rey Misterio Jr.
1995.03.02
Xalapa
4
Octagon & Rey Misterio Jr.
1995.04.19
?
21
Latin Lover [2] & Panterita del Ring
Fuerza Guerrera & Juventud Guerrera
1995.06.01
Texcoco
1
Fuerza Guerrera & Juventud Guerrera
1995.06.11
Arena Coliseo de Monterrey
2
Blue Panther & Heavy Metal
1995.07.03
Nuevo Laredo
22
Fuerza Guerrera [2] & Juventud Guerrera [2]
Latin Lover & Panterita del Ring
1995.09.18
Nuevo Laredo
championship status becomes disputed when the Guerreras leave AAA to join Promo Azteca
CMLL promotes an El Dandy & La Fiera title challenge for 12.01, but Juventud changes his mind and returns to AAA
AAA declares championship vacant and holds a decision match for titles
-
Psicosis & Juventud Guerrera
El Mexicano & Volador
1996.01.12
Arena Neza
commission invalidates titel change, claiming AAA did not have authority to vacate and Guerreras are still reigning champions
Juventud Guerrera changes his mind again, leaves AAA and rejoins Fuerza
1
Solar I & Mr. Niebla
1996.02.24
Arena Neza
championships vacant around August 1996 when Juvi leaves Promo Azteca and joins WCW
tournament final for vacant championship
23
Fuerza Guerrera [3] & Mosco De La Merced I
Perro Aguayo & Perro Aguayo Jr.
1997.05.15
Toluca
Original Mosco De La Merced I jumps to Promo Azteca but Mosco De La Merced II continues to defend belts with Fuerza
1
Mascara Sagrada & Mascara Sagrada Jr.
1997.12.16
Arena Solidaridad De Monterrey
2
Latin Lover & Heavy Metal
1998.01.16
Nezahualcoyotl
3
Latin Lover & Heavy Metal
1998.01.18
Tulancingo
4
Octagon & Pentagon
1998.04.17
Veracruz
5
Octagon & Pentagon
1998.04.30
Aguascalientes
24
Perro Aguayo & Perro Aguayo Jr.
Fuerza Guerrera & Mosco de la Merced II
1998.06.07
Chihuahua
1
El Cobarde & Hijo del Cobarde
1999.03.01
Nuevo Laredo, Tamaulipas
2
El Texano & Sangre Chicana
1999.04.19
Leon
25
Vipers (Abismo Negro & Electro Shock)
Perro Aguayo & Perro Aguayo Jr.
1999.05.02
Manzanillo
1
Blue Demon Jr. & Mascara Sagrada
1999.06.22
Arena Aficion De Pachuca
2
Cibernetico & Psicosis II
1999.08.22
Morelia
3
Cibernetico & Psicosis II
1999.08.30
Morelia
26
Hator & The Panther
Abismo Negro & Electro Shock
1999.11.07
Arena Solidaridad De Monterrey
1
El Cobarde & Pirata Morgan
2000.02.27
Arena Solidaridad De Monterrey
2
Jerry Estrada & Sergio Romo Jr.
2000.04.29
Reynosa
27
Abismo Negro [2] & Electro Shock [2]
Hator & The Panther
2000.05.07
Arena Solidaridad De Monterrey
1
Hector Garza & La Parka Jr.
2000.06.04
Nogales, Sonora
28
Hector Garza & Perro Aguayo Jr. [2]
Abismo Negro & Electro Shock
2000.07.09
Osaka, Japan
1
Electro Shock & Charly Manson
2000.08.07
Nuevo Laredo
29
El Texano & Pirata Morgan
Hector Garza & Perro Aguayo Jr.
2000.09.08
Auditorio De Tijuana
1
Sangre Chicana & La Parka Jr.
2000.10.09
Nuevo Laredo
2
La Parka Jr. & Sangre Chicana
2000.10.23
Nuevo Laredo
3
Heavy Metal & Perro Aguayo Jr.
2000.10.27
Veracruz
4
Heavy Metal & Perro Aguayo Jr.
2000.11.03
Auditorio De Tijuana
4
Dos Caras Sr. & Dos Caras Jr.
2001.01.21
Durango
30
La Parka Jr. & Mascara Sagrada
El Texano & Pirata Morgan
2001.11.11
Arena Solidaridad De Monterrey
31
Electro Shock [3] & Chessman
La Parka Jr. & Mascara Sagrada
2002.04.19
Auditorio Municipal, Torreón, Coahuila
1
Perro Aguayo Jr. & Mr. Aguila
2002.08.02
Auditorio de Tijuana
2
Oscar Sevilla & Torero
2003.02.07
Auditorio Jose Maria Arteaga, Queretaro
32
Octagon & La Parka Jr. [2]
Electro Shock & Cibernetico
2003.06.20
Xalapa, Veracruz
1
Abismo Negro & Cibernetico
2003.11.16
Tulancingo
2
Abismo Negro & Cibernetico
2004.08.20
Gimnasio Miguel Hidalgo, Puebla
3
Chessman & Cibernetico
2004.10.10
Salamanca
4
Chessman & Cibernetico
2005.06.27
Arena Cuatro Caminos, Nuevo Laredo
5
Chessman & Cibernetico
2006.02.06
Irapuato
6
Chessman & Cibernetico
2006.04.12
Auditorio Carlos Serdan Arechavaleta - Veracruz
7
Alan Stone & Charly Manson
2006.05.15
Domo De La Feria - Leon, Guanajuato
8
Scorpio Jr. & Shocker
2006.06.04
Poliforum Zamna - Merida, Yucatan
9
Charly Manson & Chessman
2006.06.12
Tepic, Nayarit
10
Kenzo Suzuki & Electro Shock
2007.11.30
Centro de Convenciones de Ciudad Madero, Tamaulipas
11
Konnan & Electro Shock
2009.02.22
Palacio de los Deportes, Villahermoso, Tabasco
12
Konnan & Electro Shock
2009.03.14
Domo del Mar, Ciudad del Carmen
title vacant by order of AAA, but team continues to defend titles
13
Chessman & Silver King
2011.12.25
Arena Naucalpan
Octagon leaves AAA in early 2014, championship has been effectively defunct for many years
Tournament Final for Vacant Titles on March 13, 2020
33
Atlantis Jr. & Flyer
Hijo del Villano III & Templario
2020.03.13
Arena Mexico
 
 
title change
successful title defense
championship matches which were announced, but results were not found
Gallery of Champions
Sources
Also Listed As
| | This article is a stub of a yet to be completed article. Free to add your own details to this article |
| --- | --- |